China Mobile Limited (NYSE:CHL), an investment holding company, provides mobile telecommunications and related services primarily in Mainland China. It offers various services comprising local calls, domestic long distance calls, international long distance calls, domestic roaming, and international roaming.
CHL currently serves more than 600 million customers (making it the largest mobile operator worldwide) and signed up more than 60 million new subscribers last year alone. CHL's total revenues are greater than its next two largest competitors combined (China Telecom (NYSE:CHA) and China Unicom (NYSE:CHU)).
The company's earnings growth over the past 5 years has been 19% and its dividend has grown at an average 24% a year over that same time. It's currently yielding 3.9%.
click to enlarge image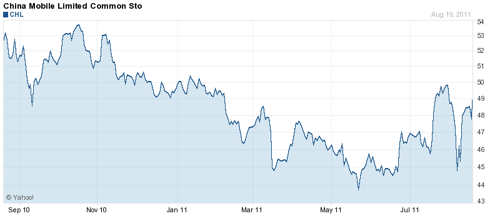 We have always been a fan of investing for dividends in the emerging markets for two main reasons:
Investing in emerging markets is similar to buying Coca-Cola (NYSE:KO) or McDonald's (NYSE:MCD) stock in the 60's…or buying Microsoft (NASDAQ:MSFT) or Apple (NASDAQ:AAPL) in the 80's.
(ii)

Emerging market dividend payers offer an embedded currency hedge. The Chinese yuan in particular is well poised for a multi-year secular appreciation against the USD.
This weekend's cover story on Barron's echoes this sentiment (…and also mentions CHL as a good buy right now). The fundamentals of this company are very favorable as well. This stock is cheap by every metric and trading at historic lows in terms of its P/E (10.6) and P/B (2.13)
To top it all off, there have recently been rumors circulating about CHL carrying Apple's iPhone. Whether or not there's any substance to this speculation, it seems like only a matter of time before this deal gets done. And with the stock this cheap, and paying a 4% dividend that's growing, you can get paid to wait for the price to catch up to its potential.
Disclosure: I am long CHL.