Health Care REIT (NYSE:HCN) invests in senior living and health care facilities, specifically skilled nursing and assisted living facilities as well as independent living facilities, hospitals and medical office buildings.
The company's dividend yield is 6.40% and the recent market selloff offers investors a chance to capture this high yield stock at a bargain (click on image to enlarge).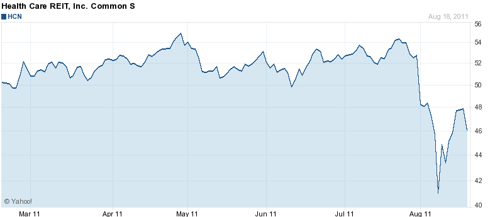 The obvious appeal with healthcare REITs is the aging baby-boomer population. The number of Americans age 65 and older is expected to grow 36% between 2010 and 2020, compared to a 9% growth rate for the general population. That's over 70 million baby boomers that will soon be requiring increasingly more healthcare services. The nationwide health-care overhaul is also increasing the percentage of the population with health insurance which ultimately means more customers for healthcare REITs.
In addition to the favorable long-term fundamentals, because of the non-discretionary nature of healthcare spending, these stocks tend to perform consistently over all economic cycles. For investors focused on investing for dividends, healthcare REITs are a staple position in a portfolio.
The healthcare REIT industry is relatively small with 3 main players and a lot of consolidation recently. HCN is one of the big 3 along with HCP, Inc. (NYSE:HCP) and Ventas Inc. (NYSE:VTR). The 3 majors have been aggressively acquiring smaller properties. In 2010, they spent over $11 billion snatching up smaller rivals. In this industry size is important and these 3 companies will be sitting pretty for the foreseeable future, and there's much more room for future consolidation. The U.S. health-care real estate market is worth more than $700 billion but not even 10% is owned by the 'big 3'.
The recently announced cuts to nursing home payments by Medicare have caused some concern among investors in this industry. A similar action in the 90s forced many smaller healthcare REITs to close down, however this time is different in that, the demographic fundamentals far outweigh the cuts to Medicare reimbursements (as well as the fact that the cuts are technically only for 1 year).
Either way, it's another reason to be focused one of the big players in this space. Also, HCN is 70% private pay, which is one of the reasons it's our favorite in this sector.
The company sports solid financials and an ability to generate cash for its investors while offering upside in an uncertain economy.
Disclosure: I have no positions in any stocks mentioned, but may initiate a long position in HCN over the next 72 hours.