What an unusual problem to have in today's financial sector. Macquarie Group (OTCPK:MQBKY, MQG.AU) is a multi-national investment and financial firm headquartered in Australia. Macquarie Group offers investment banking, retail and commercial banking, commodities and securities trading, and brokerage services. As an Australian firm, financials are reported in Australian dollars and for the purpose of this article, financials have been converted to US dollars at an exchange rate of AUD$1=USD$1.05.
With strategic acquisitions over the past few years, Macquarie generates 60% of its operating income offshore in Asia (16%), North America (30%) and Europe (14%) The firm carries slightly more than $3 billion in excess capital and has $5 to $6 billion in excess liquidity it can deploy for future growth initiatives. Macquarie has a market capitalization of $8 billion, with 346 million shares outstanding.
Australian banks have a history of large dividend payout ratios, with Macquarie goal of 50% to 55% payout to shareholders. The dividend fluctuates based on earnings and historically are not as "stable" as US investors may be accustomed to. During the economic weakness of recent years and in a desire to keep its dividend steady, management has been paying out a much higher ratio as earnings have declined. For example, last year's payout of $1.95 represented a bit more than 65%.
Earnings this year are expected to fall during the first half (April-Sept) and recover during the second (Sept-March), creating a relatively flat FY 2012. Based on maintaining the dividend at $1.95, Macquarie's cash payments to shareholders equates to about $675 million in FY2012. Some are calling for earnings to decline by as much as 15% this year, along with a potential reduction of distributions to $1.80. In this case, cash payments would equal over $620 million. If the expected rebound of business materalizes and the dividend is increased to $2.25, cash dividends would be upwards of $775 million in FY2013.
Book value is current calculated at around $35 with tangible book value pegged at around $29. Shares are currently trading below even tangible book value, making a share buyback at a discount to book value of at least 13%.
Rather than paying its dividend, if the company bought back 30 million shares a year this year and next, share count could be reduced to from 346 to 290 million. This would equate to a 16% reduction in shares outstanding, if they are all retired.
Earnings are expected to rebound from $1.05 billion in FY2012 to $1.2 billion in FY2013, and FY$1.5 billion in 2014. Adding this growth to a reduced number of shares could send earning per share from just below $3 this fiscal year to over $5.25 in FY2014.
Return on equity has been stagnating over the past 2 years. Falling from it once 20+% historical performances, ROE has been stuck in the 8% range, mainly due to high costs associated with an uptick of the number of employees collected with its asset purchase activity since the credit crisis of 2008. A rebound in profitability to an ROE of minimum 11% is crucial to earnings expectations going forward. While traditionally reluctant to reduce headcount, management needs to either goose up revenues per employee or start chopping heads.
Another potential outcome could be an acquisition of Macquarie by a larger financial concern. Macquarie is behind UBS and Deutsche Bank in the value of completed Australian and Asian M&A for ytd 2011. Although profitable, Macquarie's competitive weakness has been in its investment banking and brokerage businesses, and may be a good fit for a financial firm with strengths in these areas. Macquarie's competitive strength is in Asset Management and Corporate & Advisory. There are various non-core assets that could be sold to fund an acquisition, such as its $9 billion in Canadian mortgages, its $9 billion fund management business, or its aircraft leasing and Sidney Airport holdings, both combined at about $3 billion. Due to its business make up, the firm may not be vulnerable to the impact of the Volker Rule and has much less litigation risk than its US peers. Management may be receptive to a buyout north of its book value of $35.
Share prices have been hammered recently and are off more than its peers. Below is a 2-year chart of MQBKY versus SPY, the S&P Financial SPDR ETF (click to enlarge image):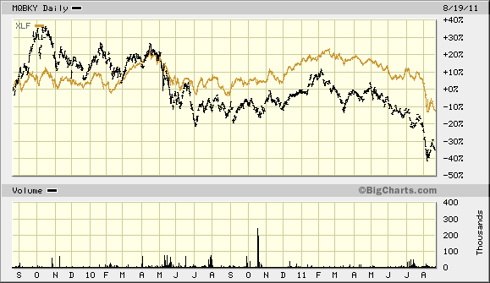 Whichever way you chose to look at Macquarie – high dividend, prospective EPS growth, or potential acquisition target - its current share price of $25 seems like a pretty good deal.
As always, investors should conduct their own due diligence, should develop their own understanding of these potential opportunities, and should determine how it may fit their current financial situation.
Disclosure: I am long OTCPK:MQBKY and have been a shareholder since 2008