Back in mid-May, I sold my holdings in the iShares S&P National Municipal Bond ETF (NYSEARCA:MUB). I purchased MUB in December of last year because the big discount seemed to big to resist; I was also mimicking Bill Gross's dive into munis at the time.
My reasons for selling seemed obvious enough to me at time as I attempted to balance risk versus reward:
The MUB shares had already gained more than their annual yield, and
Imminent economic weakness (signaled by the bond market) would further damage state and local budgets and eventually send assets like MUB back to the bargain bin.
Since then, MUB has gained another 3%. At a time when the stock market is at 11-month lows, MUB is reaching for 52-week highs. This strong performance is occurring even after S&P downgraded municipal debt to AA+ status (11,500 bonds reliant on federal spending).
So what happened? The market for munis is diverse and many investors are unwilling to part with munis easily. Last year's end of the Federal government's prop to the muni market through the Build America Bonds (BABs) program was part of a rare moment of panic for this asset class, exceeded of course by the panic from 2008′s credit seizure.
Some of the vitriol directed at Meredith Whitney for making her dire calls on state and local budgets has provided an instructive display of the protective/defensive nature of the muni market (there are plenty of counter-analyses to Whitney's claims as well, for example, "Meredith Whitney Overreaches With Muni Meltdown Call"). Most importantly, there remains a strong abiding faith in the commitment and ability of muni debtors to find a way to pay their bills.
An interesting article in Bloomberg caled "Muni Investors 'Keep Their Heads' After S&P Downgrades Issues" on August 11th, provides a small laundry list of statistics that indicate both robust demand for munis and some undercurrents of bearish activity:
Muni-Bullish
On the day of the S&P downgrades, the ratio of buy orders to sell orders was 2.5 for municipal-bond trades.
Muni funds have seen net inflows from May to July
More limited supply of munis: $141 billion in municipal-bond issuance this year through July. For the same period last year, issuance ran at a $216 billion clip.
Muni-Bearish
Investors pulled about $14.5 million out of municipal-bond mutual funds on [August 9], the seventh straight day of flows from the funds. There was about $861 million in total withdrawals from

US municipal-bond mutual funds in the week ended Aug. 3, before the downgrade, and that was the greatest weekly outflow since April.

Mutual-fund investors took money out of the funds for six straight months beginning in November 2010.
Just as Treasury bonds got more attractive as a "safe" bet after the S&P downgrade, it seems investors think of munis as relatively safe in a world of diminishing returns, limited options, and unattractive alternatives. The recent increase in in CDS price and higher yields on New Jersey debt is one example of a downgrade causing the expected impact. See: "Does A Downgrade Cost Anything?". I was certainly wrong to sell MUB so early, but for the future it does seem right to buy MUB when the market offers steep discounts.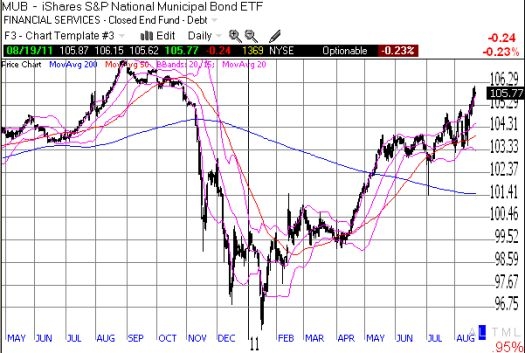 MUB has almost recovered all its losses from the massive sell-off that ended with a bottom in January.
*Chart created using Telechart
Be careful out there!
Disclosure: I have no positions in any stocks mentioned, and no plans to initiate any positions within the next 72 hours.