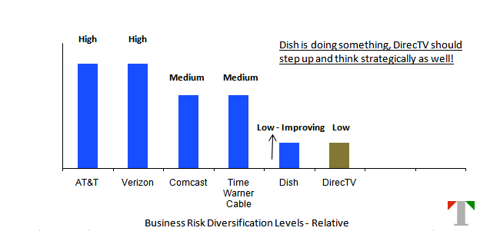 DirecTV (NASDAQ:DTV) is reportedly looking at the possibility of acquiring Hulu though it has not yet decided whether it is in the company's interest to do so.[1]
This brings up an important issue of whether DirecTV can continue to thrive as is. Its competitor Dish Network (NASDAQ:DISH) has made several strategic acquisitions, and even though Dish is currently losing subscribers, its efforts regarding its long-term positioning are notable given the changing industry dynamics. Other players like Time Warner Cable (NYSE:TWC), Comcast (NASDAQ:CMCSA), AT&T (NYSE:T) and Verizon (NYSE:VZ) already have multiple businesses to hedge risk. So what is DirecTV's next move?
DirecTV is still dependent on the pay-TV business and given that the company has been doing reasonably well, investors don't seem to be worrying about the long-term outlook. One of the differentiating factors working in its favor is the NFL Sunday Ticket sports package. However only about 2 million customers (about 10% of the base) subscribe to this package and therefore, this alone can not continue to drive DirecTV's growth forever.
We believe that DirecTV may need to make some strategic investment soon in order to better position itself against changing industry dynamics and diversify its business risk. Perhaps Hulu could be the answer or perhaps another strategic investment could be on the horizon.
Broadly speaking, DirecTV should think in the direction of aligning itself with the consumers shift to broadband and find ways to benefit from this migration. Promoting just its current offering might not be the answer, and it could take some notes from Dish's recent moves to work towards more compelling service bundles.
Our price estimate for DirecTV stands at $51.50, implying a premium of more than 15% to the market.
Notes:
DirecTV CEO downplays interest in Hulu, GigaOm, Aug 4 2011
Disclosure: No positions