Cisco (NASDAQ:CSCO) released earnings (see Q4 conference call transcript here), found some traction in the market for once and was subsequently hit by macro events and a jarring announcement from HP (HOPQ). Now that the dust has settled, it is a good time to take a look at Cisco's progress from a long term perspective. How good were its earnings? Do the earnings indicate a bottom, as Goldman Sachs attests? Can we expect brighter days ahead?
Cisco's results, while not astonishing, were solid in a climate that has seen severe volatility plague financial results in the tech/networking sector. Everyone remembers Juniper's (NYSE:JNPR) free fall after a poor earnings call (maybe not related, but six executives jumped ship for Cisco this month… hmm). Its growth was tempered, obviously, by restructuring, but its underlying business grew healthily. It is a good thing that Cisco didn't disappoint, or we may have seen it violently lower.
click to enlarge images
Results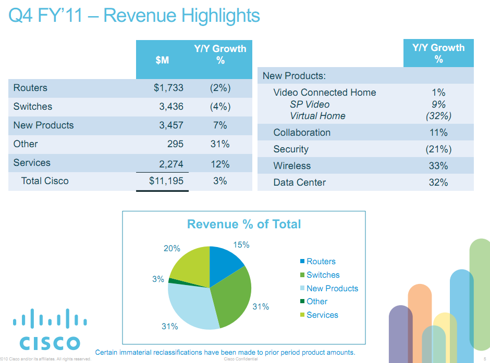 Source: Cisco.com
Cisco CFO Frank Calderoni spoke to the revenue picture, which is marginally rosy. Revenues are increasing, which is good, but not at an aggressive rate. Switching has declined yoy, but recovered from Q3. Frank said:
We increased total revenues to $11.2 billion, which is up approximately 3% from the prior year. Total product revenue in the fourth quarter was $8.9 billion, and that grew 1% year-over-year and 3% quarter-over-quarter. Our switching revenue was $3.4 billion, representing a decline of 4% year-over-year and a 4% growth from last quarter.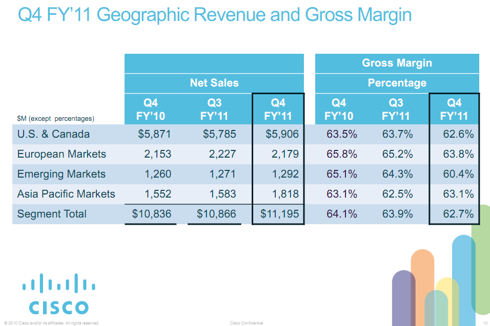 Source: Cisco.com
Margins are getting squeezed, especially in emerging markets where markets are less open to a high performance solution in some cases. Otherwise, solid margins in Asia are a positive. Chambers also took time to hit some of these highlights of results. Chambers spoke to gross margins and bookings, saying that:
Total non-GAAP gross margins were 62.7%, with non-GAAP product gross margins at 61.2% and non-GAAP service gross margins at 68.6%. Overall book-to-bill was comfortably above 1, with total product orders in Q4 growing year-over-year by 11%. We also saw book-to-bill comfortably above 1 in all of our major product areas.
Frank spoke to the operating margins, saying that:
Non-GAAP operating margin for the quarter was 25.2%, and our non-GAAP net income for the fourth quarter was $2.2 billion, representing a decrease of approximately 12% year-over-year. As a percentage of revenue, non-GAAP net income was 19.6%. GAAP net income for the fourth quarter was $1.2 billion as compared to $1.9 billion in the fourth quarter of fiscal year 2010.
Operating margins are expected to decline for Cisco. These numbers don't surprise from that standpoint. Given the restructuring efforts, we may see these numbers surprise many analysts. Right now, Goldman expects its cost savings to be higher than expected. Cisco CEO John Chambers continued to speak to orders from a geographical, customer and product perspective. He said that:
In terms of Q4 orders, there was very good balance from a geography, customer segment and most key product families. From a geographic point of view in Q4, our 4 theaters achieved year-over-year order growth ranging from 9% to 19%. Our enterprise, service provider and customer orders grew year-over-year between 15% and 19%. However, public sector spending continues to be a challenge, decreasing on a global basis year-over-year by approximately 4%. From a key products perspective, routing orders grew 17% year-over-year, switching orders 6% and new products grew 11% year-over-year.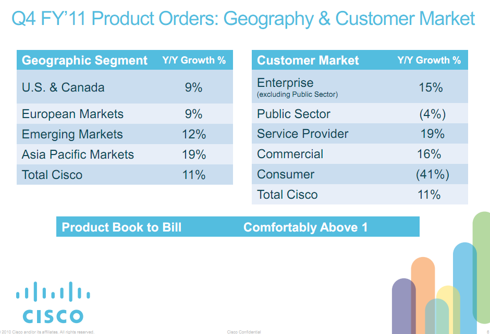 Source: Cisco.com
Asia Pacific Markets is over 19%, which is good news. Its strong growth in other segments is also holding up decreased public spending. This is especially comforting with Cisco being so dependent on that government spending. John also spoke to the gross margin declines that have been hitting Cisco recently. He said:
While gross margins for the entire switching portfolio decreased by approximately 1.4% in FY '11 versus FY '10, Cisco now is maintaining both its market share quarter-over-quarter in ports and in revenue. For example, we shipped 36 million switch ports during Q4, our highest quarter in history.
This indicates to me that Cisco is now competing on price as opposed to its previous notion of price performance. In other earnings calls, it had said it would continue the old model of competing on a "price performance" basis, which basically translates into a performance basis. Now, you can see that it is beginning to succumb to the pressures of agile competitors like Juniper (JNPR). Although this might hit its margins, it seems to have hit its competitors harder. He continues to expand on this:
We have taken several steps to react to the switching market dynamics we are seeing. Due to the largest switching portfolio refresh in our history, Cisco has driven down price performance to benefit our customers. This has caused the average ASP per port to decline. As we have in the past, we will drive our gross margins on these products higher through cost efficiencies and volumes as the products get further into their life cycle. This is more evident today as compared to the past due to our simultaneous refresh of nearly the entire switching portfolio.
I am fine with Cisco beginning to adapt to its environment. Companies are now more comfortable with multiple vendors and solution providers; the competitive edge of a holistic networking solution no longer offers the price premium it once did. As a result, in order to remain relevant, Cisco must lower its prices. I say this is a move in the right direction.
One of the reasons I think this move is a good one, is its growth in service. Its total service revenues continue to increase, especially in the advanced domain. Frank said that:
Total service revenue was up -- was $2.3 billion, and that was up approximately 12% from the prior year. We experienced strong year-over-year growth of 11% in technical support services and approximately 17% in advanced services… On a year-over-year basis, non-GAAP product gross margin was down 2.4 percentage points, driven by discounts in pricing, mix and offset by cost savings. We saw strength in our non-GAAP service margin of 68.6% attributable to strong margins from both technical support, as well as our Advanced Services business.
The advanced service business continues to drive growth from a technical support standpoint. As network security becomes a board meeting topic in the coming months, I would hope Cisco could take advantage of that with strong support and expertise in its realm.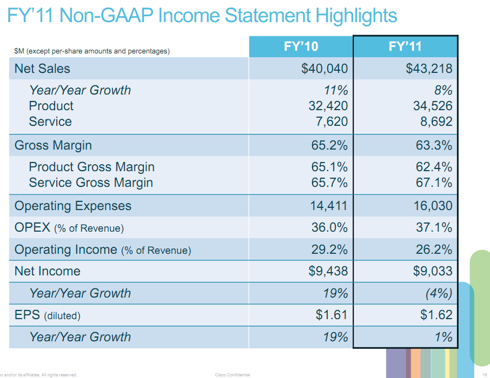 Source: Cisco.com
Conclusions
This earnings call had a lot of points to discuss. I believe that Cisco is moving towards a place where it can price competitively and rely on superior services to generate margin. Its competitors, while agile and creative, do not possess the balance sheet or the history that many customers may lean to in an uncertain macro environment. This plays to Cisco's strengths, whatever may remain of them. I think this could be the bottom of the curve for Cisco, with a brighter future on the horizon several quarters out. For those than can stomach the admittedly unpleasant costs and frictions of restructuring, Cisco is dirt cheap and finally realizes that it is ot entitled to premium pricing and shareholder support.
Disclosure: I have no positions in any stocks mentioned, and no plans to initiate any positions within the next 72 hours.
Disclaimer: The author holds no positions in stocks mentioned and does not plan to initiate positions. This article is to be used for educational, research and informational purposes only and does not constitute investment advice. There are no guarantees, expressed or implied, of future positive returns in regards to the subject matter contained herein. Understand the risks inherent in investing before making the decision to invest or consult an investment professional for more information. Reasonable due diligence has been performed in regards to the information in this article. However, the author expressly disclaims any liability for accidental omissions of information or errors in fact.