The current low interest rate environment and the recent flight to "safety" have created a situation where the dividend yield on the S&P 500 has surpassed the yield on the 10-year U.S. Treasury note.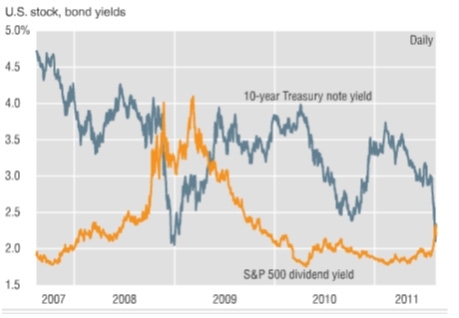 We advise long-term investors with cash on the sidelines to look at several alternatives to generate income in the current environment.
1. Invest in Low Beta, Large Capitalization U.S. Dividend Stocks
In the current market environment, it is important for income investors to choose their dividend stocks wisely as they are putting new money to work. As volatility increases (especially downside volatility), investors may want to add some low beta stocks to their holdings to help dampen portfolio volatility. In general, companies with low betas will tend to be less volatile than the general market. Below are some low beta dividend stocks with a higher yield than the 10-year Treasury note.
click to enlarge images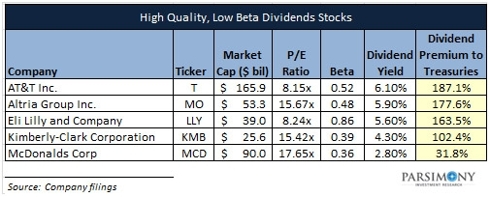 Click to enlarge
2. Sell Covered Calls on Your Core Stock Holdings
In general, low beta dividend stocks (like the stocks on the list above) are ideal for a covered call strategy. Stocks with low betas will tend to be less volatile than the general market and defensive stocks tend to hold up well in a market downturn. Since you are selling upside volatility with a covered call strategy, you want actual volatility to remain low after you overwrite a call on your dividend stock position. Low beta stocks are less likely to surge to the upside in a short term rally, making the probability of assignment lower.
Below are the specific call options that we would recommend selling on the candidates that we highlighted above. On average, the 5-month premium yield is 2.8%, with a margin of safety of 5.3%% and upside potential of 10.8%.

Click to enlarge
3. Allocate a Portion of Your Portfolio to High-Yield Dividend Stocks
Depending on individual risk tolerance, an investor should consider allocating a portion of their portfolio to high yield dividend stocks such as master limited partnerships (MLPs) and Real Estate Investment Trusts (REITs). These investments are not suitable for all investors due to the specifics risk associated with them. However, in the context of the right investment strategy, even the most conservative investors should consider these assets. The table below highlights some REITs and MLPs that we feel offer investors a great risk/reward profile in the current economic environment. See A Speculative Strategy for Conservative Income Investors for details on building a high-yield dividend stock strategy.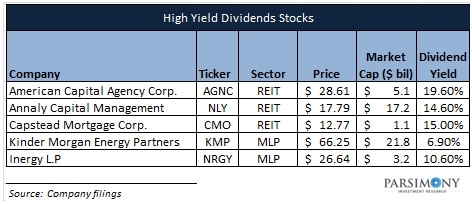 4. Sell Cash Secured Puts on High Quality Growth Stocks
A put selling strategy is a great way to generate income on large cap U.S. growth stocks with a true embedded margin of safety. Using this strategy, investors can take advantage of the implied volatility in stocks like Apple (NASDAQ:AAPL), Chipolte (NYSE:CMG), and Netflix (NASDAQ:NFLX), which currently have rich option premiums. In addition, these equities have a broad ownership base and tend to be very liquid.
With a put selling income strategy (focused on out-of-the-money puts), you get paid to wait for the price you want on a stock. If the price never drops to your strike, you get to keep the premium (income) as a consolation prize. Your downside is owning the stock at the strike price.
The table below highlights some large cap growth stocks that are currently ideal for a put selling strategy. On average, the stocks below have a 5-month premium (income) yield of 8.5% with a margin of safety of 20.2%.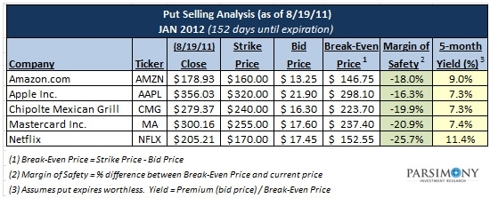 Click to enlarge