After spending some time researching some of my favorite gurus like David Einhorn, Guy Spier, and Mohnish Pabrai, it became clear that all of them had one thing in common among their investment disciplines and strategies: an investment checklist influenced by Warren Buffett.
Buffett's qualitative checklist has always placed a premium on a simple business plan, sound management, consistent earning capacity, high returns, and a prudent approach to debt. After collecting some of Buffett's most commons disciplines and qualifications, I ran everyone's (including mine) darling silver streamer, Silver Wheaton (NYSE:SLW), through Buffett's qualitative checklist.
1. Is the business understandable and how is money made?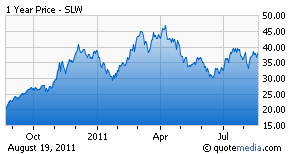 Sure, SLW is a precious metals streamer. It generates its profits from the sale of mostly silver and a little gold. Silver Wheaton enters into agreements with mining companies where, in exchange for an upfront payment, it has the right to purchase, at a low fixed cost, all or a portion of the silver production from these same mines. Upon buying the silver, (SLW's last quarter average costs was $4.10 per silver equivalent ounce) SLW then generates profits from selling the silver at market price. (Its average sale price per ounce of silver last quarter was $31.25.) Silver Wheaton anticipates is total cash cost per silver equivalent ounce to remain unchanged at approximately $4.10 for the next full year.
2. Does the business have a consistent operating history?
Buffett loves companies that have been producing the same product of service for years. Although Silver Wheaton has only been around a little under a decade, it is the track record of SLW's investment decisions that makes SLW so successful. Silver Wheaton currently has contracts on 14 operating mines and contracts on three developing mines. SLW on average has inked two streaming deals a year going back to the company's inception in 2004.
As an example of SLW's due diligence in streaming selection, SLW's core silver asset, the San Dimas mine has been in operation for over 100 years and provided SLW with over 40 million silver ounces. The San Dimas mine has plans of increasing development expenses some 50% next year and eventually increasing throughput capacity by 30% in the next three years. SLW has the rights to buy 100% of all silver production for the life of the San Dimas mine.
3. Does the company have favorable long term prospects?
Warren Buffett makes sure his companies are in a business or service that is needed or desired, and additionally has no close substitutes. While the global demand for silver is moderately increasing, it is the individual investor interest that increased American silver coin demand 20% last year to all time highs. Other drivers like global economic and political uncertainty, potential currency devaluations, sovereign-debt crisis and inflation have certainly made silver a desired precious metal. What about substitutes for SLW's product, silver? There really isn't a substitute for silver in most of its industrial uses and there is only one substitute for silver as a precious metal, and that's gold.
In regards to future prospects, SLW has certainly positioned itself for long term growth. Of the 16 streaming contracts SLW currently has, 13 of them have a term of agreement that lasts the life of the mine, and most of these agreements also warrant SLW 100% of all silver production. Based on their current agreements alone, not anticipating any additional contracts, SLW predicts their precious metal annual attributable production to increase by 80% by 2015. SLW certainly has favorable long term prospects.
4. Is there a big moat around the business, a high threshold to entry?
This may be where Silver Wheaton drops the ball. When talking about SLW's moat, or lack thereof, what stops a different streamer from coming in and offering mines a slightly better deal than what SLW has offered? As an industry there is a weak barrier to entry into streaming precious metals. That being said, SLW has a diverse and profitable portfolio of mines. It would take tremendous amounts of capital and time to even compete with SLW's current streaming deals.
5. Is it a business where even a dummy could succeed? Can current operations be maintained without too much needing to be spent?
Successfully picking and choosing what mines to pay large amounts of upfront payments for certainly requires exceptional experience and knowledge in the mining field. The mining industry has always been hard to predict, but SLW's team has already done all the work and already shown exceptional profit and efficiency. The company could make no new deals and still be very profitable. Much of the work that makes Silver Wheaton profitable is already done. Anybody can make money buying something at $4 and selling it and $30.
6. Is the company free to adjust prices to inflation?
Inflation? Bring it on! With inflation being a major driver to increasing precious metal prices, SLW will only benefit from inflation.
7. Is the company soundly managed? Is the company wise when it comes to retained earnings? Does management resist institutional imperative?
Buffett looks for companies that show competence in managing profits. Additionally, he also seeks companies with management teams that resist a "lust for activity". When looking at Silver Wheaton's history relative to its earnings, the company has only two goals. Save cash for more streaming deals and return profits to shareholders. As of their last quarter, the company had cash on hand of $701 million.
The company explains the cash and credit are available strictly to pursue additional acquisitions for more silver interests. Additionally, SLW has announced its modest and safe dividend at just $0.12 per share annually. In the last two years SLW has made a handful of cash, saved it, and remained disciplined both in spending it and returning it to shareholders.
When it comes to management, Buffett likes companies that don't overdo it with blind duplication or management that pursues business outside of their core competencies. The company only has 24 full time employees! The last big news was back in 2010 when SLW signed the Rosemont Mine contract which was signed in February of that year. Beyond this, there has only been news reporting management changes, their announcement of their dividends and changes to various mining deals. All is quiet on the Silver Wheaton front, besides the record net earnings, record net cash flow, and doubled revenue.
Silver Wheaton clearly has a strong business plan, sound management, and great long term prospects. After running it through Buffett's qualitative disciplines, SLW checks out on a lot of Buffett's core criteria. Maybe he should pick some up.
Disclosure: I am long SLW.
Additional disclosure: I have no plans on selling my position in SLW in the next several years.