Hewlett Packard (NYSE:HPQ) has made a mistake. Almost as big a mistake as say, hiring Leo Apotheker. With that first joke, I want to focus only slightly less humorously on Hewlett Packard's decision to sell their PC business and buy enterprise software provider Autonomy, a decision I feel is a big mistake. I'm going to explain my reasoning, but also keep this article funny and fast. There will be plenty of comparisons along the way to companies that actually are doing things right.
Here's how it all shook down.
Some analysts over the last few months, including Credit Suisse's Kulbinder Garcha and his team, have been trumpeting the idea of HP "Transforming itself". These analysts claim that HP needs to get out of the low margin, commodity like business of PCs and become like tech hero IBM - selling software and services galore to the businesses of the world.
This week, those analysts got their wish...in spades. This was the result of the announcement.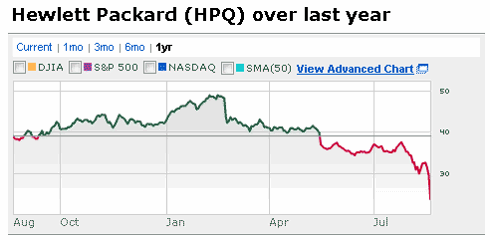 HPQ dropped over 20% in one day, and that's on top of getting dragged through the mud for the last 2 years. Why are investors so scared? Because there are more problems than I have fingers with this proposed strategy. Here are some to mull over.
The PC business makes money! A lot of money.
Let's first read what S&P (from their August 19, 2011 Stock Report), said about HP's PC business:
In PCs, the company commands the number one position worldwide with about an 18% share of the world market, based on PC unit shipment data for 2010 from market research firm Gartner. It is also number one in the U.S. PC market, with about a 29% share of fourth-quarter 2010 PC unit shipments. The Personal Systems Group (PCs and handheld devices) accounted for only 13% of earnings from operations in FY 10, versus 32% of revenue, indicating a relatively low margin segment within the company.
13% of earnings in 2010 - pretty low, right? Until you realize that was about a billion dollars. And HP is the leader, so keeping that lead should be fairly easy.
PCs are a commodity business? So what!
I keep hearing the knock that "PCs are a commodity business". Is having a commodity business really a bad thing? Last I checked, oil, coal and copper were commodity businesses. Anyone seriously think companies like Exxon (NYSE:XOM), Peabody (BTU) or Freeport McMoran (NYSE:FCX) are bad places to be in the future?
Commodities are called commodities for a reason: People want them and need them. A commodity producing company can make fantastic amounts of money, but you must know the business and be able to weather the ups and down and ins and outs of the business cycle. Considering HPQ is the market leader, one would imagine that it should be able to do this effectively.
Margins aren't everything
Ok, so PC manufacturing is low margin. Again I say, "and...?" So are groceries. Do you see Wal-Mart (NYSE:WMT) trying to get out of selling food? Hardly, even though WMT's net profit margins are usually around a ghastly 4%. Sure, high margins are nice, but the important thing is that your margins are effective compared to peers and the best they can be. Oh, and the business has to be making money, of course.
Who the heck wants to buy their PC business anyways?
People want to buy growth, not stagnation. Revenue from PCs has been flat for years. Also, with the announcement, it is pretty clear HP needs the money from the sale to execute its new "strategic vision" (or lack thereof). Is any company going to pay fair value under those conditions? Why not just go toe to toe with HP's PC business instead, since obviously management is distracted with dreams of software.
A few years ago, GE announced it was selling its appliance division, and mentioned that several companies, like LG, were interested. When it turned out that these companies' reaction were, "Huh? We are?", GE about faced and kept their appliances rather than sell for pennies on the dollar. Maybe HP needs to learn something from General Electric here.
Synergy with software
By selling the PC business, HPQ misses the obvious synergy of bundling their coveted software with every computer. Why, they could theoretically take on Microsoft (NASDAQ:MSFT) Windows.
An uninspiring history of acquisitions
Cash burning a hole in your pocket? Buy a company for far more than it is worth.
The Autonomy purchase, in true tech bubble 2.0 fashion, was announced for a premium of 75% of the prior close. That's a mind boggling valuation, unless you think LinkedIn's (NYSE:LNKD) IPO was a bargain. I quote from Kulbinder Garcha again, "Effectively, HP is paying $10bn for a business that will represent 1%/5% of revenue/operating profit". What a deal, right? Yeesh.
This isn't the first time. Forget the $1.2 billion wasted on Palm for a minute, what about 3Par and 3Com? What about Compaq? Billions spent, and has Hewlett Packard actually gotten anything out of these? The 3Par bidding war with Dell (NASDAQ:DELL) was just downright embarrassing; it was like HPQ just wanted to show the world how much money they could waste paying almost double the initial offer.
Seems like the only acquisition that ever worked was EDS, thus proving that if a blind man throws enough darts, eventually he'll hit the bullseye. Just stand clear while he's throwing.
A will of glass
Buying Palm only to scrap it a year and a half later shows just what this company is made of, and that's Jello. They bought Palm with the noble sounding idea of using Palm's operating system, WebOS, to break into the fast growing tablets and smartphones arena. It sounded like a decent idea, and certainly was crowed about by management.
And now they've given up? Not only on mobile computing, but their whole core business? Who is running this company, a hyperactive ferret?
Let's compare to Intel (NASDAQ:INTC), who find themselves in a similar situation: tied to PCs and needing to break into mobile chips. Now, do you see Intel selling their chip manufacturing business to transform the company into an anti virus software producer?
It's laughable (or so I hope) - of course not. Intel just keeps trying and perfecting their power saving chips, getting closer and closer with Oak Trail and probably Elm Trail and maybe Maple or Palm Tree trail, and they'll keep trying until they get it right. I feel with Intel mobile chips are a matter of "when" not "if" and when that happens, Intel can bring to bear all the manufacturing power at their disposal to produce the most powerful chips on the market.
And all without buying ARM Holdings (NASDAQ:ARMH) at 80X earnings.
Buying a company to grow is always a gamble
Especially when you know nothing about a business. Do I even need to detail the countless failed purchases over the years? Say Cisco (NASDAQ:CSCO) and the flip phone? News Corp (NASDAQ:NWSA) buying Myspace.com for almost 500 million only to sell it a few years later for 30 million? Who is to say that Autonomy won't end up being another Lycos?
Here's a funny article you might enjoy about the worst tech purchases of all time. Read it, you'll catch the drift.
Competing against IBM
This transformation would take HPQ to a whole new arena of combat and against a powerful foe. Instead of Hewlett Packard being the industry leader competing against chumps like Dell or equally foolish management teams like Cisco, now they will be competing against IBM, and brother, Big Blue is in the big leagues. They've been computing leaders since the dawn of computers and probably before. They know this industry and they make big money in it. Competing against IBM will be an uphill battle to say the least.
Summary
Hewlett Packard is making a potentially catastrophic mistake. The PC business provides cash, cash that can be used to help the company transform or even *gasp*, cash that could be returned to shareholders. Returning cash to shareholders is a novel concept at HP, but one that has some merit I hear. Jumping head first into an area they have little experience via yet another costly acquisition leaves me with little confidence.
I'm not the only one. The outpouring of downgrades from analysts and ratings agencies, such as Fitch, as well as the plummeting share price are warning Hewlett Packard about the pitfalls of this strategic shift. This would not be the first company destroyed by management in an attempt to remake the company.
I would prefer Hewlett Packard use their hardware expertise to compete effectively against Apple (NASDAQ:AAPL) in tablets and smartphones. It is very early in the game in mobile computing and it is a big and growing market. As it stands, I would stay away from Hewlett Packard like the plague.
Disclosure: I have no positions in any stocks mentioned, and no plans to initiate any positions within the next 72 hours.
Additional disclosure: Was long, but abandoned ship at $38.