Oil prices may have gone down recently. Railroad traffic may have gone down slightly in week 32 of 2011 versus the same week one year ago. However, rail traffic is still up 4.0% year to date over 2010. The railroads are still one of the best long term investments in the U.S. They are near monopolies. No competitor could really afford to build their own tracks today. The price of real estate would be prohibitive. The legal problems for right of ways would be insurmountable.
Longer term, the major railroads are reliable growers. Currently, they are oversold, which means this is likely a buying opportunity. Shorter term they are experiencing minor weaknesses. The following chart gives a pictorial view of the year over year differences in rail traffic.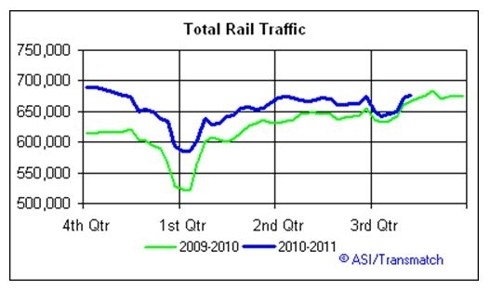 Click to enlarge
click to enlarge
The chart indicates the gains in railroad traffic are leveling off. Part of this is due to a couple of recently weak areas in railroad traffic. Part is probably due to a saturation effect. There are after all only so many locomotives, railcars, and actual rails. As an example of the realities, Norfolk Southern Corp. (NYSE:NSC) just completed (Sept. 2010) its Heartland Corridor project to raise the vertical clearances of 28 railroad tunnels and to remove 24 overhead obstructions in Virginia, West Virginia, Kentucky, and Ohio to allow the passage of double-stacked container trains. This should allow NSC to grow its intermodal (truck and train) traffic in these areas.
Railcars orders are at all time highs; this should tell you what the expectations are for railroads. At the end of April Trinity Industries reported a Q1 299% growth in revenues over the year ago quarter in its railcar manufacturing group. On Aug. 4, 2011 The Greenbrier Companies (NYSE:GBX) announced recently received orders for 3700 new railcar platforms for approximately $285 million. These orders are for double-stack intermodal platforms, boxcars, covered hopper cars, and tank cars for the North American market and various railcars for the European market. Delivery of these orders will occur primarily in 2012. The total new railcars orders since Sept. 1, 2010 is 18,000 units. Someone is planning to move a lot more cargo via rail in the near future. Of course, it helps if you have the railcars, etc. to do it.
Are railroads really going to keep growing? You be the judge after hearing a few more details. Railroads are gaining in fuel efficiency. In 1980 they moved a ton of freight an average of 235 miles per gallon of fuel. In 2002 that figure was 404 miles per gallon (a 72 % increase). The following chart gives comparative data between rail and trucking for 2004. It probably hasn't changed that much since then.

Click to enlarge
The above table indicates that rail transport is approximately ten times more fuel efficient per ton-mile than trucking. If that wasn't enough, studies indicate that trucking emits 6 to 12 times more pollutants per ton-mile than railroads. A single intermodal train takes up to 280 trucks off the highways. A train carrying other types of freight takes up to 500 trucks off the highways. Railroads are also many times safer than trucks in ton-miles. Everyone, except the trucking industry, should be happy to see rail traffic grow as fast as it can.
There may be a few blips along the way. Coal traffic was down in the week ending Aug. 13. This likely accounted for any shortfall in overall traffic. Coal accounted for approximately 43% of all rail tonnage in 2004. The current percentage is likely similar. If coal wanes a bit, the whole railroad freight industry feels it. The four week average is currently off 5.6% year over year. Is this temporary lessening of coal traffic likely to become permanent? That seems unlikely.
Coal powers almost half of the electricity generation in the U.S. It is needed for much of the steel manufacturing. It is likely to keep increasing as long as the economy does. In addition, China, India, and other emerging market countries have a growing appetite for coal for the same uses as the U.S. The U.S. currently has a problem with a relative lack of coal shipping port facilities. However, it is starting to address these problems.
Plus, a number of U.S. coal companies are arranging to ship some of their coal out of Canadian ports. This requires rail transport. China and India won't go from 8% to 10% growth to zero growth in an instant. They and the other emerging market countries mean more demand for U.S. coal in the near future. This means more demand for rail shipping services for coal. The table below gives the most recent rail traffic data for the most important rail categories. Remember that rail traffic is up 4.0% year to date.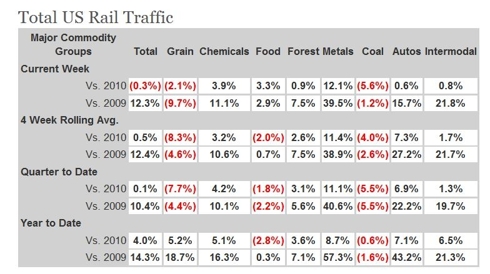 Click to enlarge
The following table gives the forecast growth for a variety of different railroad freight categories from 1998 to 2020. As you can see, there will be considerable growth in railroad freight tons.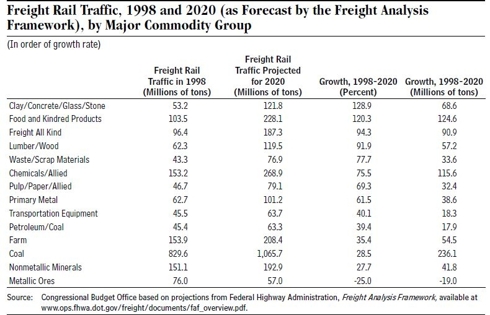 Click to enlarge
The macroeconomic factors argue there should be significant growth in rail transport in the U.S. for the foreseeable future. Let's look at some of the micro fundamental financial data for a few of the major U.S. railroads such as Union Pacific Corp. (NYSE:UNP), Norfolk Southern Corp. (NSC), and CSX Corp. (NYSE:CSX). The data are in the table below. The data are from TDameritrade and Yahoo Finance. 
| | | | |
| --- | --- | --- | --- |
| Stock | | | |
| Price | $20.40 | $63.06 | $85.69 |
| 1 yr Analysts' Target price | $29.21 | $86.02 | $116.78 |
| Predicted % Gain | 43% | 36% | 36% |
| P/E | 13.12 | 13.32 | 14.26 |
| FPE | 10.00 | 10.63 | 10.86 |
| Avg. Analysts' Opinion | 1.9 | 1.9 | 1.7 |
| Miss Or Beat Amount For Last Quarter | +$0.02 | +$0.09 | +$0.01 |
| EPS % Growth Estimate for 2011 | 28.90% | 29.10% | 18.40% |
| EPS % Growth Estimate for 2012 | 17.20% | 15.40% | 20.50% |
| 5 yr. EPS Growth Estimate per annum | 15.97% | 15.17% | 16.66% |
| Market Cap | $22.34B | $21.93B | $41.82B |
| Enterprise Value | $29.73B | $28.14B | $49.71B |
| Beta | 1.31 | 1.10 | 1.14 |
| Total Cash per share (mrq) | $1.18 | $2.61 | $2.16 |
| Price/Book | 2.50 | 2.06 | 2.28 |
| Price/Cash Flow | 8.13 | 8.55 | 9.24 |
| Short Interest as a % of Float | 0.85% | 1.13% | 0.94% |
| Total Debt/Total Capital (mrq) | 49.26% | 39.66% | 32.81% |
| Quick Ratio (mrq) | 1.09 | 1.21 | 0.97 |
| Interest Coverage (mrq) | 6.96 | 7.74 | 9.47 |
| Return on Equity (ttm) | 19.94% | 16.13% | 16.71% |
| EPS Growth (mrq) | 27.75% | 49.94% | 13.57% |
| EPS Growth (ttm) | 39.11% | 41.89% | 33.22% |
| Revenue Growth (mrq) | 13.37% | 17.94% | 16.16% |
| Revenue Growth (ttm) | 15.86% | 16.94% | 16.66% |
| Annual Dividend Rate | $0.48 (2.30%) | $1.72 (2.70%) | $1.90 (2.20%) |
| Gross Profit Margin (ttm) | 65.26% | 27.70% | 71.23% |
| Operating Profit Margin (ttm) | 29.78% | 27.70% | 28.83% |
| Net Profit Margin (ttm) | 15.42% | 16.73% | 16.39% |
Each of these companies is fundamentally sound. Each should return good gains in the next year. It may be a bit risky to buy in the currently unsettled economic times, but it seems appropriate to at least start to log into these perennially strong stocks. It doesn't hurt that a number of well thought of pundits such as Abbie Cohen of Goldman Sachs are suggesting that the market has already priced in a much more dire situation than is likely to occur.
If you are thinking long term, buying railroads at these prices makes sense. Energy prices are going to trend higher. Railroads will remain monopolies. There seems to be guaranteed eventual upside.
Let's take a quick look at the technical side via the charts of the above three stocks.
The two year chart of CSX is below: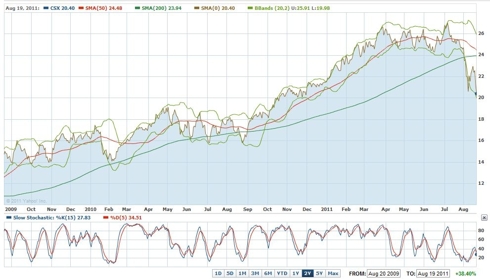 Click to enlarge
The two year chart of NSC is below: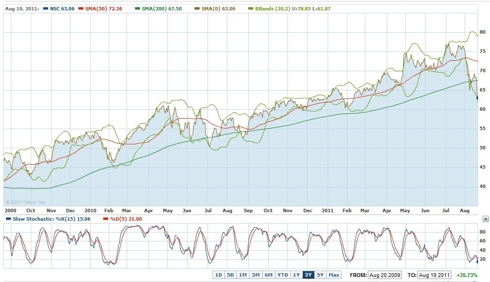 Click to enlarge
The two year chart of UNP is below: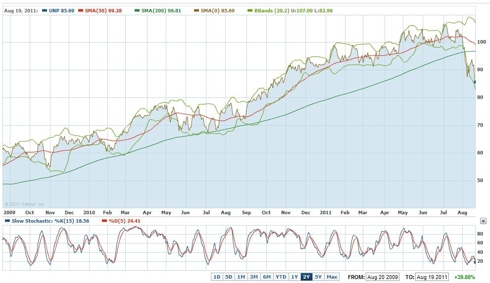 Click to enlarge
All of these charts have recently had strong uptrends. They are currently oversold or nearly oversold after the recent overall market downturn. They are all set to rebound 20% or more in the near term if the overall market cooperates. In the longer term they are set to deliver roughly 40% profits within the year. I don't think you can go too far wrong with these stocks at these prices with a long term view. Shorter term, the situation is more dicey, but still could be very lucrative.
Good luck trading.
Disclosure: I have no positions in any stocks mentioned, but may initiate a long position in CSX, NSC, UNP over the next 72 hours.