A wise friend once told me that investing for yield beats investing for capital gains. He also used to generate much of his yield via writing puts, thus I'm not sure how he would have fared this past week, but regardless he may have a point when it comes to American Capital Agency (NASDAQ: AGNC).
AGNC was brought to my attention at the beginning of the summer and I've been following it closely since. What I find intriguing about this security is its sensational dividend, currently yielding 19.57%. This makes it the 11th highest yielding stock out of 6828 securities in my screen, and 1 of 3 stocks in the top 11 that generates positive cash flows. In addition, its share price has held up remarkably well over the past 2 weeks and has remained in a solid channel over the past 2 years (click to enlarge images):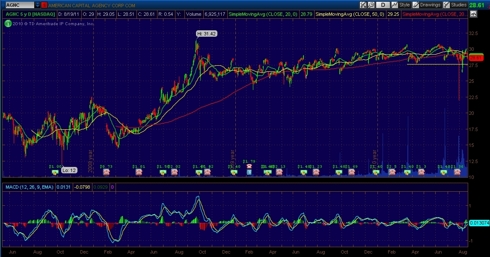 Click to enlarge
The first question one must ask when looking at a 19.57% dividend is whether it is sustainable and if so, how?
Beginning with whether it is sustainable, the answer is yes. This is best understood via the following slide from its Q2 report on June 30th, 2011: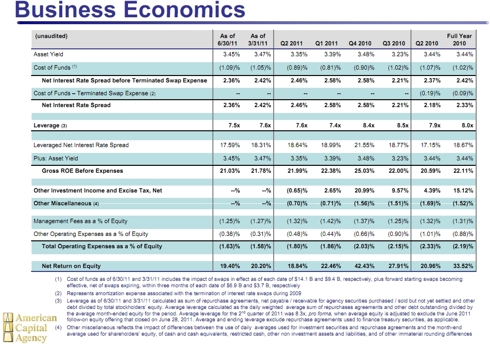 Click to enlarge
The net return on equity (ROE) is large enough to cover the massive dividend payment; hence it is generating the cash required to continue to pay out a 19% plus dividend.
Next comes how, which will be intuitive to anyone who's currently paying a mortgage. By the Federal Reserve taking unprecedented action to lower interest rates and stimulate the economy, it has created a unique economic environment with a number of anomalies. This can be seen in the New York Bank that is charging customers to keep money rather than paying interest, driving gentleman such as Donald Trump to buy equities, and the massive amount of companies refinancing to take advantage of the today's rates. While the homeowners watch all of this, they are still paying 3.5% plus on their mortgage. This represents a significant spread between the 0% the bank pays on deposits and the 3.5% that is collects on mortgages.
That is where AGNC comes in. It is borrowing money at 0.25% and loaning it out, primarily in 15 year mortgages, at 3.5%. This being only 3.25%, it is then leveraging this up to generate the 20% ROE. The table above demonstrates this, as you can see the net interest rate spread was 2.36% as of 06/30/11, which was then leveraged up 7.5x to generate the ROE of 19.40%.

Click to enlarge
Since inception, this strategy has worked on all accounts, with book value steadily increasing: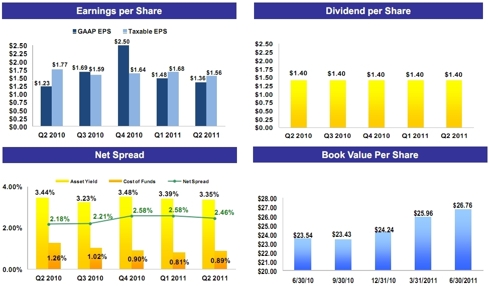 Click to enlarge
Many investors are curious as to why AGNC doesn't retain more of its earnings. The reason is that legally it can't, as it is a REIT, and therefore by law must pay out at least 90% of its revenues to shareholders. As long as it is generating these large amounts of cash, the cash will be paid out to shareholders.
Looking AGNC vs competitors, it is relatively fairly valued even with the dividend: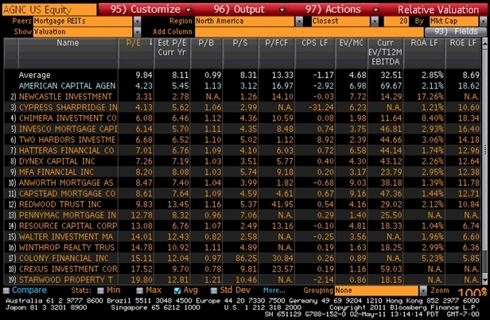 Click to enlarge
It's trading at slight premium to price to book, but outperforming significantly in the ROE category.
Given that the USA is largely a market based economy, if there is such great cash flow from this business model, why aren't more companies moving into the space and driving down the yield? Or more succinctly, what is AGNC's competitive advantage?
Firstly, even though short term rates are at 0.25%, this rate isn't available to the average individual, thus you require a certain size to access these rates. Access to this cheap capital eliminates much of the competition, with a $5 billion market cap, AGNC doesn't face this challenge.
More importantly, what you are investing in when you buy AGNC is intellectual capital. This is a very specialized field, and with the leverage that is being used and the uncertainty around housing in the USA, it is vital that the individuals selecting the mortgages know what they are doing. It is by this account that AGNC has its largest economic moat.
Led by Gary Kain, the team at AGNC has extensive knowledge of the industry. Mr. Kain has been working in mortgages since 1995 when he was hired as Head Trader of Freddie Mac's Securities Sales & Trading Group. He was promoted to Senior Vice President of Investments and Capital Markets while also serving as Senior Vice President of Mortgage Investments & Structuring at Freddie Mac from February 2005 to April 2008. In this role, Mr. Kain was responsible for managing all of Freddie Mac's mortgage investment activities for the company's $700 billion portfolio.
Said another way, the same gentleman who oversaw Freddie Mac's $700 billion portfolio of mortgages is now being allowed to cherry pick the ones most suitable for AGNC, an intellectual competitive advantage if there ever was one.
My confidence in Mr. Kain is echoed by the man himself and other insiders (green symbols on chart below represent buys), with Mr. Kain increasing his shares of AGNC by 56% in his latest purchase and the insider transactions being resoundingly positive over the past year.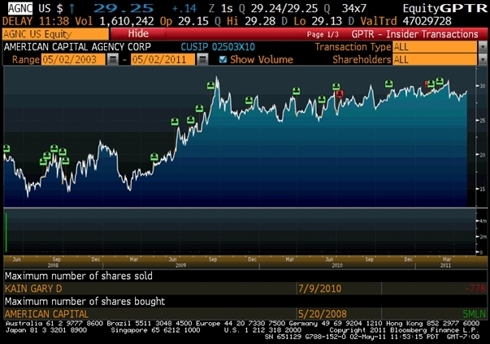 Click to enlarge

Click to enlarge
Out of the company's major equity holders, all but one have increased their ownership. Ironically, the Bank of New York Melon, the same bank who now charges customers to hold their money, is one of the largest shareholders. Not only is it picking up a percentage on deposits, it is then investing this money and making 20 points on it. Mr. Trump take note.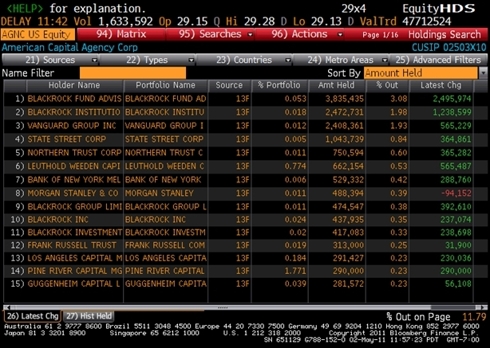 Click to enlarge
Although I am bullish on AGNC's prospects for the reasons stated above, there are clearly large risks with owning a stock that pays a 20% dividend. If there weren't, the S&P 500 Index would be of little use. I'll go through these company specific risks point by point.
Interest rates – As I watched this stock intently over the summer, I was curious to see how the US economic recovery, or lack thereof, would affect it. If short term interest rates were to rise, this would put pressure on its ability to continue to do deals. With the latest Fed statement committing to keep rates at low levels until 2013, this margin appears safe. In addition, it does hedge interest rate risk via swaps, but that will only assist in the deals it has on its books; eventually cash flows will be hurt.
Dividend cuts – AGNC's dividend has steadied over the past year at $1.40, providing reassurance on this front, but if the dividends were to be lower for even a quarter, the stock price could suffer dramatically. Most likely, this would be after hours, causing significant slippage on any stop loss orders put in place to protect against this.
Size – AGNC is growing, from $28 billion to $40 billion over just one quarter, which may make finding appropriate deals difficult. This was a major topic during the last conference call, at which Mr. Kain answered the question with the following answer (via Seeking Alpha's transcript service here):


And as Chris went over today on the call, our asset portfolio despite the size has really never been stronger in terms of protection against extension risk with the high percentage of 15-year, in terms of protection against prepayment speeds, with the highest percentage of prepayment protected attributes. So when you put that together, we're actually extremely comfortable of that. As the portfolio was growing we can maintain a portfolio that is – that has asset qualities that we are extremely comfortable with. And so again, I would look at the composition of the portfolio as evidenced that it's not an issue.
Prepayment risk – This risk is the one that management is most focused on, and for good reason, as the sensitivity analysis below shows. Currently, prepayments are in the 8% range, but with lower rates many homeowners may decide to take this opportunity to make early payments on their mortgage. The job market would have to improve first, making this not an immediate threat, but one to be cognoscente of. Management's ability to keep this rate in the 8% range will be key to maintaining the ROE at 20%.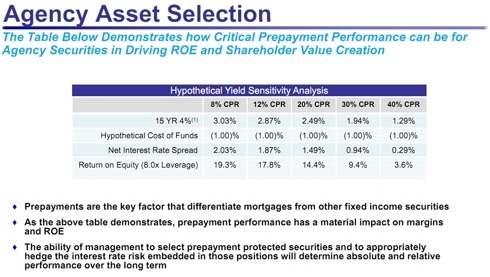 Click to enlarge
AGNC is an excellent opportunity to take advantage of the unique macroeconomic environment we find ourselves in. The way the stock price has held up in the recent market volatility builds further confidence, as clearly there is a loyal contingent of shareholders in the company providing a solid level of support. With the Fed's commitment to keep interest rates low and management's "insider" knowledge of the mortgage market in the USA, I am optimistic that the yield and the stock price will stay at current rates until at least the 2012 elections, providing an above average return in the form of cash to the bold investor.
Disclosure: I have no positions in any stocks mentioned, and no plans to initiate any positions within the next 72 hours.