Green Mountain Coffee (NASDAQ:GMCR) has been on a tear, rewarding shareholders significantly. The company's Keurig machines are generating strong reoccurring revenue due to the K-cups. The beautiful thing about Green Mountain is that the business model is extremely simple and when a consumer buys one of its machines, they have to buy its refill cartridges. As someone who has a Keurig machine in his house, I very much enjoy the end product as do most consumers.

SodaStream (NASDAQ:SODA) is another company with the very same business model, however instead of coffee the company specializes in homemade healthy soda. Just like Green Mountain, the company is able to generate substantial reoccurring revenue.

The main reason companies merge is in order to create synergies that will maximize profit by effectively cutting cost. I believe that with the merger of both these companies, this scenario is very possible. The business models are exactly the same. A merger like this would also allow the company to gain market share in the broader market. SodaStream currently has 20% market penetration in Sweden. Green Mountain has 70% of the homemade coffee market and they hope to increase that share.

Green Mountain already has significant exposure in more areas than SodaStream does. If a merger were to occur, Green Mountain could help SodaStream get the necessary exposure in emerging market economies. The coffee market is much more established than the homemade soda market. Green Mountain also has partnerships with large corporations such as Starbucks (NASDAQ:SBUX) and Dunkin Donuts (NASDAQ:DNKN). If SodaStream were able to get partnership deals with large businesses such as restaurant chains, it would add significant value to the company.

Coffee and soda are two very different products. I believe SodaStream would also prove to be a fantastic hedge for Green Mountain. With rising coffee prices, consumption could possibly decrease. Since Green Mountain's entire business revolves around coffee, the company could take a hit if that were to occur. However, if SodaStream were a part of that business, it could provide some support when the other segment sees top line revenue decreases. It's a great way for both companies to diversify within a similar business model.

The issue with SodaStream is that the cost to make a 64 oz bottle is around $2. You can get 2 two liter Coca-Cola (NYSE:KO) bottles from CVS (NYSE:CVS) for $2 total, which would equate to around 135 oz for $2. This is where SodaStream falls behind. The company is not as strong a brand as Coke, yet it charges more. The sustainability is unlikely unless the company has another division that would provide support in case the soda segment falls apart. This is where Green Mountain Coffee comes in; it is cheaper to buy Keurig machines and use K-Cups than it is to go out and buy store brand coffee. Green Mountain can help SodaStream streamline a business model, where they can undercut competitors such as Coke and Pepsi (NYSE:PEP). This would help SodaStream move forward while increasing its customer base.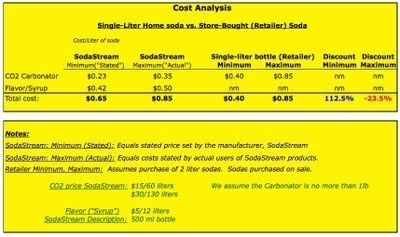 I believe a merger between these two companies would create extremely strong synergies. Both companies have a similar business model. Both companies generate heavy reoccurring revenue. It's a win-win situation for both. These companies are already expected to growth substantially over the coming years; with a merger they would be able to maximize their growth potential.

Disclosure: I have no positions in any stocks mentioned, and no plans to initiate any positions within the next 72 hours.