Silver has clearly regained its footing. After a phenomenal surge higher that culminated in a euphoric peak at the end of April 2011, silver corrected sharply in May and ground its way through June. But the white metal managed to establish a bottom over the summer and has begun to ascend once again. And it just might have the strength to break through to new highs this time around.

As mentioned in several past articles, I have been bullish on gold and silver for the last several years. And despite my decision to exit the Silver trade in late April, my fundamental thesis for owning remained steadfast, which is hard asset protection against aggressive monetary stimulus, pricing instability and currency debasement. These forces are running as strong as ever in the current environment, particularly with the sovereign debt situation in Europe teetering on the brink. Thus, the fundamental environment remains favorable for silver.

Over the last several weeks, I reinstated my silver positions through the iShares Silver Trust (NYSEARCA:SLV), as I am once again bullish on the price outlook. During the sharp correction in May, it never broke below its long-term upward trending support line in the 200-day moving average. By the end of June, silver had established additional strong support at the $32 level. And it has added further layers of support in the weeks since the 50-day moving average and the $37 price level, which was previous resistance during the early summer correction. Momentum indicators are also steadily rising on a well-defined upward trend. All of these technical factors set up well for silver from a trading perspective.
[Click all images to enlarge]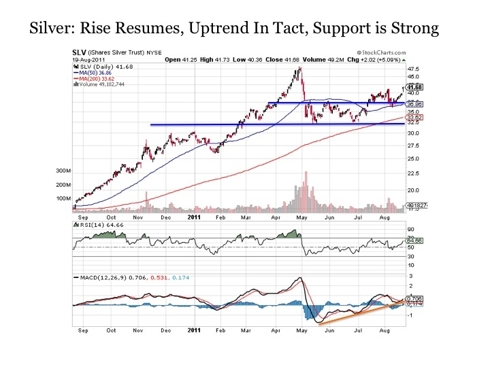 Click to enlarge
The ideal entry point for silver is currently in the $36.80 to $37.00 range, which is around the 50-day M.A. as well as the previous summer resistance. Silver is a volatile investment, so a sudden pullback to these levels would not be out of the question. However, just as gold has frustrated investors for months by hardly ever pulling back, we may also see the same challenges beginning to emerge with silver. It jumped to $41.68 on Friday, and while it is running a bit hot on the Relative Strength Index readings, it's not necessarily overbought by any means. As a result, those interested in investing in silver may want to consider staging into a position in the event a near-term pullback does not materialize.

Another key question is the potential upside that we might expect from here? The silver trade collapsed back at the end of April when it bumped into a major resistance level. It was back in 1980 that silver spiked sharply higher to reach a nominal high of $50.35. After a parabolic rise through the end of April 2011, silver peaked just short of this previous nominal high. Once it failed after three attempts, traders put a beat down on the silver price. But after being staggered, silver is back on its feet and appears ready to make another run at the $50.35 mark. This would once again be the critical level to watch on any rise in silver in the coming weeks. It could set up as a painful double top, or it could also turn into an epic breakout.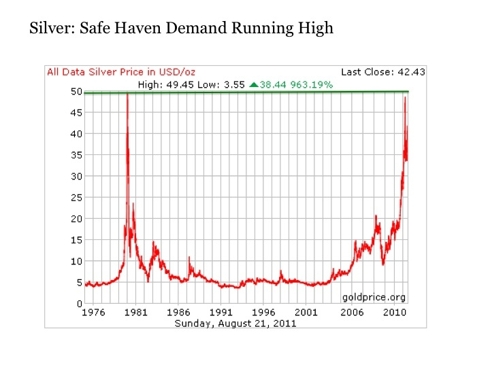 Click to enlarge
Silver has more in its favor in making a second run at the $50.35 peak. First, the silver price has had the opportunity to consolidate over the last few months. Many weak hands and speculators have been shaken out, and a large number of investors are still stinging from the crushingly sharp decline that occurred in May. This should help lead to more disciplined price action and decision making on any new move toward the previous peak. Also, the gold-to-silver ratio that had plunged to long-term low levels on the previous silver spike have returned to more sensible levels. Although they remain somewhat below the long-term average, they are not necessarily inconsistent with the levels seen during the last period of pricing instability in the late 1970s. Furthermore, if gold continues to rise, this serves as a tailwind to bring silver along with it.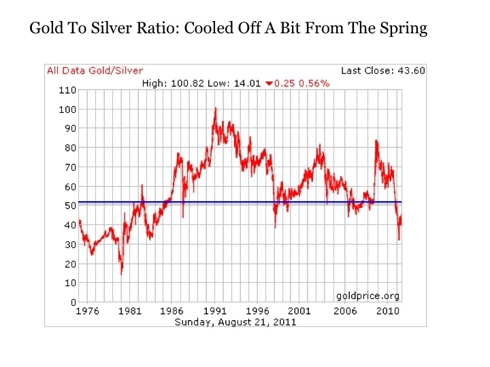 Click to enlarge
One additional note. In the event that Bernanke was to announce QE3 on Friday in Jackson Hole, I consider this outcome unlikely, we could see silver explode to new highs in a matter of days. Stay tuned.
Warning: Silver Risks
I am bullish on Silver for all of the reasons mentioned in this article. But any positions in silver should also be handled with great caution. Silver is essentially a higher beta version of gold with an industrial commodity kicker. It is also a smaller market that is more thinly traded than gold. For these reasons, silver is prone to extreme volatility and price swings at any given point in time. And if investors turn negative on silver like they did in early May, the subsequent pain can be staggering. As a result, the Silver trade is not for the faint of heart, and the allocation to silver as the percentage of a total portfolio allocation should consider the inherent volatility that comes with such exposures. In other words, be careful.
Disclaimer: This post is for information purposes only. There are risks involved with investing including loss of principal. Gerring Wealth Management (GWM) makes no explicit or implicit guarantee with respect to performance or the outcome of any investment or projections made by GWM. There is no guarantee that the goals of the strategies discussed by GWM will be met.