CEF Weekly Review: On average the 13 closed-end fund (CEF) types registered a share price decrease of 1.2% for the week ending 8/19/11. The high-low spread registered this week was 4.4% versus a wider +5.3% the previous week on an average price change of -1.2% versus -0.8%, respectively. On an aggregate unweighted basis, the weekly average price change for the 600 plus CEFs in the GrowthIncome database was down 0.7%.
The PowerShares CEF Income Composite (NYSEARCA:PCEF), an ETF that invests in taxable income CEFs, slipped 2.7% for the week. The S&P 500 tacked on to last week's wild ride another week of downside surprise, with the bottom giving way Thursday and Friday. It ended the week with a 4.7% loss. The S&P 500 moved deeper into the red YTD with a 10.7% decline.
Trading Volume: The average daily volume for the iPath S&P GSCI Total Return Index Callable ETN (Pending:GSPC) rose to 4.4 billion shares, up 14.5% from its previous week's. Despite the 4.5% drop on Thursday, the volume was relatively light at 3.2 billion shares. However, the 1.5% drop on Friday had conviction with volume at 5.1 billion shares. (See, "Uptick, Downtick" below.)
The Eqcome CEF Fear Index rose for the week on the downside. The average CEF unweighted price declined 0.7% and the related NAV decreased 0.4%. The VIX continued to tack on an increase after three weeks of surges. The VIX increased 17.3% to 43.05. The last time VIX was this high was in May 20, 2010 prior to the S&P 500 careening downward 5% the into mid-June.
[Click to enlarge]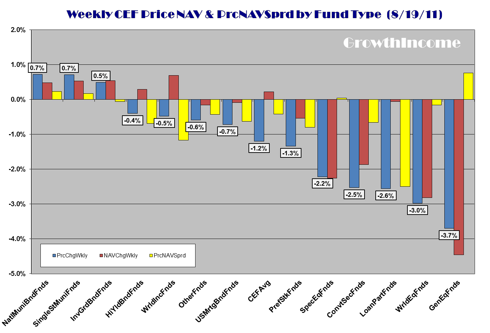 CEF Weekly Fund Type Performance: Equity-oriented CEFs were fund types in least demand. National and state muni funds advanced along with InvGrdBndFnds. All three were the only fund types that scored average share price gains. GenEqFnds were pummeled dropping 3.7%. Additionally, GenEqFnds NAV's experienced an even greater decline in its average NAV (4.5%).
While the spread on high-yield bonds continues to widen, HiYldBndFnds were down only modestly at 0.4%. This was somewhat consistent with the SPDR Barclays Capital High Yield Bond ETF (NYSEARCA:JNK) that was flat for the week.
Economic & Earnings Outlook: (Click here for next week's economic calendar; click here for earnings' announcements and estimates.)
ETFs: For a more detailed EFT performance by sectors, click here.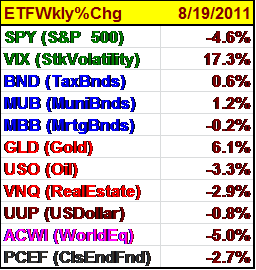 Insider Trading: Insider trading continued to be robust in the third week of August with an additional $8.3 million in stock purchases.
The biggest contributor to this total was William H. Gates, III, of Microsoft (NASDAQ:MSFT) fame. Mr. Gates added an additional 670,858 shares for capital outlay of $8.6 million in Western Asset/Claymore Inflation-linked Opportunities & Income Fund (NYSE:WIW). This was in addition to the 203,036 shares he purchased earlier in the month. Mr. Gates has now accumulated 8,075,700 shares of WIW and is a 13.1% owner.
Interestingly, there was a multiple incidence of insider buying in several of the business development corporations ("BDC's) including NGP Capital Resources (NGPC), FutureFuel (NYSE:FF), Harris & Harris Group (NASDAQ:TINY), Ares Capital Corp (NASDAQ:ARCC), and Hercules Tech Growth Capital (NASDAQ:HTGC). Maybe the acquisition of Motorola Mobile (NYSE:MMI) by Google (GO is a precursor of more M&A activity which would benefit the BDC's.
Consistent insider buying at TCW Strategic Income Fund (NYSE:TSI) continued into August as two of its officers and portfolio managers Tad Rivelle and Bryan Whalen collectively purchased 25,000 shares for a combined expenditure of $128,000.
CEF Distribution Announcements This Week: The following is a link to a table of CEF distribution announcements this week as well as the previous week's with yet expired ex-dividend dates. The list is not intended to be inclusive.
Joe Eqcome (Owns a diversified portfolio of CEFs and ETFs and is long stocks in the CEFBig10™, CEFMuni10™ and CEFDisc10™.)
The first is a balanced equity-income portfolio (CEFBig10™), the second a tax-exempt income portfolio (CEFMuni10™) and the third a portfolio whose objective is capital gains with a secondary objective of current income (CEFDisc10™).
---
[*]All things being equal, price and NAV should move in tandem. A price movement greater than the NAV generates a positive PrcNAVSprd and may be interpreted as negative on a near-term basis and indicate that the stock is overvalued relative to its NAV which in theory is the stock's intrinsic value. The opposite would be true for a negative PrcNAVSprd.
---