Foot Locker (NYSE:FL)
Overview
Recent Price - 17.79
52 Week High - 25.50
52 Week Low - 11.59
Target - 24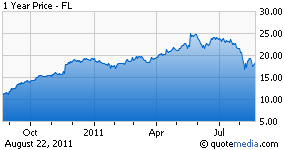 Given the carnage in world markets the last several weeks, it's understandable why investors have grown more defensive. After watching their favorite growth stocks get pummeled many now look to dividends as a means to shore up defenses. Unfortunately, many investors focus on the dividend rather than the growth and stability of the underlying company.
We run a proprietary model that screens nearly 7000 stocks daily. We generally look at companies that rank in the top 5% of our model. Like most analysts, we use models and screens as a starting point and then have to do in depth kick the tires analysis to determine which of the beauty contestants are going to make the cut.
Last Thursday evening FL (Foot Locker) reported earnings. I decided to run the numbers as it had been a winning position for us earlier in the year. It had hit our price target and we weren't sure if management could continue to surprise on the upside. We were wrong.
Great Quarter
This was another great quarter and it was obvious the street would have to raise numbers. CEO Ken Hicks and his team have done an outstanding job turning the company around and putting it on a sustainable growth path. Management has delivered significant top and bottom line positive surprises for 4 quarters in a row.


Estimates And Targets Are Going Up
Merrill Lynch raised their full year EPS to 1.70 up from 1.55 while Barclays did the same. I expect the rest of the street will soon follow and raise their earnings projections by about 10%. We are more than half way through the January 2012 fiscal year and investors will soon start to focus on 2013 and consensus estimates of 1.84. That places Foot Locker at less than 10x next year's numbers. Too low for a company in the middle of a strong athletic product cycle and a management team focused on returning shareholder capital.
The average target on the street is currently 26. Interestingly, Barclays with an equal weight raised their target to 28. I guess a 55% return isn't enough for a Buy recommendation. Conservatively, we expect the stock to trade at 13 x next years consensus at 1.84, giving us a target of 24.
Best For Last
Even without a dividend, the numbers above would force me to take a hard look at this company. Paying almost 17 cents a quarter gives it a dividend yield of 3.7% which is currently 85% above the S&P 500.
5 Reasons To Buy
Management is knocking the ball out of the park delivering on plan
Analysts have been forced to raise projections each quarter
In the middle of a Strong Athletic Cycle
Valuation is compelling given its growth
Dividend yield well above the market
Risk
Clearly the prospect of a NBA strike or lockout is the biggest risk facing the company. The two sides are far apart and this will likely to go down to the wire. The same projections were made about the NFL lockout, but when the prospect of lost millions was about to become reality sanity prevailed. I suspect the same will happen here.
Disclosure: I am long FL.
Additional disclosure: We have recently taken a long position in FL and expect to add opportunistically.