The consumer services sector was down strongly last week in sympathy with the market fall and based on fears of a global recession and its impact on consumer spending, and on the margins and profits of companies that provide various kinds of services for the consumer. Overall, the SPDR S&P Retail ETF (NYSEARCA:XRT) ended down 7.0% last week. This article covers our analysis of the big news and price moves in the consumer services sector last week, evaluating them for buy and sell ideas.
Buy Wal-Mart Stores (NYSE:WMT)
: WMT is the world's largest retailer, and operates Wal-Mart and Sam's Club stores worldwide under discount, super-center and neighborhood market formats. The stock went up a strong 5.1% last week, while the overall market and the retail sector tumbled 4.7% and 7.0% respectively, based on better than expected results for the June quarter that the company reported on Tuesday before the market opened ($107.6 billion in revenue and $1.09 in earnings versus $107.9 billion and $1.08). Revenue and earnings growth at 5% and 15% year over year for the June quarter is accelerating, although modestly for a company the size of WMT.
After last week's surge, WMT stock trades at a forward 10-11 P/E, at the bottom of its historic P/E range, while earnings are projected to rise at 9.7% compounded growth from $4.07 in 2010, to $4.90 in 2012. The stock has basically traded flat between $40 and $60 over the last decade while earnings have gone up sequentially every year since, $1.45 in 2002 to $4.07 in 2010. We believe WMT stock is an attractive buy at these levels. Furthermore, based on our review of the holdings of over 60 high alpha hedge and mutual funds (from managers such as
Soros
,
Icahn
, and
Mario Gabelli
), we determined that guru funds as a group are also bullish on WMT as they added a net $107 million in the June quarter to their $3.13 billion prior quarter position in WMT.
Target (NYSE:TGT)
: Discount chain TGT operates 1,750 Target and SuperTarget Stores across the U.S. offering everyday items, food and fashionable merchandise. It too rose 3.0% amid a broader market and a retail sector sell-off last week, based on solid outperformance in the June quarter ($16.24 billion in revenue and $1.03 in earnings versus $16.18 billion and 97cents), and positive guidance for FY 2012 ($4.15-$4.30 in earnings versus $4.14 estimate). Although TGT is trading at an attractive forward 11-12 P/E, earnings growth projected at 5.0% is much more modest than the 9.7% projected for WMT, and it is decelerating from the strong growth in the high teens reported earlier. Furthermore, guru funds as a group are not as bullish on TGT, cutting $60 million from their holdings in the June quarter from the $852 million in the prior quarter.
Macy's Inc. (NYSE:M) and Penney JC Co. (NYSE:JCP)
: M operates of 854 department stores in 45 states, U.S., Puerto Rico and Guam, offering apparel, accessories, cosmetics, home furnishings and other consumer goods; and JCP operates 1,107 department stores in 49 states and Puerto Rico offering apparel, jewelry and furniture. Both dropped off steeply amid the general market and retail sector sell-off last week, with M falling 9.3% and JCP falling 8.2%, based on concerns that a deeper U.S. recession would hurt the consumer appetite for purchasing durable and discretionary consumer goods. Of the two, M is a better buy as it trades at a more attractive 7-8 forward P/E versus 10-11 forward P/E for JCP, and it also has a better earnings profile in terms of both steady and more consistent historic earnings growth as well as a projected 19% earnings growth versus 16% in the case of JCP. Guru funds, however, are bullish on both JCP and M, adding $78 million in the June quarter to their $1.0 billion prior quarter holding in JCP stock, and adding $134 million to their $363 million holding in M stock.
Gap Inc. (NYSE:GPS)
: GPS operates 3,246 Gap, Old Navy and Banana Republic apparel stores worldwide. Its stock fell 4.9%, in concert with the overall market and retail sector weakness, based on fears that a deeper recession will hurt demand for its apparel products. The company reported its June quarter on Thursday after the market closed, beating revenue and earnings estimates ($3.39 billion and 35cents versus $3.34 billion and 34cents), and reaffirming forward guidance. At Friday's close, GPS trades at a fair 9 forward P/E, while earnings are projected flat overall from $1.88 in FY ending January 2011, to $1.47 in 2012, and to $1.74 in 2013. Guru funds are bullish on GPS, adding $43 million in the June quarter to their prior $637 million holding in the company.
Sell Sirius XM Radio Inc. (NASDAQ:SIRI)
: SIRI provides more than 135 digital-quality satellite radio channels to more than 20 million subscribers in the U.S. and Canada. The stock is volatile and fell 5.4% along with the rest of the market and the retail sector last week, on no company-specific news. We first
analyzed SIRI in mid-July
when the stock was trading in the $2.20s, and indicated the price was too rich at over 55 times then-current earnings and a forward P/E of 27, given the modest revenue and earnings growth projected for 2011 and 2012. Furthermore, SIRI faces stiff competition from the likes of Pandora Media (NYSE:P), and has a high debt load that may limit its options going forward. Since our coverage then, the stock has dropped into the $1.60s before closing last week at $1.77. We continue to believe that the stock will trade flat to down in the interim based on current fundamentals.

Sell Barnes & Noble Inc. (NYSE:BKS)

: BKS operates 1,341 Barnes and Noble bookstores in 50 states offering books, magazines and music. Its shares cratered 36.6% last week after the company announced that Liberty Media (LINTA) withdrew its bid to acquire the company at $17 per share, instead investing $204 in the company through the purchase of newly issued convertible preferred stock.

BKS is in a very precarious situation with a very weak balance sheet and an even weaker competitive position. While the company has its legion of fans, it is being pounded on both sides, on the brick-and-mortar side by discount giant Wal-Mart (WMT), and on the online side by digital book downloads from Amazon.com (NASDAQ:AMZN) and Apple (NASDAQ:AAPL). It is not clear if it can survive in its present form, or whether it needs to downsize to a smaller footprint to service its core customers who are avid bookstore fans, both in terms of the number of stores as well as size of each store.

Furthermore, it was pretty glaring that with the earlier exception of LINTA (which subsequently changed its mind), there was an almost complete lack of buyout interest from larger retailers or private-equity firms. This combined with the earlier bankruptcy of its peer Borders, definitely casts a heavy doubt on whether BKS is a wise investment at any price level, and raises the question that maybe the era of large-format bookstores is over, and we may be moving to a neighborhood small bookstore format for die-hard book fans and digital downloads for the rest of us. Furthermore, based on our review of the holdings of guru funds, we determined that they are bearish on BKS, and they only have a $1 million total position in BKS at the end of the June quarter, after selling $7 million during the quarter.

(Click chart to expand)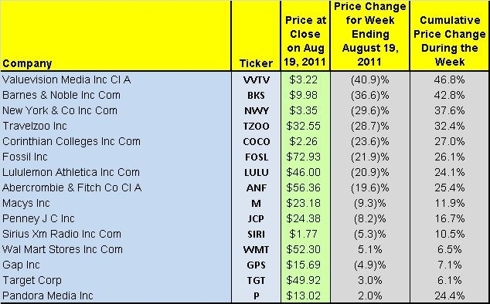 Click to enlarge
Please note that the cumulative price change referred to in the last column of the Table above is used here as a measure of volatility to determine big movers in the group. It equals the sum of the absolute value of the change in daily prices. So, for example, if a security had price moves of 2%, -3%, 4%, -6% and 1% during the five days of the week, the cumulative price change during the week would be the sum of the absolute values of the daily price changes, which in this case would be 16%.
Credit: Historical fundamentals including operating metrics and stock ownership information were derived using SEC filings data, I-Metrix® by Edgar Online®, Zacks Investment Research, Thomson Reuters and Briefing.com. The information and data is believed to be accurate, but no guarantees or representations are made.
Disclosure: I have no positions in any stocks mentioned, and no plans to initiate any positions within the next 72 hours.
Disclaimer:
Material presented here is for informational purposes only. Nothing in this article should be taken as a solicitation to purchase or sell securities. Before buying or selling any stock you should do your own research and reach your own conclusion. Further, these are our 'opinions' and we may be wrong. We may have positions in securities mentioned in this article. You should take this into consideration before acting on any advice given in this article. If this makes you uncomfortable, then do not listen to our thoughts and opinions. The contents of this article do not take into consideration your individual investment objectives so consult with your own financial adviser before making an investment decision. Investing includes certain risks including loss of principal.