U.S indices like the S&P 500 and the Dow Jones Industrial index have fallen over 5% through the week of August 15, due to higher unemployment numbers, an increase in inflation and a slowdown in industrial manufacturing. The news has already been priced and signifies a good entry point for investors into blue chip and large cap stocks that are oversold and have the fundamentals to drive up stock price. Additionally, investors should seek not just speculated movements in stock price, but also coupons or dividends for the added inherent systemic risk. Companies belonging to the non-manufacturing sectors like Microsoft (NASDAQ:MSFT) and McDonald's (NYSE:MCD) offer both, prospective capital gains and steady dividends that provide a yield more than 10 year treasury bonds.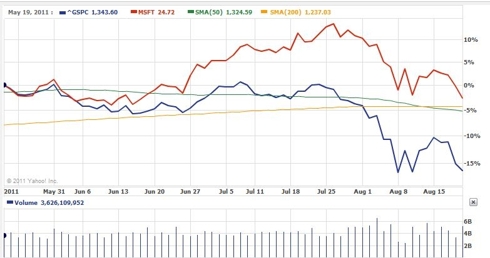 Microsoft is now trading at an important support level of $24. The lower stock price gives investors a chance to invest in a blue chip stock that yields more than 10 year treasury notes and is equally risk free on practical terms, considering Standard & Poor's downgrade of government bonds. The chart above demonstrates how MSFT has outperformed the benchmark index over the last 3 months by over 15%.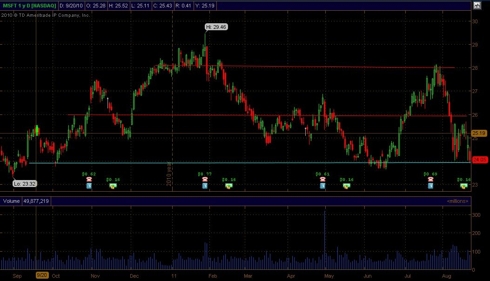 The 1st and 2nd resistance levels can be found at $26 and $28, giving investors a chance to gain 17% until the stock witnesses its resistance test. I do not foresee a breakdown below $24 due to the following fundamental reasons:
Microsoft provides a dividend yield of 2.75%, much above the inflation forecast of 2.6%, ending August 2012. 10 year treasuries instead provide a yield of only 2.06% if you invest in these government issued bonds at current bid price.
Margins for Microsoft are increasing and FY 2011 earnings for Microsoft grew 28%. Monetization of Skype through deals with Facebook, click to call searches and integration with Xbox, along with Office 365 implementation with Blackberry enterprise service will boost the topline for Microsoft.
I believe that Google's Motorola (NYSE:MMI) move will have a profound impact on the growth of Microsoft's mobile business. OEM leaders like Samsung (SSNLF.PK) and HTC now fear Google's favoritism to Motorola as a result of its acquisition, even though it promises to run it as another business. Samsung is now focusing its resources toward its own Bada OS and Windows phone 7. Manufacturers want to differentiate themselves as Customers choosing an Android phone will prefer to purchase a Google (d) phone from Google-Motorola. More about my view on Google's acquisition can be found here.
Windows phone mango is just around the corner with an expected September 1 launch, just in time for the back to school shopping season. The previews for the mango OS update are largely positive and with Nokia (NYSE:NOK) leading the mango charge, the phone could see light in emerging markets as well. Additionally, a survey conducted by Microsoft shows that a staggering 75% of existing developers are interested in developing apps for Windows phone mango after its launch.
The mango platform is expected to witness the largest growth of 67% CAGR over the next 4 years amongst all the smartphone platforms, gaining a market share of 21%. A growth of more than 50% is commendable for a company of Microsoft's size and will allow investors to achieve capital gains since the value of a company is based on future earnings, and multiples are defined by future growth percentages.
If Microsoft does not meet the requirements of your portfolio strategy, McDonald's is another stock that offers steady dividends and capital gains.
| Name | Product | Type | Price | Yield |
| --- | --- | --- | --- | --- |
| Microsoft | Equity | Application Software | $24.05 | 2.70% |
| McDonald's | Equity | Restaurants | $87.75 | 2.90% |
| 10 Yr notes | Fixed Income | Government Bonds | 100-17 | 2.07% |
McDonald's Corp. provides a dividend yield of 2.9%, above inflation expectations. With its $1 order menu, MCD has the ability to trade and function like a consumer staple which makes it immune to lower consumer spending. Its net Income grew 12% last quarter and same store sales were up 3% overall.
Disclosure: I have no positions in any stocks mentioned, and no plans to initiate any positions within the next 72 hours.