Fairholme Capital Management was founded by Bruce Berkowitz in 1997 who was formerly a senior portfolio manager at Lehman Brothers and a managing director of Smith Barney. Berkowitz was named 2009 Domestic-Stock Fund Manager of the Year and Domestic-Stock Fund Manager of the Decade by Morningstar, Inc. Berkowitz has been a popular topic lately among investors wondering if his massive positions in financials (notably Bank of America (NYSE:BAC)) could spell disaster for his fund.
A look at his 13F filings over time is shown below (Contact us for the full reports):

Click to enlarge
click to enlarge
Q2 changes: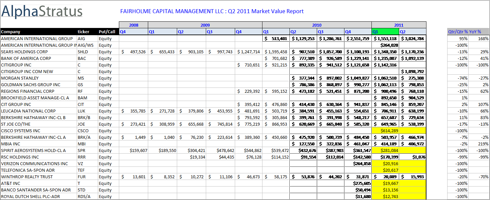 Click to enlarge
A number of positions from last quarter were cut. The two biggest:
Cisco Systems (NASDAQ:CSCO) (a 4% position last quarter) was removed after just 1 quarter in the portfolio.

Spirit Aerosystems (NYSE:SPR) was finally completely removed from the portfolio after slowly being trimmed from 27M shares in Q4 2009.
Berkowitz more than doubled his stake in AIG over the course of Q2. Given the recent selloff in financials in recent weeks, this could indeed spell trouble for his Fairholme Fund: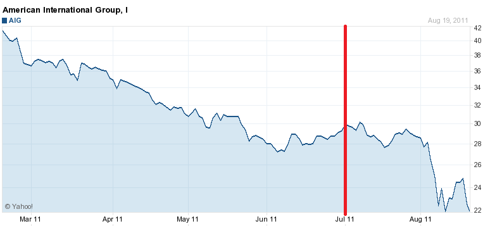 Click to enlarge
Disclosure: I have no positions in any stocks mentioned, and no plans to initiate any positions within the next 72 hours.