After an exciting week that demanded my time elsewhere, I finally had a chance to really sit down and pore over what the folks at Cisco (NASDAQ:CSCO) had to say about its restructuring during its fiscal Q4 earnings call. I had listened in on that call at the time and I came away optimistic that the company was headed in the right direction. Its restructuring efforts seem to have been pursued with gusto and a legitimate, unified effort by management (something that may have helped its business over the past few years, but better late than never).
In this article, I will take a look at that earnings call and figure out what can be gleaned from comments made by CEO John Chambers and COO Gary Moore.
Restructuring
Cisco's restructuring plan was the source of much debate, and it ended up being a significant up-front cost for it as a company. However, I don't think anyone can argue that it was unnecessary or premature; this was something that needed to be done to make the behemoth of a company more agile and employees more accountable. The following graphic (click to enlarge) shows some of the costs of this plan.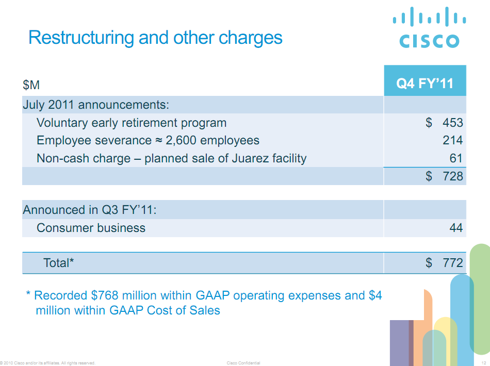 Source: Cisco.com
I was hoping that Cisco CEO John Chambers would take the opportunity during the earnings call to outline more about this process moving forward. Here is his initial high level summary of simplifying operations and aligning investments. He is planning on:
Simplifying and focusing our organization and operating model
Aligning our cost structure given transitions in the marketplace
Managing our portfolio and divesting cutting back or exiting underperforming operations
Delivering value to our shareholders
This is a good start, but nothing terribly surprising here. I think everyone reading this will be excited to see if #3 and #4 actually come to fruition. Cisco is notorious for haphazard acquisitions, a reputation that it will surely want to shed. Chambers supplied extra clarity regarding the commitment and resolution these changes would receive from the entire company. He said:
It would be very easy to rest upon the changes that we've already made and continue to gradually evolve our company for the future. That is clearly what we will not do. We will continue to accelerate and drive through the simplification process at an even faster pace… While the changes we have made and plan to make have been dramatic, we believe that this is an ongoing process in terms of our simplification goals, not lasting several quarters but several years.
It is good to know that the company seems to be aware of the short leash it is being supplied by the market right now. It got a boost in price after this call, and its subsequent decline was macro based and not Cisco specific, driven more by the hoopla surrounding HP (NYSE:HPQ) than anything else. Saying something and doing it are quite two different things, however, so we will have to see how patient investors are in the coming quarters and year. After those statements, there wasn't much more and John simply promised more details at a future conference, saying:
You can expect a broader dialogue around our business model and capital structure at a financial analyst conference for shareholders in September.
Gary Moore, Cisco COO, expanded on these efforts in the call, but Chambers focused on more results-oriented topics. Gary pointed out that Cisco has removed some of the bureaucracy to make it easier to do business with it. He said:
We have sharply reduced our boards and councils and appointed clear and accountable leadership to steer those. This includes our engineering organization where we went from 7 individual engineering leads to 2 coleaders that are now accountable and empowered to make decisions on the portfolio holistically. With this aligned structure, we are now able to readily adjust and execute on the evolving needs of our customers, and we believe quickly capture opportunities in the market.
This is a huge statement, and is entirely different from the Cisco of 12 months ago. Accountability, holistic decision making power and a flatter organizational hierarchy were all big issues with Cisco in the past. It seems that it is on the right track. He talked about the sales realignment and how it has impacted sales decisions, saying:
This alignment has already reduced the deal approval process time for large quotes by 65% to 70%, resulting in a better experience for our customers and faster conversion rates for our sales teams.
Chambers also mentioned that its win rate increased as well. Impacts such as this tell me two things: 1) that there were severe and debilitating deficiencies within Cisco that should have been taken care of years ago; and 2) that it seems to finally be aware of those problems and looking at them from a new perspective. This is both frightening and comforting, all at the same time.
Such is the life of a Cisco bull. Let's take a look at its results, and see what they can tell us (be sure to check out my subsequent article on financial results here).
Conclusions
Cisco seems to have the right idea about how to approach this mess of restructuring. Plenty of opportunities will be available to make mistakes, but given the right attention I believe that it can get through this and become a better, more productive company. Its statements seem to be aggressive and focused on its strategic strongholds, as opposed to simply delving into every arena it can afford to. I came away from this call more confident in Cisco's ability to make these changes quickly, but the analyst conference in September should provide more clarity.
Disclosure: I have no positions in any stocks mentioned, and no plans to initiate any positions within the next 72 hours.
Disclaimer: The author holds no positions in stocks mentioned and does not plan to initiate positions. This article is to be used for educational, research and informational purposes only and does not constitute investment advice. There are no guarantees, expressed or implied, of future positive returns in regards to the subject matter contained herein. Understand the risks inherent in investing before making the decision to invest or consult an investment professional for more information. Reasonable due diligence has been performed in regards to the information in this article. However, the author expressly disclaims any liability for accidental omissions of information or errors in fact.