There is an accepted exchange on Wall Street when it comes to investing in certain companies of certain status. Particularly in technology; the bigger the company, the less investors should expect about growth prospect. Typically, bigger companies tend to be less volatile; while they offer investors more security, one can all but eliminate the ability for speedier growth. There are many reasons for this; and more often than not, it's because large companies tend to apply more conventional philosophies toward spending, amongst other things.
To date, Oracle (NASDAQ:ORCL) has shown that it is the exception to the rule that holds that the so-called mature companies can no longer also demonstrate tremendous growth. While that sentiment can arguably apply to companies such as Microsoft (NASDAQ:MSFT), Hewlett-Packard (NYSE:HPQ) or even Cisco (NASDAQ:CSCO), Oracle was not invited to the laggard growth club. I sold out of my Oracle position last year out of anger, partly because of undue criticism that had been attached to the company for being too aggressive and constantly overspending. At the time, I was also upset on its stance as it relates to its dividend. But since then, I have taken a liking to what the company has been able to do. The fact of the matter is, as much criticism has been heaped onto the company, investors have to realize that the business recipe appears to have been executed quite well.
What is wrong with the stock?
(Click chart to enlarge)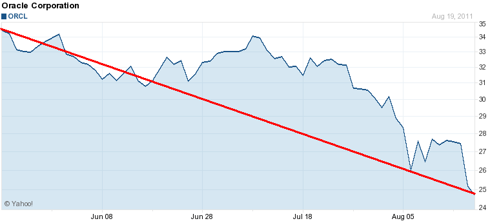 The chart above paints the perfect picture about expectations; and it's one that I can't quite comprehend. Since reaching its 52 week high of $36.50 on May 3rd, Oracle's stock is down a mind boggling 35% over the past three months. What is wrong with the stock? This is the question many investors are asking these days and rightfully so. Ever since the company disappointed investors when it reported its Q4 earnings results, the stock has been on a steady decline.
It seems Oracle has developed the Apple (NASDAQ:AAPL) "investor performance syndrome;" crushing estimates is not enough, numbers need to be pulverized across the board just to "meet expectations." Charles Dickens has told us about the effects of "Great Expectations," but it seems in the investment community this notion reaches an entirely different level or even establishes a life of its own. Oracle posted solid sales and profit growth when it reported full year results. Its preferred method of growth has been through acquisitions, and the purchase of a large hardware rival in early 2010 boosted this year's results. Shareholders have benefitted handsomely, so it boggles my mind to see how impatient these same investors have become.
We discussed previously about the competition that Oracle stands to face from the likes of IBM, Cisco (CSCO), SAP, Microsoft (MSFT), and Hewlett-Packard (HPQ). But with its leading business applications and leading database software solutions, it will continue to face much stronger demand for products, particularly with its increasing integration in business software, hardware, platforms and use. As I noted previously, it has specifically targeted both Hewlett-Packard and IBM, both among the company's biggest rivals.

As a way of demonstrating its keen sense of the competition, Oracle had previously announced that it would stop developing software for Intel's (NASDAQ:INTC) Itanium chips. While some had speculated that this is due to HP's Integrity servers having titanium processors, it appears there was some truth to the suspicion when it was reported that HP had filed a lawsuit against Oracle, claiming that it has illegally decided that future versions of its database software won't support a particular line of HP servers.
Those servers use a chip called Itanium that Oracle insists is being phased out, a claim that the chip's maker, Intel, has denied. In the lawsuit, HP accuses Oracle of anti-competitive behavior, breaking a promise to continue supporting Itanium machines and of the use of "strong-arm tactics to coerce customers into replacing their HP servers with Sun servers they do not want." Oracle's foray into the computer hardware market - an HP stronghold - began with its $7.3 billion acquisition of struggling Sun Microsystems last year.
Summary
Being a dominant tech player is at the top of every Oracle mission. In fact, that is how it built its name - by focusing on the enterprise database market. Oracle's ability to be forward looking has caused it to set its sights not only on virtualization, but also cloud computing technologies; which is (in my opinion) the future of computing services. Though the stock has seen a recent decline in value, the company itself has not disappointed. At $23 per share, the stock remains incredibly cheap. Value investors would be wise to realize at its current price it has become a stock every investor must own.