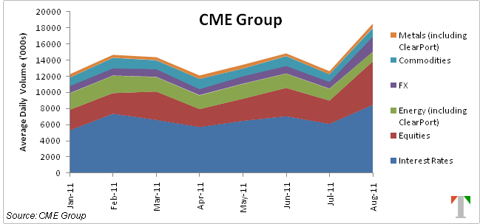 Volatile markets have driven derivatives trading volume at the CME Group (NASDAQ:CME) to a record level in August this year. Based upon the CME Group's daily volume report, the average daily volume in the first half of the current month was 45% higher than the previous month and about 60% higher than the same period last year. August is normally one of the quietest months of the year but recent events like the growing fear of European debt crisis and the U.S rating downgrade by S&P have lifted the market volatility and exchanges such as the CME Group, NYSE Euronext (NYSE:NYX) and Nasdaq OMX (NASDAQ:NDAQ) are happy to profit from it.
We have a price estimate of $311 for CME Group's stock, which is about 20% above the current market price.
(Chart created by using Trefis' app)
Is it sustainable?
The monthly burst in trading volumes does little to an exchange's profit. Only a sustained increase in volumes will have any significant impact on CME Group's price estimate. This sudden jump in volumes is not expected to continue in the coming months and often the periods of extraordinary activity is followed by long calm after the storm. [1]
Volumes may decline
Trading on interest rate contracts constitutes about 21% of the Trefis price estimate for the CME Group's stock.
The US Federal Reserve said last week that it was likely to keep short term interest rates steady till 2013 which could be a sign of that interest rates won't move in a big way in the near future. Since interest rate contracts are traded heavily when the rates are moving, or when the market expects the interest rate to move in either direction, this could be a negative sign for CME. On the other hand with continued easy money policies from the Fed, a looming sovereign debt crisis in the EU and high uncertainty in markets, volatility could have rates whipping around for the foreseeable future, which bodes well for CME.

Notes:
Volatility boosts revenue at exchanges, Financial Times
Disclosure: No positions