Last week, Google (NASDAQ:GOOG) announced it would acquire Motorola Mobility (NYSE:MMI) for $12.5 billion. This would be Google's largest acquisition to date. Many investors have been arguing whether or not the acquisition would be beneficial for Google. Google's acquisition of Motorola Mobility was primarily due to the patents it hopes to get from the deal.
Google's latest acquisition has sparked a patent war in the marketplace. Patents have somewhat become a commodity, specifically mobile patents. If you currently have Verizon (NYSE:VZ) or use a phone with CDMA, chances are that you are using Qualcomm Inc. (NASDAQ:QCOM) technology.
Qualcomm engages in the development, design, manufacture, and marketing of digital wireless telecommunications products and services. The company operates in four segments: Qualcomm CDMA Technologies (QCT), Qualcomm Technology Licensing (QTL), Qualcomm Wireless and Internet (QWI), and Qualcomm Strategic Initiatives (QSI).
The company holds the most amount of mobile patent applications out of any corporation in the world. This means anyone using its patents must pay a hefty royalty in order to get access to them. It currently has 2277 application patents.
(Click charts to expand)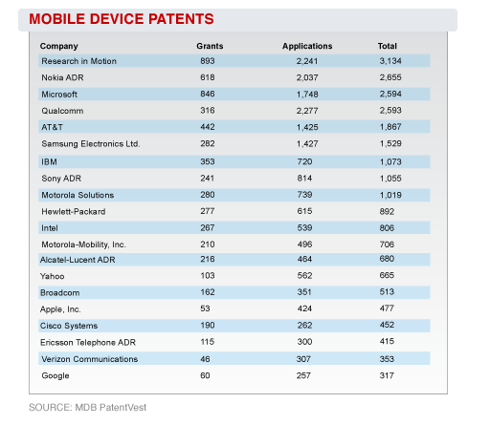 Every major tech company is trying to grab a hold of as many valuable patents as possible. Qualcomm has started to expand its portfolio even more by possibly making a bid to acquire Interdigital (NASDAQ:IDCC). Interdigital currently has patents on many applications for mobile solutions, wireless solutions, and product solutions. They deal with 2G, 3G, and 4G networks. If Qualcomm is able to get hold of this acquisition it could prove to worthwhile for them.
These companies holding patents have significant power. Anyone using these patents must pay a hefty fee. These companies must pay up or else end up being sued in court. These lawsuits become expensive and a real drag for many companies.
Take a look at Rambus (NASDAQ:RMBS), a company that specializes in patenting of computer memory. Rambus is sueing Micron Technology (NASDAQ:MU) and Hynix for a reportedly planning to collude and destroy Rambus' monopoly in the memory business. Rambus is suing for a reported $4 billion. The companies are still in litigation. This is just an example of how much power patents have.
In the new age, the mobile revolution has taken off rapidly with exponential growth taking place. Instead of buying mobile phone manufacturers and wireless companies that exist in a highly competitive environment, why not buy into the companies that have real control and minimal competition?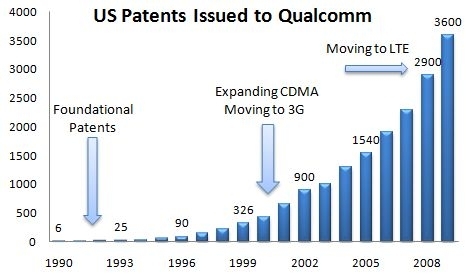 Qualcomm is in industry leader in patents. A true powerhouse in the mobile phone market. If you use a mobile phone, chances are you have already done business with Qualcomm. The company prides itself the amount of patents that it holds. In fact, its headquarters located in San Diego, has an entire wall dedicated to patents.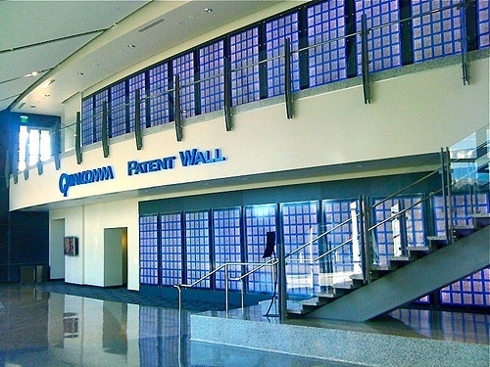 Verizon and Sprint (NYSE:S), both use CDMA technology. The same technology that Qualcomm holds a patent on. Verizon is the 2nd largest carrier in the world with 90 million customers. Sprint is the third largest with 52 million customers. Sprint has already had a headstart in terms of getting access to 4G, while Verizon will soon join the company. If Qualcomm can acquire Interdigital and access those patents, it will thus collect a large amount in royalties from carriers.
Qualcomm currently trades at a forward P/E of 13. The company's market cap is around $77 billion. It also pays a dividend of 1.8%. I believe the company will become bigger and the fact that it generates a nice stream of revenue due to its royalty stream is a major plus for the company. I think a $77 billion valuation might actually be cheap for a company on the verge of controlling the majority of the mobile phone patents in the world.


Disclosure: I have no positions in any stocks mentioned, and no plans to initiate any positions within the next 72 hours.