The last five weeks have certainly been difficult for investors on the long side of the market, especially for those heavily invested in high-tech stocks that suffered a greater correction than the overall market—Power Shares QQQ (NASDAQ:QQQ) dropped more than the SPDR S&P500 (NYSEARCA:SPY). Even bellwether stocks like Apple (NASDAQ:AAPL), Google (NASDAQ:GOOG), Microsoft (NASDAQ:MSFT), Hewlett-Packard (NYSE:HPQ), and Netflix (NASDAQ:NFLX) got hit hard.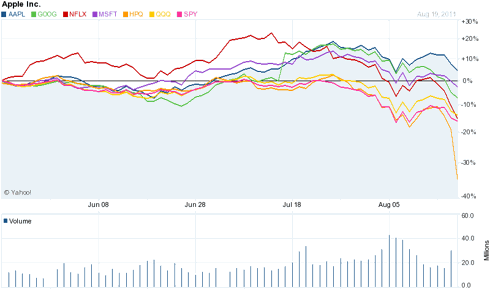 While nobody can say for sure whether the correction is to be over or to continue for some time, value investors may want to take a close look at these stocks to determine which have been fairly, and which unfairly, punished. We do believe that two of the stocks on the list, Apple and Google, have been punished unfairly and they are both a buy. They both trade at a PE of near 11 -- historically low given the economic fundamentals and the momentum for both stocks: high operating margins, strong revenue and quarterly growth, and plenty of market barriers to fend off competitive challenges.
At the same time, we do believe that the remaining three stocks on the list have been fairly punished, and investors should either sell them or stay away, for different reasons. Microsoft, for instance, is trading at low P/E and has a high profit margins, but it relies heavily on the PC that has become a slow growth business, as reflected in its revenue growth. The same is true -- and even more so -- for Hewlett-Packard, which doesn't seem to have a strategy.
Netflix is a totally different story altogether. As we have written in our previous articles, Netflix doesn't have any market barriers to its business, and it is at the mercy of the content providers that collect the market rents.
Company

Recent Price

Percent Correction*

Forward P/E**

Operating Margins

Quarterly Earnings Growth

Revenue
Growth

Apple

$360

10%

11.19

30.43%

124.70%

82%

Google

500

18

11.94

33.62

36.10

32.30

Microsoft

23.85

16

7.58

39.31

30

8.3

Netflix

206

30

30

13.75

56.7

51.70

Hewlett-Packard

24

28

4.6

10.46

4.7

2.5
* Five weeks ago
** September 2012
Source: Finance.yahoo.com

The bottom line: Investors should consider buying Apple and Google, but stay away form Microsoft, Hewlett-Packard and Netflix.

Disclosure: I am short NFLX, and long MSFT, GOOG, and AAPL.