This past six weeks have been tough for any investor to stomach. Even grizzled and venerable traders who have been around the block a few times (we included) won't feel much joy when they open their August broker statements.
Investor psychology also took a pummeling as we came to realize that "quantitative easing" didn't manifest into the level of economic recovery to support the multiples being assigned diverse asset classes.
Printing money might be popular these days, but flooding liquidity into a system does not always produce the desired effect. The key beneficiaries to QE1 and 2 have been corporate balance sheets.
Indeed, "stimulus" programs made asset classes such as equities and some commodities appear inexpensive, but it did nothing to stem foreclosure rates or create jobs. Dollar-engineering didn't improve our exports much either. Sprinkle in surging U.S. budget and global sovereign debt woes and the picture becomes all the more blurry.
Click to enlarge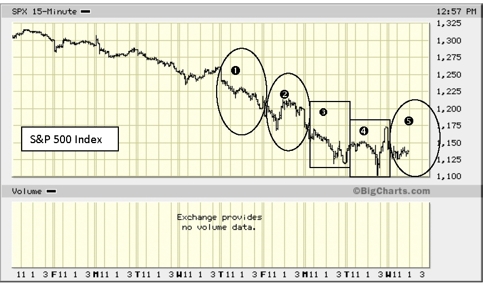 Chronology of the market meltdown: We believe Aug. 4 provided a catalyst or "flash-point" to this current correction. Use chart above for reference.
1.
Thursday Aug. 4: Lack of discernible progress in the debt-ceiling talks trigger program selling by high frequency traders. As selling pressure builds, many traders face margin calls which exacerbate sell-off further.
2.
Friday Aug. 5: Friday's jobs numbers hint that while the labor picture has not improved much, it hasn't worsened either, helping to calm investors and stabilize markets.
3.
Monday Aug. 8: Investors react to Standard & Poor's weekend downgrade of the U.S.'s credit rating to AA+ from AAA.
4.
Tuesday Aug. 9: Ben Bernanke announces that Fed will maintain historic low rates until mid-2013, sending stocks sharply higher.
5.
Wednesday Aug. 10: Problems in the European banking sector renew concerns about the euro continent's ability to collectively resolve growing sovereign debt issues of its member nations.
In the following week of Aug 15, the S&P 500 struggled to hold 1200 and by Thursday, fear returned and the broader index ended Friday's session back down near previous week's lows.
Click to enlarge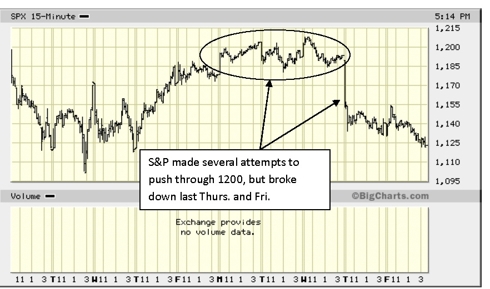 However, since July 20 the S&P 500 index is down more than 15% (through Aug. 19). While we do expect the volatility to continue, valuations are arguably closer to fair-value and more reasonably priced to cash-flows than in July or earlier this year.
How can the average investor preserve capital, eke out a decent yield and benefit from potential capital appreciation in these volatile markets? Below is a list of names we have been buying in recent days and some tactical ideas to consider going forward.
Recent Buys
Intel (NASDAQ:INTC):
We place fair-value near $18, but initiated partial positions at $19.20. Signs of softness in the PC market are evident, but at current levels you are getting a superbly managed enterprise and a very generous 4.2% yield.
Tupperware (NYSE:TUP):
Our current FV estimate is about $54, but we bought some shares near $60 on Friday. Although the company tapped the debt market in June, we think management has done a tremendous job of managing its balance sheet in recent years.
TUP had previously estimated net interest expense at $27 million this year, but net of swap impairment and deferred debt charges, net interest expense will likely be slightly higher. Nonetheless, TUP offers global presence and a 2% yield to hold the shares.
Dr. Pepper Snapple (NYSE:DPS)
: Added to positions near $36 as we think shares are much oversold compared to larger "cola" producers Coke (NYSE:
KO
) and Pepsi (NYSE:
PEP
). DPS' margins came under some pressure last quarter due to rising marketing and input costs, but we believe recently implemented price hikes will mitigate gross margin compression somewhat and hopefully buoy sales and earnings growth. Strong management team, healthy balance sheet and 3% yield for this beverage and food company.
Another stock on our radar is
Mead Johnson Nutrition Co. (NYSE:MJN)
. The maker of nutritional and baby formula products was spun off from Bristol Myers (NYSE:
BMY
) in 2009. We like the organic growth potential as a stand alone business and it's conceivable to see MJN either acquire smaller players or be acquired at some point down the road.
One big knock on the stock is negative equity, but given MJN's strong fundamentals in the "nutritionals" market, its experienced management team should be able to build earnings quality, grow cash-flow and ultimately increase returns-on-equity going forward.
We also nibbled at
Cooper Tire (NYSE:CTB)
following its disappointing earnings on Aug. 4. CTB is one of our more speculative purchases, but the company is a leader in the replacement tire business and the stock looks oversold at these levels. Headwinds include high debt and rising raw material costs, but the current 3.90% yield is only 24% of earnings, tempting enough to take a shot.
Fixed Income Ideas
Another noticeable consequence of our "forced" selling theory can be seen in preferred class shares and closed-end funds. Morgan Stanley Capital Trust VII (MSZ) and Prudential plc, 6.50% Perpetual Subordinated Capital Securities (PUK-A) are two trust preferred and traditional preferred securities (respectively) held in our portfolios. Notice the deep "V" formation and the spike in volume for both charts below.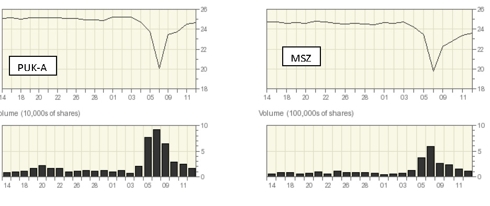 A peculiar aspect of the Aug 4-5 selling suggests that high-frequency traders and program selling became a self-fulfilling prophecy. When black-box algorithm models flash a sell signal en masse, equities are not the only victims. As the risk trade unwinds, traders face potential capital and margin calls. Although Aug 4-5 selling appears to have been orderly (versus a flash-crash frenzy), some investors may have been forced to sell anything just to get liquid.
Of the two preferred securities listed above, we favor adding to PUK-A on any pull-back from current levels. Credit rating is A3 / A- . Morgan Stanley obviously carries more risk at BB+. MSZ is also a "hybrid" security and distributions can be deferred for any reason up to five years.
Closed-end funds (CEF's) were also hammered pretty hard in recent weeks. One sector where discounts to net-asset-values look attractive is "senior-loan" portfolios. These are generally non-investment grade bank or first-lien term loans with variable rates. Credit and default risk aside, senior loans typically have preference over bonds, preferred shares and common stock at liquidation.
We own
First Trust Senior FR (NYSE:FCT)
, which sports a discount of -6.51% to NAV and a current yield of 6.65% FCT pays monthly. First Trust has a good track record in its peer group, particularly in down years. Although the Fed has indicated a willingness to keep rates low through 2013, they will inevitably have to rise. And when interest rates do rise, variable rate distributions increase also.
There are many high-quality sponsors of senior loan portfolios available. Blackrock, Nuveen, INVESCO and Eaton Vance are a few firms with excellent managers and offering a depth of "loan-participation" funds. We recommend comparing expense ratios, holding characteristics, leverage, distribution sources, management tenure, discount/premium, etc., as a starting point when selecting a senior loan CEF.
One strategy to consider is using senior-loan funds to replace closed-end funds where return-of-capital is increasingly supporting the distribution. In a protracted low rate environment, funds holding shorter duration and maturity will find it difficult to replace equivalent income and yields.
There are also tax consequences to consider with ROC distributions. Consult your tax professional before selling a fund having significant ROC exposure.
For investors who would like to diversify away from global currency, sovereign debt, emerging market or equity premium risk, senior loans might provide a reasonable alternative to re-allocate portion(s) of proceeds.
Summary: The current market environment is wacky to say the least. Yet the fear we are seeing now is a mechanism to re-price assets more efficiently. Up until mid-July equity valuations were pricing in multiples for moderate economic and earnings growth.
Ironically, the economic picture hasn't changed much this past two months or most of 2011 for that matter. The critical difference is that investors either chose to ignore the data or underestimated the impact of prolonged lagging indicators.
Volatility might well be a staple of an investor's diet these days, but corrections such as this do add tempting selections to the value menu. Preservation of capital is equally important as growing it. If you have some cash on the sidelines, this might be a good time to dip a toe into the market.
Disclosure: I am long INTC, TUP, DPS, MJN, MS, PUK, FCT.
Additional disclosure:
Sources:
merriamreport.com
, Big Charts, cefconnect, NYSE, QuantumOnlineNote: Long Morgan Stanley Cap. Trust VII and Prudential, plc Perp. Sub. "A"