In a recent Wall Street Journal article the paper quoted Coke (NYSE:KO) CEO Muhtar Kent's plans to spend $4Bn over the next three years to expand bottling plants and marketing in China.
For now, SodaStream (NASDAQ:SODA) is concentrating in the United States (i.e., the Americas). And for good reason. Whether you call it a secular trend, or just a fad, no one can deny that SODA's growth in the Americas is fantastic.
Click to enlarge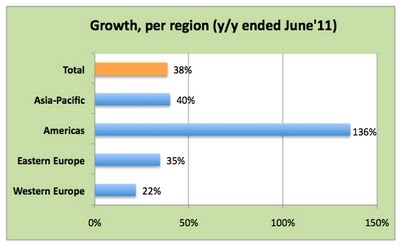 Source: SodaStream, Socially Responsible Investing
So then, everything must be OK at SodaStream. Or not?
SodaStream shares lost their fizz after they beat the Street's estimates for 2Q 2011. This makes me ponder what would have happened if they DIDN'T beat the Street. CEO Daniel Birnbaum later (8/18/11) appeared at a mini roadshow speaking with Jim Cramer, but the damage was already done (see stock chart).
Click to enlarge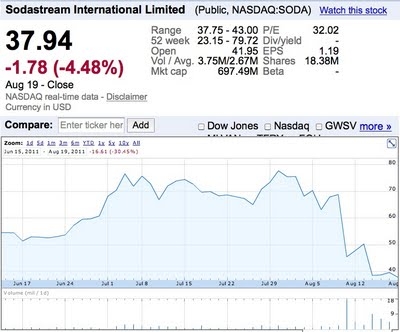 Source: GoogleFinance
Several analysts and Seeking Alpha members were disappointed that SodaStream didn't raise its 2011 guidance. After all, at this rate, revenue growth would implicitly be expected to slow down to c.20%.
The lack of color in this outlook picture is surely reason for pause. So, what's going on in Western Europe? Well, according to Birnbaum, everything's good. He basically said:
Indicators of Americas and Europe are fine
In fact, Europe will benefit if its economy slows, as it's a value proposition
Really?
To me, SodaStream is still a consumer discretionary product, in fact, Birnbaum doesn't want to market it as a value product. The deal is, you can't say that it's a higher-valued/differentiated item then later say it will sell well because it has a strong value proposition. In fact, in my earlier analysis, I proved that SodaStream does not significantly reduce soda costs.
More evidence that weakness in Europe will impact SodaStream's business comes from Linda Montag and Yasmina Serghii-Douvin of Moody's. They expect European soda demand to remain lethargic, especially in the ever-expanding countries withissues (e.g., Greece, Spain, Portugal, Italy). As proof, they give the example of Greece's 2010 slowdown (one of the first) which significantly reduced soda volumes at Coca-Cola Hellenic Bottling Co.
Recall that SODA's Western European revenues declined in 2009, and that was attributed to significant business and inventory management problems at one of its Nordic distributors. A portion of the problems were directly related to the financial crises.
SODA would also be hurt if the euro, which has held up remarkably well in the $1.40/EUR area, declines.
Despite all the talk about the hot Americas/U.S. business, the fact is that much of SodaStream's revenues still come out of Western Europe (see chart below).
Click to enlarge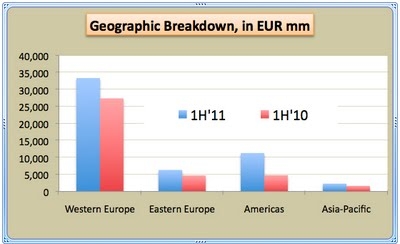 Source: SodaStream, Socially Responsible Investing
Also note that given the geographic proximity and close economic ties, Eastern Europe will undoubtedly be affected by a slowdown in Western Europe. So where does that leave SodaStream?
Maybe SodaStream Should Look East

Going back to my opening comments, maybe, just maybe, SodaStream should focus its energies on the East. You say that SODA's already in Asia. And to that I respond, not really.
Yes, the company is doing a small amount of business in Asia-Pacific (see above chart). However, it appears nearly all of it is actually in Australia and New Zealand. Should we really call those Anglo-Saxons examples of what it means to be Asian?
Instead, I suggest SodaStream dive into China and Japan. Japan's consumer profile is somewhat similar to Europe and the U.S., and we all know they love gadgets. In fact, management did mention its intention to enter the Japanese market by this year's end. Also, I strongly believe that SODA should enter the Chinese market, especially since Coke and Pepsi (NYSE:PEP) are already educating its consumers. Besides, the trajectory of soda consumption is salivating. See chart courtesy the WSJ.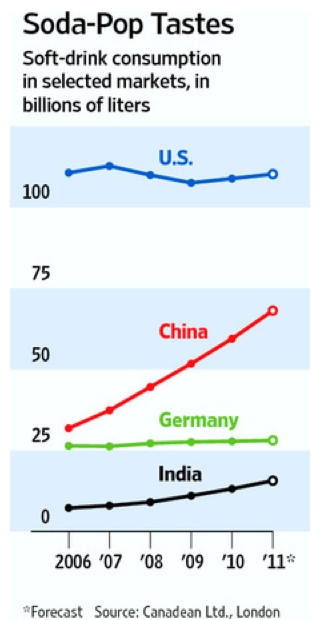 Of course, entering China and Japan has its own share of problems. Birnbaum cited difficulties with language, regulations and advertising contracts in Japan.
In China, the largest issue will be protection of intellectual property rights and lack of full control of local entities. Remember, those CO2 carbonators SodaStream "sells" to you actually come with a license agreement, which effectively empowers SodaStream to collect 70-80% gross margins.
I welcome constructive comments and criticisms. So long as we're listening with open minds, I believe we will all benefit from them.
Disclosure: I am long SODA.