"The object of life is not to be on the side of the majority, but to escape finding oneself in the ranks of the insane" - Emperor Marcus Aurelius (121-180).
When I hear the words "climate change", I fluster. I almost look like Jim Cramer when he gets angry, except that he fakes it. I don't.
In late 2005 I was asked by a French bank to set up and advise a fund investing in international, publicly listed, renewable energy equities, by the name of Energies Renouvelables. I knew it was going to be a long road through hype and I diversified accordingly. With a beta around one, we consistently outperformed the MSCI World, sometimes by a wide margin, until the Great Leveler of 2008. The bank has been on its own since June 2009 and as of last Friday, the fund is down 12% in Euros, while the MSCI World is up 21%. Over three years it is down 25% in line with its competitors; Pictet Clean Energy down 32%, BlackRock BGF New Energy down 48%, and Sarasin New Power, down 45%, while the MSCI is up 16% www.boursorama.com .
If you want to look at other funds listed in the US, get ready to throw up: WilderHill Clean Energy ETF (PBW, see chart below), Guinness Atkinson Alternative Energy (GAAEX), and Calvert Global Alternative Energy (CGAEX) are all trading at the March 2009 level. The only two I follow that have done better are the SAM Smart Energy, down 13% over 3 years, most likely because it is 30% invested in Utilities, and the New Alternatives Fund (NALFX) which is practically absent of Solar.
[Click all images to enlarge]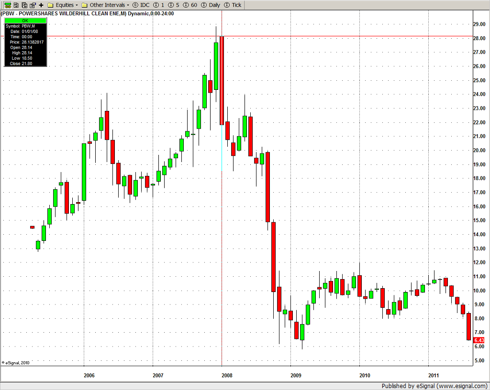 Click to enlarge
By and large, most have fallen to the hype. First Fuel Cells in 2002, see below. Then Ethanol in 2007. Remember Pacific Ethanol (NASDAQ:PEIX), Verasun (VSE), Aventine (AVR), Earth Biofuels (EBOF)? Only Aventine emerged from bankruptcy last year. It currently has a market cap of $79Mn and a loss of $43Mn for the first half. PEIX still trades, at $0.35 for a $9Mn market cap. Now it's the turn of Solar, for one good reason: it costs about 30 cents per kWh to produce electricity, whereas you pay around 10 cents, or less with nuclear.
Without subsidies, the model does not work. Evergreen Solar (ESLR) is dead, Energy Conversion Devices (NASDAQ:ENER) is waiting for the nail in the coffin, LDK Solar (NYSE:LDK) and Yingli Green Energy (NYSE:YGE) have one foot in the grave, Suntech Power (NYSE:STP) lost $34Mn in Q2, plans $350Mn in capex, has $650Mn in cash and $1.6Bn in short term debt. No wonder the stock's market cap is down to $900Mn.
Trina Solar (NYSE:TSL) in in a slightly better shape with $500Mn in net short term cash, but operating income is down to $33Mn from $84Mn sequentially, and 68% of its market is in Germany, Italy and Spain. With only 3% in China, it has a long way to go before it can offset the European slowdown, even with the new feed-in tariffs China put in place on August 1. The government no doubt intends to protect the sector's jobs, and this may explain today's rally.
But there is a difference between protecting jobs by stimulating domestic demand, something the Chinese only did reluctantly and at the last minute, and protecting shareholders' interests. I am not about to trust them on this one, and apparently neither is Suntech Power, flat on the day while the others are up 10% or so.
If you want to have a recent taste of hype, read the May 18, 2011 article by Lindsay Morris. The disclaimer at the end says the company paid for her trip. I wonder who paid for the other 29 "journalists" in attendance at the May 10 presentation. Since then, the stock is down 60%, a tad more than the market. Add MEMC (WFR) to the list, and look at their long term charts.
There is a total disconnect between the cash on their balance sheet, for some it's half their market cap, and the stock prices. It's not often we find a group with so much cash and multiples below 4. They don't even get close. A total misuse of public and private funds. A shame, once again engineered by the investment banks, this time with the help of politicians.
I have often written about the Do's and Don'ts of Renewable Energy. I made a presentation for the Executive MBA Program at my Alma Mater, Columbia. There is even a whole 24-page chapter on the topic in my book. It if was not for the emerging debate between Governors Perry and Romney, with Al Gore waking up to arbiter, I would keep quiet. Been there, done that. But I quite dislike Al Gore and this controversy, so I fluster. Jim is not the only one to fake his feelings. I mean this in a nice way, he is a showman and it is expected of him. Al Gore, we are used to and if the matter was not serious, his Aspen Institute outburst, widely available on utube, would be kind of tragicomical. What is not expected is that Presidential hopefuls fake it too, that is, as blatantly as Governors Perry and Romney do.
A few refreshers here. When Perry was a Democrat and chairman of Al Gore's 1988 Presidential Primary run, one of the strong campaign themes was Global Warming. Why did he turn coat, we will probably find out as the campaign progresses. As for Romney who says he believes in Global Warming but he does not really know why, excuse me!
I don't speak for the scientific community of course, but I believe the world is getting warmer. I can't prove that, but I believe based on what I read that the world is getting warmer.

And then, number two, I believe humans contribute to that. I don't know how much our contribution is to that because I know there have been periods of greater heat and warmth in the past, but I believe we contribute to that.

And so, I think it is important for us to reduce our emissions of pollutants and greenhouse gases that may well be significant contributors to the climate change and the global warming that we see.
Bain Capital is located in Boston and in a few other places in the world where there is a lot of renewable energy activity. Romney was Governor of Massachusetts until 2007. I find it difficult to believe he did not know more about the topic either as a banker or when he put in place its Renewable Energy Portfolio Standards. Maybe he did not know that Evergreen Solar, which got $40Mn in state subsidies, is located in Marlboro, MA. Maybe he does not know what MA stands for?
Time for a little SA action.
In building the Energies Renouvelables fund, I went beyond my narrow focus on a few companies and researched some 800 players out there, about 450 in North America and 250 in Europe. As one of my trusted industry sources cautioned me at the time: 80% are suspect, only 20% are prospects.
Then I looked at the funds I had to compete with; there were about ten. (See above.) All had one thing in common; an extreme volatility since the last bubble of 2000. In 1998, I had left Banc of America Securities, formerly Montgomery, but I still had access to their research. They had an Energy Technology Index at the time, which went from 200 at the end of 1999 to 900 by April 2000. Not a typo, 350% in four months. The "rationale" was the need for a reliable electricity grid in view of exponential internet usage. Brownouts were not to be tolerated. And, while we were at it, we gave a shot at replacing oil for transportation. Fuel cells, which had been invented 150 years ago, were reinvented and so was the hydrogen highway. Millennium Cell (MCEL) is dead, but look at those which are still out there: Ballard Power, Fuel Cell (NASDAQ:FCEL), and Plug Power (NASDAQ:PLUG). Look at the cumullative Shareholders' negative equity. This is how much money has been sunk into the sector. For a reasonable fee, I will send you a copy of the 200-page report, it is one of my favorite hoaxes. I am throwing in a couple of charts for free. This one is Plug Power, which reached a high of 1365…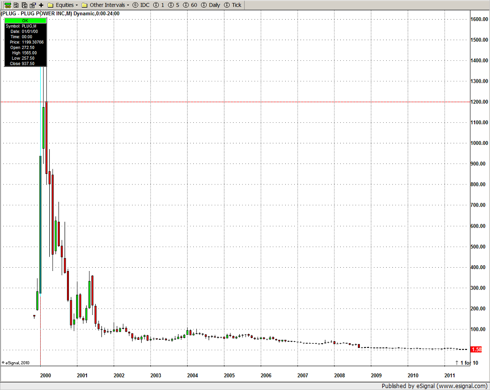 Click to enlarge
This one is Ballard Power, which did power the Apollo missions but not much more…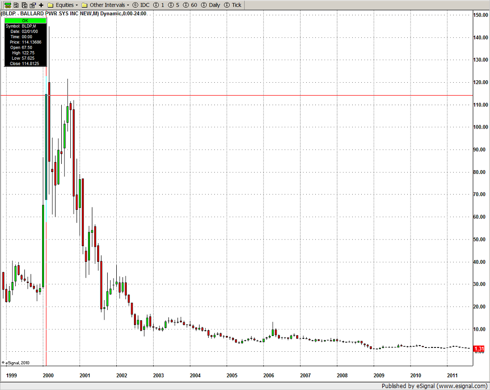 Click to enlargee
Here is the punch line. I will give you more background in the sequel article, Part II, but the chart below is a good summary:
- Stationary Power, i.e. Electricity. Here the main problem is pollution from coal, which accounts for 51% of Electric Power generation. We can fix this economically with increased Natural Gas. Please note this will NOT do anything to oil consumption since it accounts for only 2% of production, i.e. 4% of imports. We should also look at cost effective pollution control systems, such as ADA-ES (ADES, highly speculative). In the larger anti-pollution sector I also like Ecolab (NYSE:ECL), further to its proposed acquisition of Nalco (NYSE:NLC), and Thermo Scientific (NYSE:TMO). And please also note that CO2 is not a pollutant, ask the trees.
Do's: Geothermal, Hydropower, Nuclear Power (not officially considered Renewable), Wind maybe, Biomass at the margin.

Don'ts: Solar, Tidal, and by and large anything that claims to come to mass market WITHOUT SUBSIDIES in less than five years.
- Mobile Power, i.e. Transportation. Here the problem is simple. Oil accounts for 96%. We could also increase then natural gas component, but even the gas rich and bicycle riding Netherlands has been quite unsuccessful at this. The most visible prospect seems to be electric or hybrid vehicles, and there I like Maxwell (MXWL, speculative), Johnson Controls (NYSE:JCI), and Woodward (WWD, always expensive). Don'ts: Fuel Cells and the Hydrogen Highway, Food based Ethanol.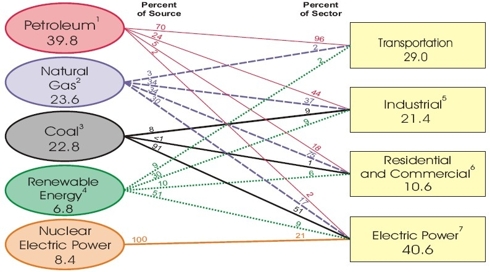 Click to enlarge
Source: I.E.A. Annual Energy Review 2007, Quadrillion BTUs.
Disclaimer: As a Registered Investment Advisor, there are a few things we must tell you. We do not know your personal financial situation or investment objectives, so this article does not constitute a solicitation to purchase or sell any of the securities mentioned, nor is it intended to provide specific investment advice. Past performance is no guarantee of future performance. We live this every day, and you should know it too. The value of the securities mentioned herein may fall or rise and are not insured by any government or private company, even if it meant something. We believe what we write, and we take your audience quite seriously. However, since we cannot be held responsible for any loss or damage caused by reliance on the information and data herein, you should consult with your own advisor and/or do your own research before acting on any of our opinions.