Fashion is an incredibly hard industry to play, since the products sold are purely luxury goods, and are subject to the fickle tastes of consumers. In fact, the recession a few years ago severely hit some well-known retailers, some of which have not yet recovered.
One brand, however, has not only survived, it has thrived in the years since the downturn. That brand is Ralph Lauren (RL). The company's stock price chart below shows years of consistent growth since the recession, with the price more than quadrupling from the low to the high in the last few years.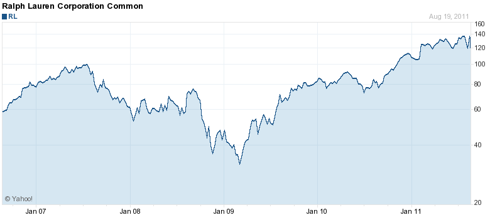 click to enlarge
The company's key metrics are solid also, with very strongly positive cash flows from operations, from 2009 to 2011. As a matter of fact, the company's cash holdings for the fiscal year ended April 2nd, 2011 were $453 million, or 9% of total assets of $4,981 million.
How has Ralph Lauren done so well the last few years when consumers supposedly were still watching their expenditures? The answer: incredibly strong brand equity. This is Ralph Lauren after all, arguably one of the most well known and appreciated brands (not just in fashion) in the world. This is easily seen from the balance sheet, showing $1,016 million in goodwill (just over 20% of total assets).
This very strong brand identity comes from the fact that there is consistency in Ralph Lauren's designs; the firm does freshen up its lineup, but the core brand message remains the same. This has allowed Ralph Lauren to avoid the fate of some brands that have played too heavily to trends. In other words, this is a well run company, that markets itself very well, and therefore will be around for the long term.
The brand is also very well represented across the price spectrum, allowing consumers to purchase relatively affordable clothing, while also offering quite extravagant garments and accessories for when these consumers are ready to spend more.
At the time of this writing, the share had a closing price of about $121.00, with a 1 year expected price of about $145.00, so there is still some potential for upside on the stock.
One of the company's biggest inputs is cotton so investors should be aware of how prices are moving in the long-term for that commodity. Additionally, one Ralph Lauren's growth strategies is to "expand international presence." This is good for the brand, but also exposes it to currency fluctuations.
With the stock price close to the future forecast, now may not be a good time to buy. However, if the economy stays slow, consumers will start cutting back on products such as the ones sold by Ralph Lauren, potentially leading to a drop in stock price. At that point, investors should consider taking a long position on the stock.
Disclosure: I have no positions in any stocks mentioned, and no plans to initiate any positions within the next 72 hours.