"Demography is destiny," or so the saying goes. And Denny's (NASDAQ:DENN), the well-known American diner, is facing some difficult demographic trends. Almost 40% of the Denny's restaurants are located in states hit hard by the foreclosure crisis, high unemployment, and problematic budget deficits.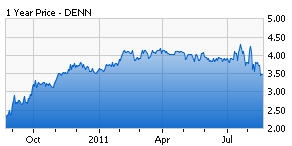 The top four states by number of Denny's locations are California (420), Texas (176), Arizona (78), and Illinois (57). Also, notable is the high concentration in the economically devastated Nevada (32). Around 86% of all 1,658 Denny's locations are franchisee owned.
Unemployment is especially high in these states with California second in the nation at 12%; Florida 7th at 10.7%; Illinois 16th at 9.5%; Arizona 18th at 9.4%; and Nevada first with 12.7%.
Among foreclosure rates we see a similar trend (based on one foreclosure per number of households) among these states with Arizona second, California third, Florida eighth, and Nevada first again.
Using combined metrics (credit scores, foreclosures, unemployment, bankruptcy, credit card delinquency) creditcardrating.com ranks the credit health of states, and the worst in the nation are Nevada #1, Florida #4, and Arizona #5.
All of these Denny's-dense states with the exception of Texas rank among the most impacted across a variety of economic factors. However, even oil-rich Texas has some of the worst budgetary problems in the nation. Looking at predicted 2012 budget shortfalls, California has the largest predicted shortfall in the nation and Texas has the fourth largest in the nation in terms of size. Florida makes the top ten. And in terms of budget shortfall as a percentage of total budget, Texas, California, and Illinois all make the top ten. So the states most concentrated with Denny's restaurants will likely continue to see cuts in public services and state and local budget for the near future.
However, against these demographic headwinds, Denny's has made some potentially positive maneuvers.
Compared to more widely followed firms like Starbucks (NASDAQ:SBUX), Dunkin Donuts (NASDAQ:DNKN), Dine Equity (NYSE:DIN) Brinker (NYSE:EAT), or McDonald's (NYSE:MCD), Denny's largely flies off the radar screen, covered only by a handful of analysts.
Denny's has installed some credible new leadership: a Chief Executive Officer that was formerly head of Taco Bueno (2005-2011) and Romano's Macaroni Grill (1997-2004); a new Chief Operating Officer that headed Dunkin Donuts (DNKN) from 2004-2008; and a Chief Marketing Officer who held the same title at Dunkin Donuts (DNKN) from 2007-2009.
There are other positive factors that may help Denny's counter the economic doldrums of the sun-belt states where it is concentrated. Denny's brand awareness is touted at 97% on its website and over 40% of its stores are located near interstate roads, including 100 new Pilot Flying J conversions and 6 locations at college campuses. An earlier piece notes the importance of a "selective real estate strategy," to reach key markets and customers.
Also noteworthy was Denny's 2010 refinancing of a credit facility that released the company from covenants against share repurchases and dividends. A share repurchase program has already begun with a modest plan to buy back $6 million worth of shares (98.9 million shares are outstanding). A dividend seems unlikely based on the other demands for free cash. My previous article discusses dividend policy.
Just as important as demographics and location will be an attention to quality management and customer satisfaction. The credo of McDonald's legend Ray Kroc from the classic book Grinding it Out - "keep you eyes on the fries" - applies to Denny's today in the ultracompetitive restaurant industry.
Denny's will need to continually improve the food, cleanliness, and service to keep from floundering amid the economic storms brewing in the areas it serves. The increasing shift to a franchise model (the stated goal is 90 franchisee ownership) will also need to show more promise of sustained profitability. Denny's stock has traded in the $2.50-4.25 range this past year, and the key $5.00 mark that may make the stock attractive to a broader investing audience has proved elusive.
If the new management can improve operations and marketing, it can keep the firm "Always Open" through these tough times, and long-term investors could benefit. Right now the stock is also a bet on the economy brightening in the sun-belt states of California, Florida, and Arizona. When that happens (particularly in California) Denny's could get a strong tailwind, especially with the tandem benefits of a solid buyback program and improved economic conditions.
Disclosure: I am long DENN.