Hewlett-Packard (NYSE:HPQ) made quite a ripple in the past week with the acquisition of Autonomy (OTC:AUTNF) and the slew of announcements that came about the spin-off of its PC business and an exit from the smartphone and tablet market.
What was the company thinking spending $10 billion on a company that will account for only 1% of revenues while putting its personal computer segment up for sale?
Citing it as a strategic move does not erase the speculations and questions doing the rounds about how we have witnessed several past acquisitions that have not exactly steered the company in the right direction.
No one has forgotten acquisitions like the $1.2 billion purchase of Palm, the $25 billion purchase of Compaq and the $13.9 billion purchase of EDS - all made in the name of "change of direction" under different CEOs over the past decade. Other than EDS, the acquistion of both Palm and Compaq have not been viable and the selloffs are a testament to that.
click to enlarge image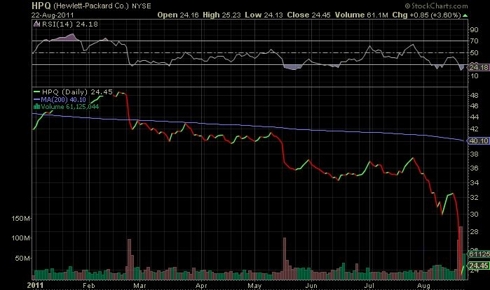 Autonomy, the largest UK software firm, organizes unstructured data from e-mail, web pages and other sources and automates this information, making it available for customer relationship management, business intelligence and other purposes. In short, it develops enterprise software and its flagship product IDOL (Intelligent Data Operating Layer) is a powerful, flexible and extensible platform.
Autonomy's growth and strength mainly comes from a history of successful integration of acquisitions. Through its acquisitions, the company has a firm stronghold in enterprise content management, information governance and management and customer data processing. The acquisition of Autonomy brings all this to HP and will add value to the services that HP provides its enterprise customers.
The hardware industry is plagued by low margins and if you're not Apple (NASDAQ:AAPL), it is hard to remain profitable. There is nothing about HP machines that sets them apart from other PCs and so they cannot be sold at a premium price that allows for high profit margins. HP's spin-off is similar to what IBM ((NYSE:IBM) did with Lenovo (OTCPK:LNVGY) when it realized that its PC business was not profitable anymore. IBM, however, retained service contracts and focused on data management, data mining and mainframe configurations. HP has a similar vision with cloud computing. Whether this is a profitable move or not remains to be seen.
The company's foray into the tablet market with the HP TouchPad has been a disaster. The TouchPad failed to take away market share from Apple and has been struggling since its launch six weeks ago with dismal sales figures and poor consumer reception and now HP is killing the segment completely. The TouchPad was a bad move and an unsuccessful venture.
The company also announced its departure from webOS devices by discontinuing production of smartphones Pre and Veer. Rather than manufacture webOS devices, the company plans to focus on using webOS as a software platform and enter into licensing contracts with vendors. HP holds an extensive patent portfolio of over 2,000 patents that it can easily sell or license. Whatever losses HP incurred with the acquisition of Palm, it can easily recover with the sale of its webOS patents alone. Even though the company claims that it will take webOS in a new direction, it seems inevitable that the company plans to write off its $1.2 billion acquisition of Palm.
HP is treading on very thin ice by trading the known for the unknown. HP's PC business accounts for approximately $42 billion in business and is a dependable cash flow albeit a less profitable one. On the other hand, cloud computing is an uncharted territory with an unproven customer and cash base. Fundamentally it seems like a move in the right direction but it sure is an expensive "$10 billion move".
This is a good time to buy HP when the stock is trading at 6x earnings. For a company that traded at 11x earnings not too long ago, this is a good opportunity to buy this stock. HP's new direction could very well be the dawn of a new era. HP is now a one-stop alternative to IBM to manage all your IT needs. A shifting product mix that focuses on enterprise technologies with a greater emphasis on services is definitely a good strategy in the current competitive landscape. For an investor with a long-term investment horizon, HP is a good buy at $24.
When HP entered the PC business around the time IBM exited it, its acquisition of Compaq seemed like a profitable move. Even though it remained at the top position, razor-thin margins should have made the company exit the business years ago. The move is shocking but not unexpected.
The stock has recovered since its crash last week and investors are closely watching as HP prepares to launch a public-cloud infrastructure offering as part of its new strategy to enter cloud based computing. HP's latest acquisition proves to be very valuable as Autonomy provides a platform that has the ability to store, access, archive and analyze data that can be plugged into a cloud system. The second half of the year plays a very critical role in HP history.
Disclosure: I have no positions in any stocks mentioned, and no plans to initiate any positions within the next 72 hours.