Is America in a Great Depression or going into one? It sure would appear to be the case by looking at Bank of America (NYSE:
BAC
) stock. Bank of America shares are trading around $6.42. This banking giant is trading right around 52 week lows and seems to be dropping every day. Is it really like the Bank of Greece, or have some investors lost their minds in a very negative and fearful climate for the past few weeks?
I would be first to say that Bank of America is facing many challenges and the economy looks like it will remain soft for the foreseeable future. However, the recent drop in BAC shares looks to be more about fear and downward momentum in which selling begets more selling, rather than logic.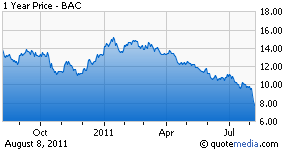 At this point, the stock has been beaten down to a point where there is only about $6 of downside left. Let's assume that every house becomes worth $1, everyone will be unemployed in the next few months, and the United States is plunging into the next Great Depression. In that case, it's time to sell BAC stock even for 50 cents. On the other hand, let's not even assume the best case scenario (even though we just assumed a worst case scenario), let's just assume that the economy will remain soft, and that Bank of America will continue sorting through mortgage losses for at least a couple more years.
As time goes on, the mortgage issues will fade and the earnings power of this bank will grow. In this more realistic but not optimistic scenario, it really makes no sense for investors to be selling BAC shares for $6.42. At this level, a tremendous amount of bad news is priced into the stock, including a potential recession. It also appears that a number of assets held by Bank of America are being given little to no value. I am talking about assets like Merrill Lynch and a major stake in a Chinese bank worth many billions.
A number of smart money investors are invested in BAC, including stock legend Bruce Berkowitz, who says:
For me, the period that we're in right now is very reminiscent of the early 90s. I remember having a gigantic position in Wells Fargo (NYSE:WFC). Everyone thought they were going to go bust, because they had all of these empty commercial buildings in California and all over the place. They didn't go bust. It was a rough time, and they made seven times their money. I don't think its going to happen that way. But if people who are in the banks during this doom and gloom period made 5 to 10 times their money, history repeats itself.

Read more about his recent thoughts on BAC here.
As Berkowitz points out, banks are cyclical and you want to buy them when the economic cycle is at a low point as it is today. Berkowitz made 5 to 10 times his money investing in banks years ago, and he could well be on his way to doing the same in the coming years.
According to this recent article, it states that an analyst from Raymond James believes that:
B. of A. can earn $2 a share in 2012, according to Polini, who is recommending that investors buy the stock. With a target price of $20 a share, the analyst figures the shares will double in value by next summer.
With Bank of America shares trading at $6.52, the shares offer substantial rebound potential. Because the stock has been weak and problems could continue, it makes sense to buy in stages, so that you average in over time. This gives you a chance to take advantage of any future dips in the stock price. The risk of about $6 of downside is far outweighed by $14 to $24 worth of upside over the next 3-5 years. Bank of America doesn't have any problems that cannot be resolved over time and with good management and smart policies coming from Washington. I realize that might be asking too much, but I think it still makes sense to be optimistic.
The data is sourced from Yahoo Finance. The information and data is believed to be accurate, but no guarantees or representations are made. Rougemont is not a registered investment advisor and does not provide specific investment advice. The information contained herein is for informational purposes.
Disclosure: I am long BAC.