In difficult times when low yields are common, investors are looking for quality investments offering high yields. Today Master Limited Partnership yields approach yields available on junk bonds and have the advantage of tax preferred status along with expectations of growing distributions. An attractive MLP is Boardwalk Pipeline Partner (NYSE:BWP), engaged in the transportation and storage of natural gas. In 2010, its systems carried 10% of the natural gas consumption in the US with 3 interstate pipelines. BWP owns:
14,200 miles of pipeline.
11 underground storage facilities.
Approximately 167 Bcf (billion cubic feet) of working gas capacity.
Since 2007, Boardwalk has added 1000 miles of large diameter pipeline
Distributions have increased each quarter since the IPO in 2005
Boardwalk has investment grade credit ratings from S&P, Moody's and Fitch
Revenues for 2010 increased 2% to $1.1 billion and net income increased 78% to $289 million. Distributable cash flow (from which distributions are paid) increased 43% to $448 million. BWP completed the Gulf Crossing, Fayetteville, and Greenville compressor projects, to increase capacity. By year's end, all major expansion projects were in service and operating at capacity. But increased gas transportation revenues from the expansion projects were partly offset by lower transportation revenues due to reduced price spreads between locations on the pipeline systems. In Q2 2011, operating revenues rose 2% to $262 million and increased 3% to $573 million for the first 6 months. Much of revenue stems from contracts under which customers pay to reserve transportation and storage capacity, regardless of actual utilization. Approximately 78% of revenues were derived from these charges.
BWP is seeking expansion projects (acquisitions) while it improves system and service flexibility to capture market share where assets are underutilized. The trend in conversion of legacy power generation facilities from coal to natural gas should is expected to create opportunities for revenue growth.
Loews (NYSE:L) bought Texas Gas Transmission and Gulf South Pipeline Company to form BWP. The IPO for BWP was in November 2005. In 2009, BWP created a third natural gas pipeline company, Gulf Crossing Pipeline Company, which begins near Sherman, Texas, and extends to Perryville, Louisiana. Loews owns 66% of BWP, comprised of more than 60% of the common units, the class B units and the wholly owned general partner. The general partner manages eh business and receives an increasing percentage (called incentive) when the BWP quarterly distribution is above 40.25 cents

What's most impressive about BWP is that distributions have been increased every quarter, quarter over quarter, since the IPO. Below is the chart for dividends:
Boardwalk Pipeline Dividends, 2006-2011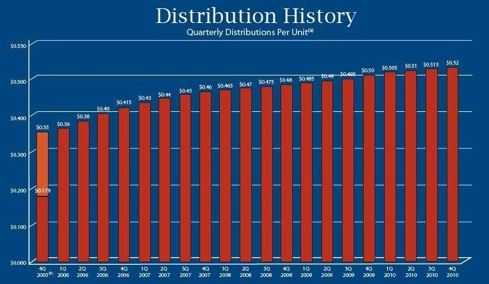 Click to enlarge
Source: BWP annual report
With the units closing at $24.23 and the annualized distribution of $2.10, the yield is 8.7%. A word of clarification about the consistent increase in distributions. Distributions are paid from distributable cash flow, earnings plus non-cash charges. BWP reports total distributable cash flow, but does not give that information on a per unit basis. 85% of total distributions is paid to the common units. Because of incentive payments (split of profits), the general manager has incentive to keep increasing the distributions. The units have a typical chart for MLPs, hit hard during the financial crisis three years ago but have recovered only to suffer another decline in recent months.
Boardwalk Pipeline -- 6 years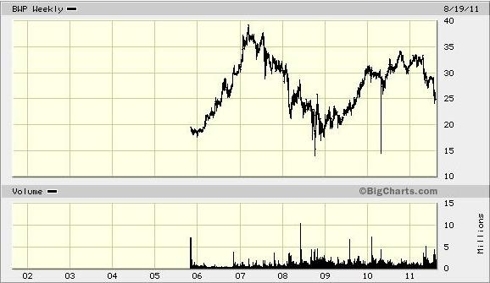 Click to enlarge

An attractive quality for BWP is its majority owner and general partner, Loews. Loews has an outstanding record of growth for more than half a century. It's a diversified holding company with ownership in 3 publicly traded companies and 2 wholly owned subsidiaries. Its 3 publicly traded companies are: CNA Financial (NYSE:CNA) with a 90% ownership, Diamond Offshore Drilling (NYSE:DO) with a majority ownership and BWP.
The stock market is down more than 10% in August, enough to qualify for a bear market in 3 weeks. The Alerian MLP Index (AMZ) began the month at 362 and has declined almost 10% to 328. After being market leaders for 2 years, this year MLPs have largely been tagging along with the stock markets. The last 4 months have been difficult for MLPs, and there could be tough times ahead.
A sell-off bringing lower prices creates buying opportunities. The yield at BWP, 150 basis points above the yield on the Alerian MLP Index (AMZ), should be of interest for value investors. Timing is important and lower prices with even higher yields may lie ahead. When the yield becomes too good to pass up, it will be time to buy. The next distribution will be declared about December 1 and paid 3 weeks later and the following distribution is due 3 months later. Especially if market conditions remain rocky, it will feel good to receive a distribution in early December. Rising unit prices will follow because growing demand to transport natural gas remains strong.
Disclosure: I have no positions in any stocks mentioned, and no plans to initiate any positions within the next 72 hours.