Today Lockheed Martin (NYSE:LMT) announced an additional $1B stock buyback on top of the current $3B authorization that is expected to reach its limit soon. While the news appears good, market analysts have lately become very bearish on stock buybacks. See interview of Joshua Brown from Fusion Analytics. Note though he claims Cisco Systems (NASDAQ:CSCO) is the worst in issuing new shares, the latest quarterly report shows a nearly 300M share drop from last year - 5,795M to 5,496M shares.
The key points missing from this interview is that investors naturally want to focus on companies that actually follow through on the announcement and ones that have net buybacks, ones that reduce the outstanding shares rather than just replacing the stock option issuance.
Note that though Joshua claims Cisco is the worst in issuing new shares, the latest quarterly report shows a nearly 300M share drop from last year -- 5,795M to 5,496M shares. No doubt that the company issues new options all the time, but clearly the facts don't back up the statements.
Another key point is that stocks with high combined stock buybacks and dividends are much more attractive than just dividends alone. Seems foolish to ignore one method of returning capital to shareholders.
This is what makes LMT an attractive stock: Not only does it offer a major stock buyback to take advantage of market weakness, but it has a current 4.3% dividend yield. The combination makes the stock very attractive.
Would an investor really prefer a company paying a similar dividend with no buyback, as Joshua Brown suggests? In the end, it is the stock's cash flow and ability to return capital to shareholders that matters. It's clearly a valuable way of deriving undervalued stocks, yet it is completely ignored by Wall Street.
While Jim Cramer commonly proclaims that investors should look for accidental high-yielders, he focuses on dividends solely, while investors should look for the true highest yielders: Net Payout Yields.
As the chart below shows, LMT's quarterly numbers bounce around, but the trailing-12-month yield is around 13%, while the annualized Q2 yield soars above 20%. Very appealing numbers.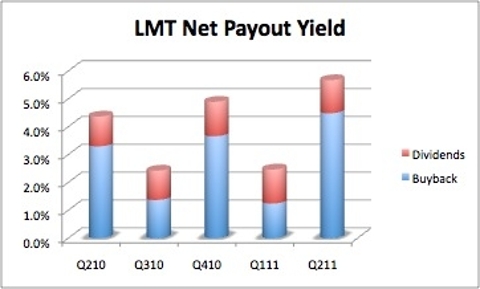 Disclosure: I am long CSCO, LMT.
Additional disclosure: All data was sourced from SmartMoney.com and is provided for informational purposes only. Please consult your own investment advisor before making any investment decisions.