It's been 3 weeks since large-cap BDC Apollo Investment Corporation (NASDAQ:AINV) announced June 2011 earnings. In the intervening period, Apollo has seen its stock price drop 15%. In fact, from the 52-week high of $12.52 in February, Apollo has seen its share price drop 35%, to $8.09 at the close on August 22, 2011.
Earnings Disconnect

Contrast that with the earnings consensus of the dozen plus analysts that cover the stock. The consensus remains that Apollo will earn $1.00 a share in the current fiscal year that ends March 2012, and will increase earnings marginally to $1.02 a year further out. Admittedly, the analysts have reduced their projections over the past 90 days, but only by 10% or less. At the time of writing, the forward Price to (recurring) Earnings ratio is under 8x versus 11X or more just a few months ago.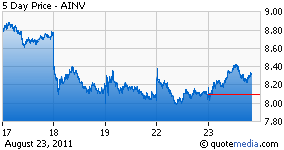 Currently the stock is trading at 83% of June 2011's Net Asset Value, and pays out a $1.12 annual dividend, which is equal to a yield of 13.8%.
Good Buy? We Dodge and Weave
We're going to dodge the obvious question as to whether this makes Apollo a "good buy" right now. Instead, we're going to review a few highlights from the latest earnings release, 10-Q and Conference Call with the benefit of this month's hindsight, which will probably affect the Company's performance going forward.
Portfolio Status
We should say by way of background that Apollo's credit performance in the Great Recession and thereafter was not very impressive. The Company tends to make big loan and equity bets on upper-middle-market companies with EBITDA of $250mn. In recent years those bets have gone badly wrong in many cases. If you add together Realized Losses and Unrealized Depreciation on the Company's balance sheet, the red ink totals over a billion dollars, or a third of capital raised. That's over $5 a share of losses.
The irony, though, is that Apollo's portfolio credit quality at June 30 was at its highest level in years. According to the SEC filing and the Conference Call, of the 72 loans in portfolio, there was only 1 non-performer to speak of. That was Apollo's ill-fated investment in the hotel business (InnKeepers), which has been written down to zero and has not been contributing to earnings for several quarters. Otherwise, all the remaining loans and preferred investments were performing and there were no clear-cut Watch List candidates according to our lights. Management emphasized on the Conference Call that portfolio metrics remained unchanged from the March 2011 results and the Company's internal credit rating (for what it's worth) was unchanged.
Unrealized Depreciation in the Latest Quarter

In fact, Apollo booked a very modest $1.7mn of Unrealized Depreciation in the quarter, principally due to the impact of the dislocation in the debt markets as of June end. Management admitted three weeks ago that the decline in loan values had increased by the beginning of August, and must be lower as of today. Still, Apollo's CEO stressed that the write-downs required by fair market accounting do not necessarily reflect the actual credit performance of the loan portfolio. Of course, all the BDCs were making similar statements at the beginning of the last recession, but real losses did ultimately roll in.
Which Way Credit?

With all the goodwill in the world, it's very hard for Apollo itself to truly determine how the portfolio will behave in the future, especially as there is no consensus about what the economic environment will look like in the next few years. For shareholders it's well nigh impossible. Clearly the market has decided to be skeptical. The current stock price suggests Apollo is expected by Mr. Market to write-off $300mn of the $3.1bn in investment assets. The price also suggests the Company will ultimately have to cut its $1.12 a year dividend, which is running above its $0.96 current earnings run rate. Still, the implicit loss reflected in the stock price is only a third of what was lost in the Great Recession and its aftermath.
However, the Company appears to have been taking a more conservative approach toward its credit underwriting over the past 2 years. Apollo's been booking a number of lower risk but also lower return senior loans, which now account for one-third of total loan assets. Moreover, management has been pumping less of its capital into non-income producing equity investments than in the past. Nonetheless, Apollo has $1.7bn of Subordinated Loans on its books. If 15%-20% of those loans ultimately get written off, Net Asset Value will drop to the current $8.09 price.
Balance Sheet and Earnings Outlook
On the other hand, if there is no "double dip" and/or global financial crisis, chances are the Apollo portfolio will continue to perform well from a credit perspective. We don't expect Apollo to boost net investment assets, as its debt to equity is as high as management is likely to want to go in this environment. At June 30, 2011, debt to equity was 0.65:1.0. Apollo has reduced its capital risks by raising long-term subordinated and convertible debt, so we don't envisage a liquidity crisis under most negative scenarios.
If material amounts of new bad debts don't erode profitability, Apollo could see earnings actually get a boost in the next few quarters. The Company should be able to boost its portfolio yield in this more capital constrained environment. A 0.5% increase in Apollo's average yield (from re-deploying funds into higher paying loans as the junk bond market pulls back) adds 6 cents or more to earnings. What's more, lower fair market values on assets results in lower management fees. A 10% reduction in the fair market value of the portfolio is worth 3 cents a share to shareholders.
Conclusion
We won't opine on whether Apollo is cheap at the current level or just taking a breather before falling further. Our guess is as good as yours. In this case, investing or otherwise in Apollo may have to do as much as one's view of the future outlook for the U.S. economy as anything else. We will not even have a preliminary sense of how the performance of the economy will play out on Apollo's portfolio for two or three quarters. We will venture, though, that we expect the impact of a potential recession redux on Apollo's bad debts, earnings, and Net Asset Value should be more muted than in 2008-2009 when the dividend was cut in half.

Disclosure: I am long AINV.