Since the beginning of 2010, the price of Gold is up over 65%. The price of Jaguar Mining (NYSE:JAG) is down almost 50%. Jaguar has continued to post strong revenue growth, but earnings routinely missed estimates through 2009-2010. That has changed in the first two quarters of 2011, with a strong beat in Q2. Perhaps more importantly to a chart-minded investor like myself, JAG appears to have finally broken decisively out of its downtrend.
(Click charts to expand)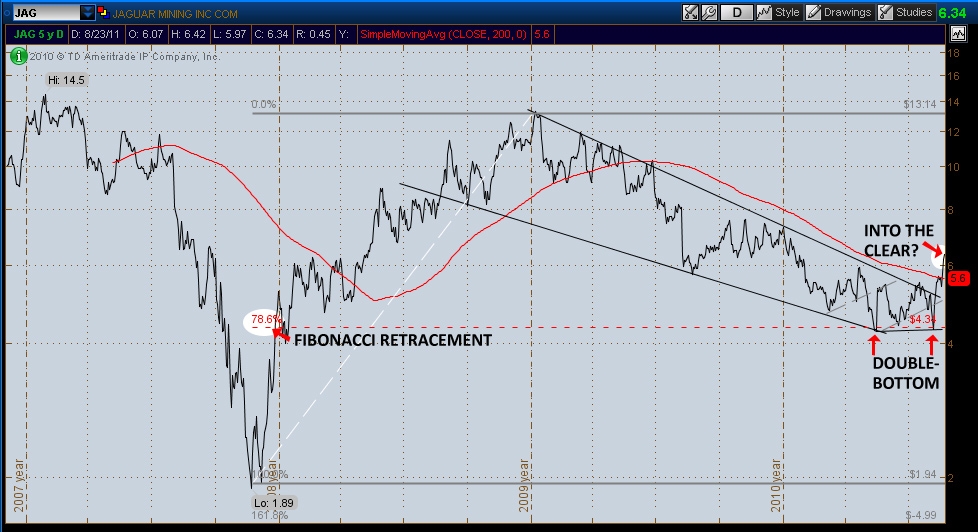 In chartology terms, JAG formed a "double-bottom" at the 78% Fibonacci retracement of its run from 2008 lows to 2009 highs. Since rallying off that bottom, it broke a downward trendline that had provided repeat resistance. It has also broken above its 200-day moving average. All of these positive signs add up to a likelihood that JAG has finally broken the downtrend that has dogged the stock for almost 2 years.
The fundamental case for Jaguar Mining has always been interesting to me. The company is an unhedged gold producer with mining rights to more than 250,000 hectares in Brazil. JAG is targeting 400,000 oz. per year of production by 2013. If the company hits that production target and the price of gold drops back to $1500/oz, that'd still be $600M in production revenue per year for JAG, with a current market cap of $530M, that would drop its price/sales under 1.
JAG is currently exhibiting both value and growth characteristics. It is trading at just 1.5x book value, and just 2.3x sales, both well below the industry average. Jaguar has also shown steady revenue growth, growing by at least 20% each of the last 5 years. Estimates are for the company to significantly grow both revenue and earnings next year. The 2nd quarter was especially vindicating for bulls, as the company posted 30% production growth, in addition to record gold sales and operating margin. It also dramatically improved free cash flow. It seems to me that the case for JAG, based on fundamentals, isn't bad.
So why has the stock been in a race to the bottom for almost two years? Earnings misses have certainly been a big issue. It also doesn't help that JAG has a short interest over 10%, one of the highest in the sector. But the company may be turning the corner. JAG has been beaten down so brutally relative to gold, that it may finally be ready to bounce. As the chart below shows, the stock is down almost 75% relative to gold in the last two years.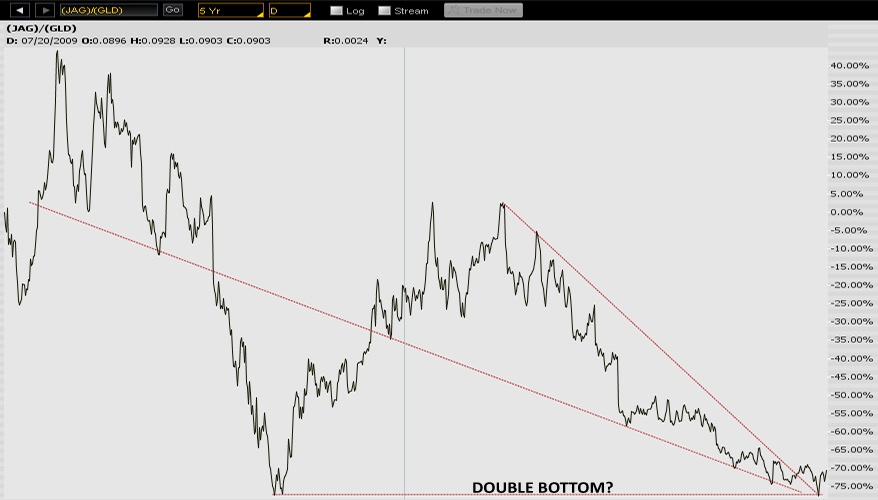 I think the technical and fundamental picture for JAG as an individual stock is, at the moment, pretty compelling. Perhaps as important, or more important, is what will happen to a) the price of gold, and b) the price of equities. I suspect a rally in either could be reason enough for JAG to outperform. A sell-off in both would likely send JAG tumbling in sympathy. Frank Holmes recently posted a good article about the under-performance of gold miners relative to gold itself.
I think the equity market still has significant risk of further downside in the mid/longer term. I also think it is possible that gold is nearing a top, at least short term. As such, JAG certainly carries plenty of risk at this point. But I also think the fundamental and technical case for the stock is pretty compelling, and worthy of additional research.

Disclosure: I am long JAG.