There is one investment idea that has my attention and the more I read the more captivated I am by it. That idea is that the stock market is grossly undervaluing the undeveloped acreage controlled by many independent unconventional oil and gas producers. Oil and gas producers can't book reserves on much of this land until it has actually been drilled. That of course doesn't mean the oil or gas isn't in the ground and economically recoverable, just that it doesn't meet paper definitions of proven reserves. Every week there are transactions between profit motivated parties that validate the fact that undeveloped acreage within a resource play has significant value.
I think the stock market has thus far been very slow to realize how different these resource plays are. They do not carry a significant amount of geologic risk. The drilling operations on these resource plays are manufacturing operations, not exploration.
I think that this hidden value will eventually be recognized in one of three ways:
These unconventional producers are acquired by companies who want that land.

The market revalues these unconventional producers over time as cash flow and production increases as the play is drilled up.

The market wakes up and starts assigning a growth multiple to the cash flows of these companies that have decades of growth ahead.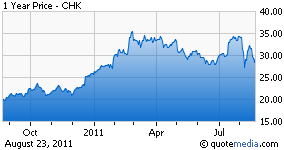 And there is no more obvious undervaluation going on than with respect to the biggest independent unconventional producer of them all Chesapeake Energy (NYSE:CHK). The recent acquisition of Marcellus acreage by Noble Energy (NYSE:NBL) really hammers this point home.
Noble purchased 50% of 663,000 undeveloped acres from Consol Energy (NYSE:CNX) for $3.4 billion. That works out to $3.4 billion / (50% of 663,000) = $10,256 per Marcellus acre. $3.4 billion for land with virtually no booked reserves.
Now, there are a lot of moving parts to that per acre number as about $2 billion of the purchase price is going to paid in the form of drilling carry over the next eight years. But if you figure that this is what the land is worth in an undeveloped state, it has to be worth at least that to a company with the capital to develop it and generate a return over time.
Apply This Transaction to Chesapeake and Watch Your Head Spin
I don't know about you, but when I do some valuation work that points to something being worth multiples of what Mr. Market suggests I'm inclined to think that I am the one who is wrong. As years go by though, I have lost some respect for how intelligent Mr. Market is. An intelligent entity couldn't possibly be as volatile as Mr. Market has been over the past few years.
Chesapeake is one of those cases where Mr. Market seems to have for a long time been presenting us with a gift.
Some high level numbers looking at the Noble/Consol deal and applying it to Chesapeake:
Chesapeake owns 1.75 billion net acres in the Marcellus
The Noble acquisition values these acres at $10,256 per acre
That implies the value of Chesapeake's Marcellus acreage is $17.94 billion.
Chesapeake has 765 million fully diluted shares outstanding and a share price of around $28. That means that the entire market capitalization of the company is $21.4 million which is not a lot higher than just what the Marcellus acreage is worth.
Chesapeake also has just over $10 billion in net debt, so the enterprise value of the business is more like $31 billion. But as I'll show below both the market capitalization and the enterprise value are dwarfed by the value of the assets Chesapeake owns.
A Rough Estimate of the Value of All of Chesapeake's Assets
Sometimes you don't need a microscope to determine that something is undervalued. With Chesapeake it takes about 30 seconds of work. We have two very recent data points:
Marcellus acreage - $18 billion as detailed above.
Utica Shale acreage - $20 billion as detailed in this article.
Just those two properties together are worth roughly $38 billion. Take out the $10 billion or so of net debt and you have $28 billion of value for shareholders across 765 million shares which equals roughly $37 per share.
Consider that again. Just those the value of those two properties likely exceeds the current Chesapeake share price by over 30%.
Then consider that these two plays represent a only a small portion of Chesapeake's asset value which also includes:
495,000 acres in the Haynesville shale

190,000 acres in the Bossier shale

220,000 acres in the Barnett shale

2 million plus acres in the Anadarko basin

460,000 acres in the Eagle Ford

835,000 acres in the Permian basin

595,000 acres in the Powder River basin
And on top of all of these all of Chesapeake's conventional assets and the majority of their proven and probable reserves.
I encourage you to skim through the most recent investor presentation which is updated monthly on the Chesapeake website. In that presentation Chesapeake presents what they think the Net Asset Value of the company is under various commodity price scenarios. The range is $65 to $150.
I'm not suggesting you take their word without a grain of salt. But what continues to be in my mind is that I can take the Chesapeake estimates, or even my own estimates of value based on arm's length transactions in the public market. Cut those estimates in half and I still arrive at a valuation per Chesapeake share that is north of the current share price.
Even if these assets are only worth half of what they appear to be an investor at these prices likely still makes money. That sounds like a margin of safety to me.
I used to be very suspicious of the value CEO McClendon suggested for some of Chesapeake's properties. But in every instance that I can recall he has backed up those values through Joint Venture transactions. How many times does he have to do this before Mr. Market gives him a little more credit?
Disclosure: I am long CHK.