Over the last few weeks a lot of skepticism has been associated with the banking sector. Rumors have been flying about in a multitude of directions, at different targets and on everything. Rumors start from Bank of America (NYSE:BAC) needing to raise capital to Morgan Stanley (NYSE:MS) reportedly using $106B from the Fed to continue operating during the financial crisis. All this skepticism has had a significant drag on the financial sector as a whole. In the last 30 days the SPDR Financial ETF (NYSEARCA:XLF) has traded from a high of about $15.40 to around $12 recently. During this abusive punishment of the financial sector some stocks have been unjustly chastised.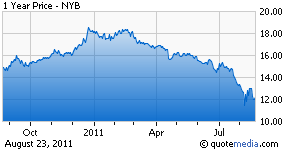 I recently published an article here on why New York Community Bank (NYB) is one of the best bargains of the year. Recently Capital Link Media has published an interview with NYB CEO Joseph Ficalora which further justifies why NYB is such a fantastic bank and unlike any of its competitors.
When Mr. Ficalora was asked about the recent challenging times in the banking industry his response was "I am happy to say that we have held our own despite the many challenges our industry has been facing. Our ability to do so is a tribute to our long-standing business model, which was specifically designed to serve the company and our shareholders." This statement gives investors the insight that the management of this company is "on the ball with the issues facing their industry." In the interview Mr. Ficalora points out some very key and important factors on why this company is as solid and stable as it has ever been. He points out operating earnings increased by 45% from a year ago driven by the two acquisitions made over the last couple of years, and organic multi-family loan growth. SNL financial recently ranked NYB 3rd in their annual performance ranking of the 100 largest U.S. Thrift's for the 12 months ended March 31st 2011. When Mr. Ficalora was asked about the speculation regarding regulators imposing limits on dividends paid by financial institutions he had an imposing response. Mr. Ficalora responded that, "We really have no reason to believe that our dividend is an issue for us, given the strength of our capital — which has never been compromised by real estate losses — and our earnings capacity."
One of the largest concerns most investors have for this bank is the unusually high payout ratio. This issue is addressed in the interview. Mr. Ficalora points out that even when the dividend has exceeded earnings "the strength of our tangible capital has allowed us to pay our dividend" which is a key and important factor. NYB regulators have never expressed concern about the banks' ability to pay its dividend to the shareholders. It is important to distinguish between cash EPS and GAAP EPS in regards to the banks' ability to pay its dividend. Cash EPS includes certain items that are excluded from GAAP EPS and are the real driving mechanism for capital creation and the ability to pay its dividend.
Mr. Ficalora estimates that including the company the 401(k) and ESOP employees as a whole own conservatively 7% of outstanding shares and directors and the like own about 3% of outstanding shares.
NYB continues to issue some of the best quality loans across the banking sector. During 2009 NYB total net charge offs was a mere .19%, in 2010 .21%, and the annualized 2011 figure is approximately .23%. Just for a measure of comparison the U.S. bank and Thrift Index over those years was 2.85% and 2.89% for 2009 and 2010 respectively. As far as non-performing loans (NPL) goes, once again NYB comes out on top by far. In 2009 NYB had 2.04% NPL compared to the 4.84% index and for 2010 NYB had 2.23% NPL while the index topped out at 4.41%. NYB has one of the best loan portfolios around and it is dedicated to maintaining that high degree of performing loans.
At a price of $12 NYB is offering a consistent, solid, phenomenal, dividend of 8.3% and compared to treasury yields this stock is a no brainer. After 40 consecutive quarters of being able to pay its dividend it is evident that with this management in place nothing will be changing for the foreseeable future.
Disclosure: I am long NYB.