There are certain stocks that just deserve to be in a long term, conservative portfolio and one of those should be Procter & Gamble (NYSE:PG). If you need a stock with A ++ financial strength. earnings that are almost 100% predictable and has one of the most stable prices of any stock, this is it. Oh, did I mention a 3.44% dividend that is only 50% of earnings?
The chart for Barchart showing the price for the last six months against its 20, 50 and 100 day moving averages plus the Trend Spotter says buy before its too late:
Click to enlarge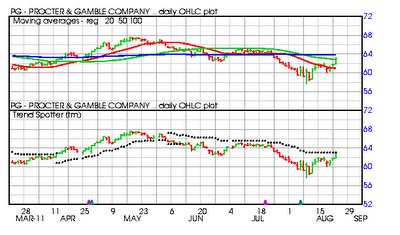 The Procter & Gamble Company provides consumer packaged goods in the United States and internationally. The company offers beauty products, such as cosmetics, female antiperspirant and deodorant, female personal cleansing, female shave care, hair care, hair color, hair styling, pharmacy channel, prestige products, salon professional, and skin care products under the Head and Shoulders, Olay, Pantene and Wella brands; and grooming products, including electronic hair removal devices, home small appliances, male blades and razors, and male personal care products under the Braun, Fusion, Gillette and Mach3 brands.
It also provides healthcare products comprising feminine care, gastrointestinal, incontinence, rapid diagnostics, respiratory, toothbrush, toothpaste, water filtration and other oral care products under the Always, Crest and Oral-B brands; snacks and pet care products under the Iams and Pringles brands; fabric care and home care products consisting of laundry additives, air care, batteries, dish care, fabric enhancers, laundry detergents and surface care products under the Ace, Ariel, Dawn, Downy, Duracell, Gain, Tide and Febreze brands; and baby care and family care products, such as baby wipes, diapers, paper towels, tissues and toilet paper products under Bounty, Charmin and Pampers brands.
The company sells its products in approximately 180 countries through retail operations, including mass merchandisers, grocery stores, membership club stores, drug stores, department stores, salons and high-frequency stores. The Procter & Gamble Company was founded in 1837 and is based in Cincinnati, Ohio (Yahoo Finance profile).
Barchart technical indicators:
60% Barchart short term technical buy signal
Trend Spotter hold signal about to cross over to buy
Trading above its 20 and 50 day moving averages
The Relative Strength Index is 57.98% and rising
Barchart computes a technical support level at 61.26
The stock recently traded at 63.19 which is above its 50 day moving average of 62.62
Fundamental factors to consider:
The company is on the long-term conservative model portfolios of over 20 brokerage houses.
Analyst currently have 12 strong buy, six buy, five hold and only one under perform recommendation for their clients to consider.
The company projects sales will increase by 6.30% this year followed by another 4.50% increase next year.
Earnings are expected to increase by 7.10% this year, 9.00% next year and continue by 9.80% annually for the next five years.
The 3.44% dividend is only 50% of projected earnings.
For a stock that pays this dividend and has such stable sales and earnings it's amazing that its P/E ratio of 15.43 is almost dead on to the overall market's P/E ratio.
A product line that covers almost every aisle of the grocery store and certainly every shelf in my pantry.
General investor interest:
As measured on Motley Fool the stock has a wide following with the 7,391 readers expressing an opinion voting 97% that the stock will beat the market.
The more experienced All Stars vote 99% for the same result.
Summary: Procter & Gamble (
PG
) should be a core holding in most long term conservative portfolios. The sales and earnings growth isn't spectacular but it is sure and steady and the 3.44% dividend is better than the 2.11% you can expect from a 10 year U.S. Government bond, especially given the fact that PG keeps increasing the dividend.
Disclosure: I have no positions in any stocks mentioned, and no plans to initiate any positions within the next 72 hours.