Nearly every investor would like to believe that Tuesday's 300-point Dow performance was meaningful. In fact, with the SPDR S&P Gold Trust (NYSEARCA:GLD) shedding more than 3% in the single session - with the CBOE Volatility Index (VIX) falling close to 15% on the day - the Dow's surge may have been legitimate.
Still, you might not want to "bank" on it. Of the the 30 stocks in the Dow Jones Industrials, 29 finished higher on Tuesday. The lone hold-out? Bank of America (NYSE:BAC).
Granted, the fortunes of stock markets do not rest on a single corporation. And one can deftly sidestep big bank exposure with exchange-traded vehicles like WisdomTree Dividend Ex-Financials (NYSEARCA:DTN). That said, B of A's woes may be indicating a continuation of hostility in equity trading, not a cessation of conflict.
This is a stock that traded north of $15 per share in January. By August 1, Bank of America had already experienced a bearish -33% decline to $10. We're now looking at $6.30 - a price not seen since mid-March of 2009.
Click to enlarge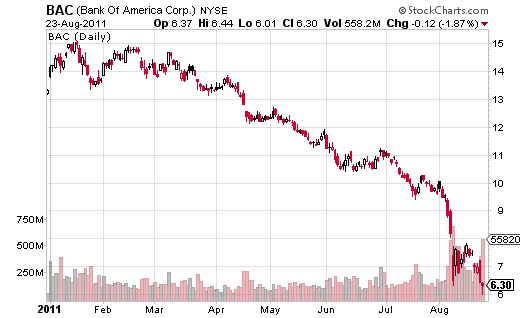 If one of the largest U.S. financial institutions can give up nearly all of its 2009-2011 bull market gains, what should investors make of the sector as a whole? Aren't banks supposed to have better balance sheets than they did at the height of the credit crisis?
In truth, developed world banks hold varying degrees of European sovereign debt. They also hold downgraded treasuries. And they certainly haven't been eager to lend. Worse yet, they still haven't worked through short sales, foreclosures and litigation proceedings. Perhaps, worst of all, short-sellers love the "action."
Let's not forget, there's still a short-selling ban on European banks. Moreover, with 3-month LIBOR rates now at 0.312% and rising, it is 25% more expensive for banks to borrow from one another than it was a month ago. (Note: Current 3-month LIBOR is also above its 200-day trendline.)
Click to enlarge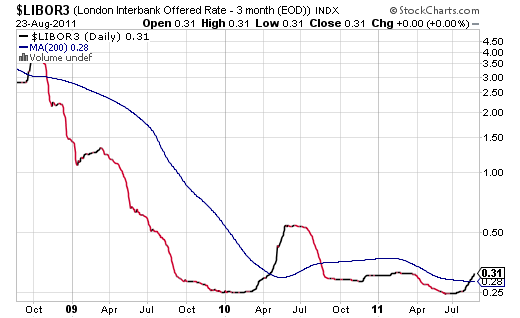 Unless European authorities come up with a brilliant plan soon, investors will chomp at the proverbial bit to beat banks into submission. Which will merge? Which will survive? Which are too big too fail?
In the absence of answers and/or credible solutions, we only have greater uncertainty. And until the financial sector is able to straighten itself out, cries of "this Isn't 2008″ may fall on deaf ears.
"It Aint Over Til The Financial Sector Sings"
8/23/11
Approx %
iShares S&P Preferred Index (NYSEARCA:PFF)
-0.3%
PowerShares Financial Preferred (NYSEARCA:PGF)
-0.2%
SPDR KBW Insurance (NYSEARCA:KIE)
2.6%
iShares S&P Global Financial (NYSEARCA:IXG)
2.7%
PowerShares Private Equity (NYSEARCA:PSP)
2.8%
SPDR Select Financials (NYSEARCA:XLF)
3.2%
iShares DJ Financials (NYSEARCA:IYF)
3.2%
S&P 500 SPDR Trust (NYSEARCA:SPY)
3.3%
Vanguard MSCI Emerging Markets (NYSEARCA:VWO)
3.5%
PowerShares NASDAQ 100 (NASDAQ:QQQ)
4.1%
Disclosure: Gary Gordon, MS, CFP is the president of Pacific Park Financial, Inc., a Registered Investment Adviser with the SEC. Gary Gordon, Pacific Park Financial, Inc, and/or its clients may hold positions in the ETFs, mutual funds, and/or any investment asset mentioned above. The commentary does not constitute individualized investment advice. The opinions offered herein are not personalized recommendations to buy, sell or hold securities. At times, issuers of exchange-traded products compensate Pacific Park Financial, Inc. or its subsidiaries for advertising at the ETF Expert web site. ETF Expert content is created independently of any advertising relationships.