Morgan Stanley recently lowered its growth forecast for all Latin American economies with the exception of Chile, which posted solid GDP growth in the first half of 2011.
The iShares MSCI Chile Index (NYSEARCA:ECH) is in negative territory for the year, however.
Economies in Latin America are forecast to expand 3.6% next year, down from Morgan Stanley's previous estimate of 4.6%. All country growth forecasts were cut 1% except Chile, which was not changed due to growing GDP, reports Bill Faries and Matthew Bristow for Bloomberg. The lower base from the 2010 earthquake helped Chile display some of this growth.
"An extended bout of weakness in the developed world is likely to see both Chinese exports, and import demand soften and with that commodity prices, which have underpinned Latin America's era of abundance," the report said. "Ultimately, we concluded that Latin America would unlikely be spared."
Analysts are speculating that Chile will join the ranks of Mexico and Brazil, where interest rates are likely to be cut to protect the economies throughout the sovereign debt crisis in Europe and the fiscal worries in the U.S.
"The central bank in its last monetary policy decision left the door open to any type of decision: raising rates, keeping them on hold or reducing them," said Mario Arend, chief economist at Celfin Capital in Santiago, on Bloomberg. "My vision as an economist is that the central bank is leaning toward keeping rates stable."
Chile's GDP grew 6.8% for the second quarter 2011, up 1.4% from the previous quarter, reports Carolina Pica for WSJ. According to the central bank, all segments of the economy grew in the second quarter, with the exception of the mining industry, which contracted 0.9%. Chile is the world's largest copper producer.
iShares MSCI Chile Index (ECH)
Click to enlarge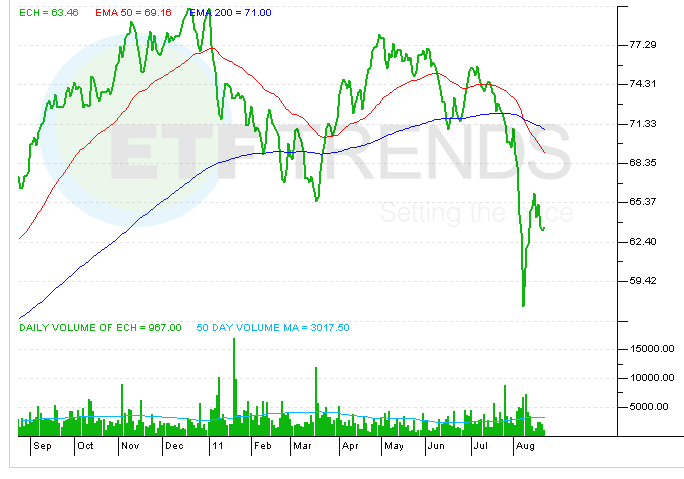 Tisha Guerrero contributed to this article.