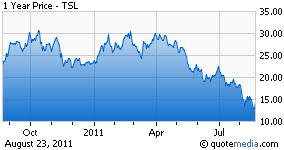 By Eric Wesoff
Trina Solar's (NYSE:TSL) stock was up 10% today as most solar stocks rose anywhere from 1% to 15%.
Trina Solar announced its second quarter results this morning, before the market opened.
Trina Solar is a vertically integrated solar firm with a product chain ranging from monocrystalline ingots, wafers and cells to the assembly of PV modules. The firm revised its second quarter guidance downward a few weeks back. Trina expected second quarter shipments to range from 395 to 397 megawatts and predicted gross margins of 17.0% to 17.5%.
Shipments came in at 396 megawatts and 17% gross margins.
For many solar firms (Suntech (NYSE:STP), SunPower (SPWRA), Q-Cells, First Solar (NASDAQ:FSLR), JA Solar (NASDAQ:JASO), etc.) and their investors, the second quarter and first half of 2011 could not have ended soon enough. The common refrain was that high inventories, plus a lack of transparency in German and Italian policy, impacted share price, ASPs, profit and revenue. An additional theme was that North American utility deployments and small-scale systems in Europe were going to be the star of the second half of 2011 and the savior of the industry this year.
There is some hope for improvement in the second half, but the solar industry still faces steadily dropping ASPs and painfully compressed margins.
Trina had its highest volume quarter in its history, but despite having margins above 30% for all of 2010, the firm's margins almost halved this year and second-quarter margins came in at 17%. The pressure on margins will not let up in the third quarter, when the company expects gross margins in the mid-to-high teens.
Trina's third quarter guidance is to ship between 480 megawatts and 520 megawatts of solar modules with gross margins in the "high teens."
Shipment guidance for full-year 2011 was maintained at 1.75 gigawatts to 1.80 gigawatts.
Here are the highlights from this morning's earnings call, according to the press release and call:
Solar module shipments were approximately 396 megawatts for the second quarter of 2011, a 23.7% sequential increase.
Gross profit was $98.3 million, a decrease of 35.0% sequentially.
Gross margin was 17.0% compared to 27.5% in the first quarter of 2011 and 32.1% in the second quarter of 2010.
Net income was $11.8 million, compared to net income of $47.7 million in the first quarter of 2011 and $38.7 million in the second quarter of 2010.
The lure of the Chinese feed-in tariff continues. Yesterday Suntech said it expects China to be a "multi-gigawatt market" in 2012.
Trina said, "We are very encouraged by China's solar feed-in tariff updates announced on August 1, which we believe reflect the improved economics and efficiency of solar energy. Since our recently announced agreements to supply two large-scale solar projects in Qinghai, we have seen increased opportunities to expand our domestic shipment allocations as the market expands."