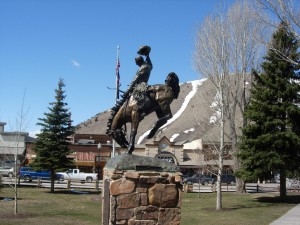 By John Nyaradi
Global stock markets feel like a bucking bronco in recent days as we march closer to the pivotal Federal Reserve meeting on Friday in Jackson Hole.
Tuesday's action was centered on the belief/hope that Dr. Bernanke will deliver another round of punch for the punch bowl when he speaks on Friday. As long as the Fed steps up with more stimulus, all is right with the world and markets will likely continue to act erratically as the push/pull between bad news and potential intervention continues.
Just on Monday, the gold market set new records and the exchange traded fund became the largest in the world, only to be slammed yesterday for their biggest declines in a year as many suggest it has reached a parabolic blow off.
Bank of America (NYSE:BAC) continued making news as it didn't participate in Tuesday's broad based rally as investors worry about the bank's future and its need to perhaps raise more capital. Heavy action in the stock accounted for more than 5% of today's volume. The price of its credit default swaps fell to 378 from 445, however, one can see the angst over the country's biggest bank as CDS prices have approximately doubled since July and are near the highs during the peak of the financial crisis in 2009.
Economic news was terrible yesterday as July new home sales came in at 298,000, down from 300,000 and missing expectations. Further economic slowing was indicated by the Richmond Fed Manufacturing Index for August which declined to -10 from -1, with future expectations also turning more gloomy.
However, in our Alice in Wonderland World of bad news is good news, stocks rallied hard.
Global Market Summary:
Dow Jones Industrials (NYSEARCA:DIA): +322; +3%
S&P 500 (NYSEARCA:SPY): +39; +3.4%
NASDAQ (NASDAQ:QQQ) +101; +4.3%
Russell 2000 (NYSEARCA:IWM): +31.2; +4.9%
Wednesday's Action:
Today we'll see July Durable Goods Orders and June's FHFA Home Price Index
Bottom Line: Markets are betting that Dr. Bernanke will ride to the rescue yet again in "Jackson Hole: The Sequel." Like a bad B-movie, one can expect a good opening night based on memories of the original but then the euphoria proves to be short lived as the sequel disappoints. A short bear market rally is likely in our immediate futures.
Disclosure: Wall Street Sector Selector actively trades a wide range of exchange traded funds (ETFs) and positions can change at any time.