I have always hated this part. When a natural disaster hits, the concept of making money out of it is what it is. The very good news is that there are no reported casualties. From a practical standpoint, an earthquake in such a densely populated area as the North East leads to a thorough inspection and repair of infrastructure. It will immediately add to GDP growth as it usually does in the U.S., contrary to Japan where the supply chain and human disruptions were so deep. In fact, one could argue that the absence of hurricanes over the past few years led to lower than expected GDP, certainly on a seasonally adjusted basis. This occurrence may reverse the trend. It will be funded in part by another increase in public debt, but this is a casus belli which even the Tea Party submits to.
Yesterday's market action seemed to prove my point. Note that once again, technicals work. We closed this Tuesday at 1162, the precise 25% retracement of the July 22 to the August 9 move of 1346-1102. This always amazes me, I think I'll be a machine in my next life. The next resistance is none but 1194, which I have extensively written about. We'll see what Jackson Hole brings us, hopefully it won't be a Jackass Hole. In case you need to be reminded, much to the chagrin of many, I am a fan of Dr. Ben, so I think positive.
Be it as it may, here is my quick and dirty short list of Earthquake stocks. In my initial submission, of the article I mean, at 3:00 pm EST yesterday, I only gave the tickers and prices, so that you could look at them before the close. SA editors wanted more details, in order to keep the cab driver out of the advisory business. Fair enough. I wanted to be early, but these stocks will still be there tomorrow. Plus, given some of yesterday's obvious short covering moves, price becomes an issue. Don't get me wrong though. A stock up 10% from a panic bottom may still be a good buy. Just look at the fundamentals.
In addition to their other merits, the following stocks should benefit from the damages caused by the earthquake:
As far as the market is concerned, I refer you to the scenario I laid out in my August 19th article . We tested 1100-1130, and the eurodollar September futures broke 1.44. In that context, the conclusion was:
Cover your shorts and start nibbling at the leveraged low P/E stocks, preferably with a high short interest. Leave the high dividend to the I-Think-I-am-safe crowd. If stocks are going to crater, they will too. If we have a bounce, buy what is trashed.
[Click to enlarge]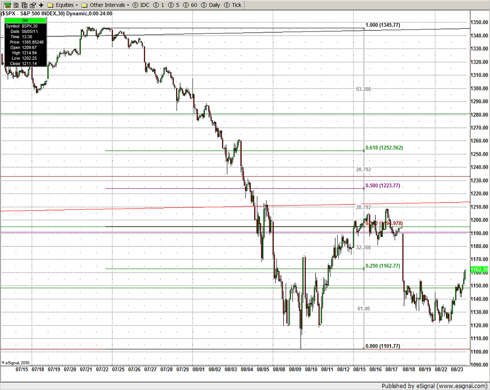 So far, it's working. It is always painful to see stocks stumble. It is even more painful to buy them as they do. At some point though, it becomes enjoyable to have survived the demise. Odds 3-to-2, we are there.
Disclaimer: As a Registered Investment Advisor, there are a few things we must tell you. We do not know your personal financial situation or investment objectives, so this article does not constitute a solicitation to purchase or sell any of the securities mentioned, nor is it intended to provide specific investment advice. Past performance is no guarantee of future performance. We live this every day, and you should know it too. The value of the securities mentioned herein may fall or rise and are not insured by any government or private company, even if it meant something. We believe what we write, and we take your audience quite seriously. However, since we cannot be held responsible for any loss or damage caused by reliance on the information and data herein, you should consult with your own advisor and/or do your own research before acting on any of our opinions.
Disclosure: I am long PIKE, PWR, EME, IR, URI, PPG, JCI, WCC.