DryShips, Inc. (NASDAQ:DRYS), through its subsidiaries, engages in the ownership and operation of drybulk carriers and drilling rigs that operate worldwide. Its drybulk fleet principally carries various drybulk commodities, including bulk items comprising coal, iron ore, and grains; and minor bulk items, such as bauxite, phosphate, fertilizers, and steel products.
Click to enlarge images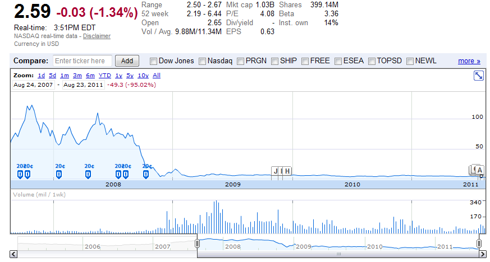 If you have been a shareholder in the company, then there's a very high probability you have lost money on this investment. Over the last four years, the stock has declined 95%. Based on this you would think the company is about to go bankrupt, right? Wrong. The company is very profitable and has a large amount of assets. Not to mention it just recently spun off its drilling rig segment to gain some more liquidity. So what's the real reason for such a fall? It's simple, the stock has been diluted into the ground by the company's CEO, George Economou.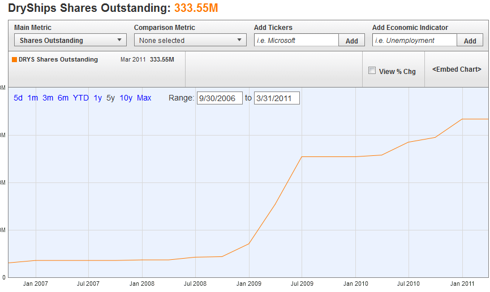 The company has diluted the shares by over 1000% in the last five years, which is the largest reason for the decline in price. The CEO is known to be extremely rude as well and does not care about shareholders. When he was once criticized by shareholders, he said, "If you don't like it, you don't have to be here. Sell the stock." I'm not exactly sure how a CEO like this is going to increase shareholder value.

George Economou has controlling stake in the company and he doesn't have many shares, but he has special Class B shares that give him the controlling voting power. This basically means shareholders have no say in the company. George treats DRYS like his personal "piggy bank." Mr. Economou has found a clever loophole that allows him to profit at the expense of shareholders.

He currently has another Greek shipping company called Cardiff and owns 70% of its outstanding shares, meaning his interest in Cardiff is much larger than it is in DRYS. Cardiff and DRYS both have a contract agreement, under which DRYS purchases ships from Cardiff. Any cancellation in the order of ships would require DRYS to pay a massive fine to Cardiff. This comes at the expense of shareholders. George has already made several cancellations and has netted himself hundreds of millions of dollars.

The CEO has a very poor track record as well. He had a shipping company called Alpha Shipping. He burned through over $175 million in capital in less than a year and bankrupted the company. Before he took DRYS public, George issued himself a $69 million special dividend. The dividend was almost all of DRYS' retained earnings since its inception.

Investors need to be very careful when investing in companies, where management has a controlling stake. There are plenty of good companies out there with great management teams, always looking to reward shareholders.

McDonald's (NYSE:MCD), Nike (NYSE:NKE), and Procter & Gamble (NYSE:PG) are just some companies that keep rewarding shareholders. McDonald's has a 2.8% dividend and a strong international presence. Nike is nearly a monopoly in the athletic apparel industry and pays a 1.6% dividend. P&G has some of the strongest brands in the world, while paying a 3.4% dividend. All of these companies also have strong share buyback programs and do their best to increase shareholder value.

Of course, many of you that may want exposure to the shipping sector, should look at companies such as Navios Maritime (NYSE:NM) and Frontline (NYSE:FRO). Navios pays a 7% dividend and is a nice play on the commodity sector as it primarily works with agricultural exporters. Frontline has over a 5% dividend and is a strong play on oil exports. Both companies have P/E ratios less than 6. The shipping space has taken quite a hit and looks like there will be a slow recovery in the sector, but if you want exposure, make sure you stick with companies with solid management teams.
Because Americans are the dumbest investors around, and there's lots of liquidity in this market.
- George Economou's response to the question on why Dryships went public.
Disclosure: I have no positions in any stocks mentioned, and no plans to initiate any positions within the next 72 hours.