Tyco Electronics Ltd. is a leading global provider of engineered electronic components, network solutions, specialty products, and undersea telecommunication systems. A good summary of the stock can be found here. We look at all the 13F filers who have been in this name over time (only the top results are shown). What's interesting is the number of hedge funds that have appeared to take an interest in this stock: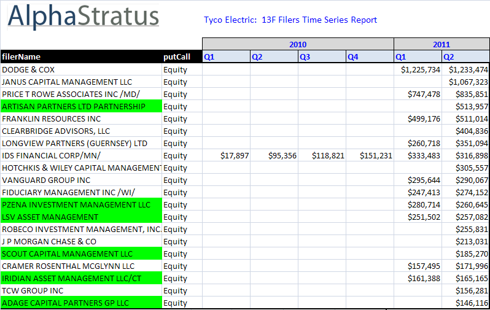 Click to enlarge
(Click to enlarge)
Scout Capital, in particular has an excellent record as a deep-value, catalyst focused long/short equity manager (we profile their Q2 13F here).
Huntington Ingalls Industries, Inc (NYSE:HII) builds and maintains nuclear and non-nuclear ships for the U.S. Navy and Coast Guard and provides after-market services for military ships around the globe. The company is a recent spinoff of Northrop Grumman (NYSE:NOC) and has performed relatively poorly recently (down 25% since April). Greenlight Capital is probably the best know hedge fund that has recently gotten active in this name: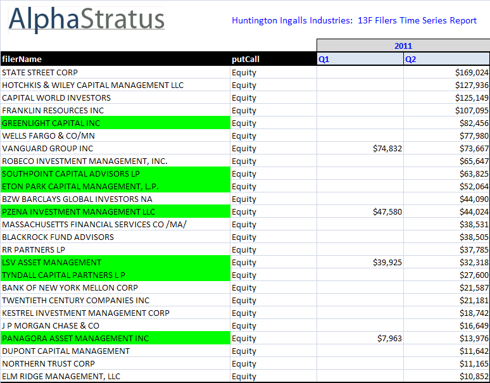 Click to enlarge
(Click to enlarge)
SodaStream (NASDAQ:SODA) is similar to Green Mountain Coffee (GMRC) except that they specialize in homemade healthy soda. This also makes SODA a potential takeover candidate which also explains why Scout Capital is interested (see their previous 13F filings):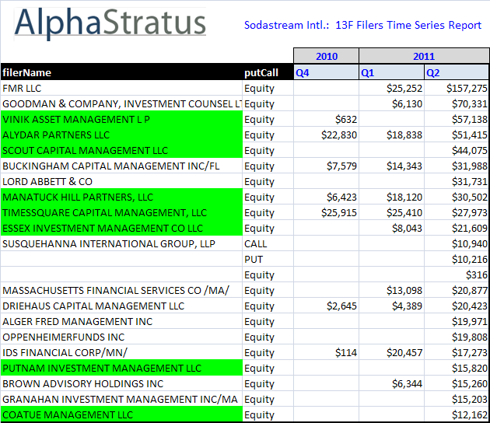 Click to enlarge
(Click to enlarge)
Disclosure: I have no positions in any stocks mentioned, and no plans to initiate any positions within the next 72 hours.