Given the uncertainty of the current market climate and the looming possibility of a double-dip recession, many investors have sought refuge in gold, driving the price per ounce to nearly $2,000. Yet the general bullishness has seemingly not spread to mining stocks to the same degree, despite improvements across the board in cash flow and operating margins. Without directly addressing the debate concerning gold's proper long-term value relative to its current price, those seeking to avoid the volatility of direct commodities investment would be well served to look at mining stocks.
Such a position has been echoed widely in the past few weeks. In a recent Barron's article, ASA Gold and Precious Metals CEO David Christensen explained that while mining shares had been historically more leveraged than ETFs, the current gold rush had reversed the trend. Fred Hickey, author of "The High-Tech Investor" has affirmed an explicit preference for mining stocks over more direct gold investments in two recent interviews with the venerable finance weekly. While the performance of some mining stocks and ETF have lagged the gold boom, it is precisely for this reason that Sentry Investments portfolio Manager Kevin MacLean thinks the trend will be reversed. "A rising gold price will force those shares higher," he told The Globe and Mail on August 1. While the market is caught up in a frenzy to buy bullion, it seems the very sector that stands to benefit from these purchases has been neglected.
Two of the most promising stocks in this sector are Barrick Gold (NYSE:ABX) and its subsidiary African Barrick Gold Limited (OTC:ABGLF), which is focused on prospecting in Tanzania. The latter company has been particularly impressive as of late. Earnings surged nearly 50% in Q2 which led to a doubling of the dividend to 3.2 cents per share. It is probably for this reason that on August 16th, ABG director James Cross reportedly purchased 20,000 shares. In addition, ABG's financial statements seem to indicate good fiscal health, with a 5.85 current ratio, a positive operating cash flow and a solid Total Liabilities/EBITDA ratio of 0.9. While its 16.4 multiple is higher than the market and sector average, the spread is minimal and would not seem to indicate that a stock with such growth potential is overvalued.
On the contrary, a JP Morgan equity research report from July 26 noted that with one exception, "ABG is the cheapest precious metals stock under our coverage with spot PER's of 9.7x '11e and 7.7x '12e." Reiterating its overweight recommendation, the analysts on the report cited "production and costs expected to improve of the course of this year", "continued debasement of paper currencies" and production results that were "particularly impressive in light of the c. 15koz of production lost at Buzwagi." Exploratory drilling continues at several sites, particularly the Tulawaka mine, and will be further encouraged by rising gold prices. As such, the impressive earnings demonstrated in Q2 should be seen as a foundation, not a plateau.
The parent company has also seen significant growth, with earnings increasing 42% and 37% in the past two quarters. As with its subsidiary, Barrick has used increased revenue to expand production and fund exploration. The acquisition of copper mining firm Equinox, whose mines now account for 20% of Barrick's production, was completed in July. The addition of copper reserves should provide solid long-term diversification and add value in the short term as the copper price has shown solid medium-term growth in spite of global economic worries.
In addition to its Equinox foray, Barrick's gold production remains strong in spite of a 40% increase in capital expenditure for its Pascua Lama project. Q2 saw a 2% year over year increase in gold production and continued progress towards its stated target of 9 million ounces of production by 2015. Given this data, a 14.46 multiple seems rather low for the world's largest producer of gold, not to mention one with rapid earnings growth the past two quarters and a Q3 profit estimated by Investor's Business Daily as surging upwards by 51%.
The stock is still trading at more than a 10% discount from its 52 week high of 55.99, which is itself lower than Citigroup's target price of 68, revised upwards on August 22 from the Q2 target price of 60. The initial even less bullish report described Barrick as "the best quality, large cap gold" and a stock which "deserves a valuation premium relative to its peers." In addition, the company's financials look solid with a 2.84 current ratio, a 4.22 total liabilities to EBITDA ratio and ludicrously high interest coverage of 41.92. Furthermore, Barrick's operating margin of 48% in the past quarter compares favorably with its 3 closest mining peers by market capitalization, Newmont's (NYSE:NEM) 42.9%, Goldcorp's (NYSE:GG) 41.76% and Newcrest's (OTCPK:NCMGF) 31.69%.
As long as mining stocks remain undervalued, Barrick and its subsidiary stand to see substantial gains when the market finally catches up. The trend in return on assets and return on equity for both companies is unmistakable, such that the recent growth cannot be written off as a short-term byproduct of rising gold prices:
Barrick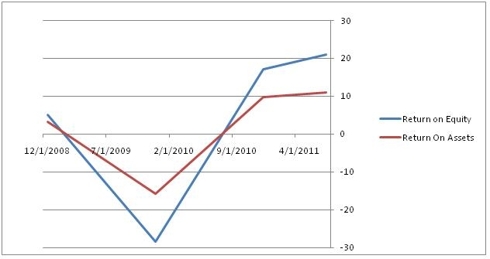 African Barrick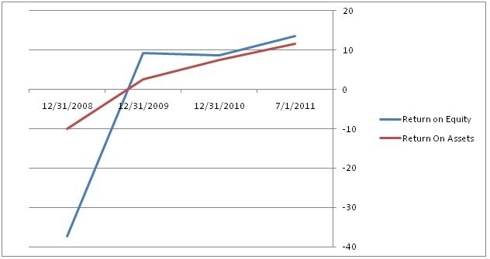 But rise as they might, the upward trend in bullion prices is hardly a secret. With S&P Equity Research picking Barrick as its stock of the week and ABX making a big splash with its Q2 reports, the word is out, but there's plenty of room on the ground floor.
Disclosure: I have no positions in any stocks mentioned, and no plans to initiate any positions within the next 72 hours.