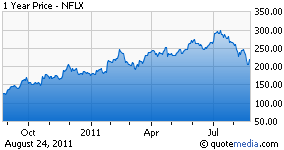 Netflix (NASDAQ:NFLX) may very well be going the way of the Dodo. It has several big challenges facing it and I don't see how it can wriggle out of them. It's in a hard place - entertainment distribution - and caught between it and four rocks.
The business is now divided into two categories: the DVD-by-mail rental model, and the streaming model. The first rock is in articles I've written that Netflix simply does not have the capital to compete with Google (NASDAQ:GOOG), Amazon.com (NASDAQ:AMZN) or Apple (NASDAQ:AAPL) when pricing competition for content heats up - and it will. Amazon.com has $6.3 billion in cash and $1.8 billion in TTM free cash flow. Google has $34 billion in cash and $6.9 billion TTM FCF. Apple has $28 billion in cash and $29 billion in TTM FCF. Netflix has $375 million in cash and $270 million TTM FCF (or less if you believe Leonard Brecken). Amazon is adding more TV content to its streaming offerings. Disney (NYSE:DIS) announced it is reconsidering giving Netflix access to recent releases. Even Blockbuster Video is a potential thorn in the side of Netflix, focusing more on VOD streaming of new releases vs. Netflix's much broader catalog. Liberty Starz's pay-TV channel Starz is withholding its big new TV shows. The content Netflix does have with streaming isn't wowing the fanboys and that's never good.
The second rock has to do with the company's contractual obligations. Beyond Mr. Brecken's concern, I have to ask this question: Why is it that the actual amount that Netflix paid for the EPIX content has never been disclosed? I want to know exactly how much is being paid and if it's variable, how much it could vary and the factors involved in the variance. Page 11 of the 10-Q reads, "The license agreements do not meet content library asset recognition criteria because either the fee is not known or reasonably determinable for a specific title or it is known but the title is not yet available for streaming to subscribers." I think management can do better than that. Regardless, the company must come up with $625 million in payments over the next year, and another $1.3 billion "between years 1 and 3."
So, why aren't we being told exactly how much is due each year, and when in those years?
Also, how is Netflix going to pay that $625 million? They've got $375 million in cash, and a FY2011 net income run-rate of $256 milion. That's barely enough. Yes, there may be another $150 million in cash flow, but given Mr. Brecken's concerns, I'm not so sure.
The third rock is that Coinstar's (NASDAQ:CSTR) Redbox kiosks are ubiquitous. There are three within walking distance of my home. They also get content before Netflix. And it's cheaper.
The fourth rock is Netflix's stock chart. I'm not big on technical analysis, but I will float this nugget: The stock's 50 day moving average is about to cross over the 200 day moving average. That's on top of the stock falling below that all-important 200 day average for the first time in two years. These are bearish trends for the stock. Courtesy of Decision Point:

Click to enlarge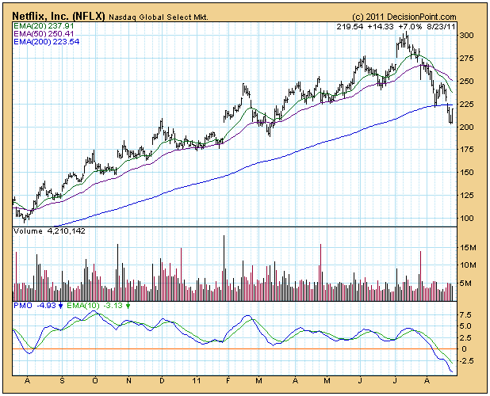 If it's an entertainment stock you desire, then I suggest you move on over to Disney. It's a diversified conglomerate growing much faster than one might expect, without any of the challenges facing Netflix. If it's high growth you want, check out stocks that are likely to double, that also don't have anywhere near the challenges of a DVD rental play or the folly of solar energy.
Disclosure: I am short NFLX.