You may have asked yourself sometime during this summer of 2011: "What has the market done for me lately?" One thing most investors can agree on, the current market climate entices you to re-discover and perhaps even re-evaluate your investment approach and individual investments. Why am I invested in this particular company? What is my investment thesis? Has something changed since making the initial investment that now invalidates the original thesis? If so, it may be best to just sell and move on, even if this means exiting at a loss. After all, the stock doesn't know you own it, only you do.
One of the most important things in investing is to keep an open mind. The world is constantly changing and it's safe to say we're all wrong part of the time. If the evidence changes you must be prepared to change your view. But what if your approach and investment thesis is still valid in a down market? Then hold firm and use new capital, profits and dividends to (re-)invest at attractive levels. A public-opinion poll, which the market basically is, is no substitute for well-reasoned thought.
As I've mentioned previously, reading Alice Schroeder's biography
of Warren Buffett, "The Snowball," forever changed my view on investing. Before that time I had never heard of Ben Graham or David Dodd, 'Security Analysis' or 'The Intelligent Investor', or actually
drew the fundamental distinction between value investing and day-to-day market activity that seems predominantly speculative in nature instead of mostly derived from fundamental analysis. Enter left stage: opportunity.
Reading about the rise and rise of Warren Buffett showed some great insights into his somewhat peculiar personality and his success. Two things I found particularly interesting. First, Graham mainly looked at numbers. One example: Graham's view was that P/E shouldn't exceed 15. At the same time, P/B should be no more than 1.5, perhaps higher if the P/E is lower. He proposed that the two multiplied should not be higher than 22.5.
Buffett however was keen to look beyond just the numbers. He was just as interested, if not more, in how a company worked, what made it better than its competitors. During the last few decades he has shown over and over again that a company's management should be a major factor when deciding to invest.
The second interesting lesson from the "The Snowball" came from reading his almost prophetic speech, given at Sun Valley in 1999, saying that the rules of value investing hadn't changed. Buffett was labeled 'an old fuddy-duddy' for sitting out the internet bubble of the 1990s, but now Berkshire is stronger than ever. That's because Buffett and Munger only invest in things they feel they can fully comprehend. It seems simple enough, i
f you don't understand what the business does, don't get tempted to invest. Enter right stage: Vodafone (NASDAQ:VOD).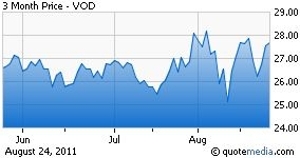 Telecoms first came to mind after a friend of mine showed me his new at the time HTC HD. Until that time I was many focusing on companies dealing with commodities and personally still used a Motorola Razr V2. We discussed in detail how many of our generation now considered these devices and apps almost an integral part of their life(style). It seemed to us that Gen X and Y were the first generations almost addicted to having these pricey monthly 3G mobile contracts. They'll even skip on buying clothes or transport if needed, just as long as they can have the newest smartphones and 24-7 connection to the world around them.
I started investing in Vodafone in early 2010, and it slowly but surely became my largest holding during the next year and a half. I was increasingly looking to concentrate my portfolio in large-cap multinationals at the time, as I was looking for more portfolio stability without compromising on aspects like company growth, ample free cash flow and a dividend providing a minimum 4% - 5% YOC for reinvestment. Given worldwide macroeconomic issues it was reasonable to assume a correction would eventually occur, but I was under no illusion these things can be accurately timed.
I find many US investors view Vodafone primarily as a European Telco, while in fact it is a global telecom. It's the world's largest mobile telecom by revenue and the world's 2nd biggest by subscribers, behind China Mobile (NYSE:
CHL
). While I was doing my DD on the company at the time I stumbled on the same metrics as already detailed in a ton of other articles on
Seeking Alpha.
To briefly summarize, I found the underlying growth and ROE matching or beating the company's direct competitors in most markets, while at the same time being more attractively valued on both a P/E and P/B basis, as is still the case.
This link provides a current update of all the key figures
.
What made Vodafone especially appealing was the company's actively pursued strategy, under management of CEO Vittorio Colao, to dispose of minority holdings in foreign companies it no longer considered as essential in boosting market value, as it was increasing its focus on its main markets Europe, Middle East, U.S., Africa and India. Vodafone was using these proceeds to reduce group debt, perform share buybacks and to increase growth in core markets. A prime example is Vodafone's recent announcement of the purchase of Indian partner Essar Group's 33% stake in Vodafone Essar Ltd (VEL), India's third largest mobile telephony company with currently almost 140 million subscribers.
However, the so-called icing on the cake came in the form of hidden value locked in one of Vodafone's minority stakes, its 45% stake in Verizon Wireless. Due to being a minority parent, Vodafone at the time was unable to access the cash generated by VZW, as Verizon Wireless was paying down debt and hadn't paid out a dividend to Vodafone since 2005. Therefore the market was basically disregarding the entire minority holding in valuing co-parent Vodafone. As Mr. Colao knew very well, a change in dividend policy of this subsidiary would directly affect Vodafone's share price as the parent would see an immediate improvement in free cash flow received as a percentage of reported earnings.
Verizon Communications (NYSE:
VZ
), because of problems at its fixed-line business, increasingly needed to tap VZW's cash to maintain its own dividend. After much squabbling with Verizon, Vodafone on July 28, 2011, was finally able to announce that VZW's board had approved the payment of a $10 billion dividend to its parents. As 45% shareholder, Vodafone will receive its entitled share of $4.5 billion. Vodafone intends to pay a special dividend of £2.0 billion ($3.3 billion), equivalent to 4 pence per share to Vodafone shareholders in February 2012. Each Vodafone ADR listed on NASDAQ is worth 10 shares, so 40 pence amounts to approximately $0.64 cents a share additional dividend, increasing Vodafone current YOC from 5.5% to over 7%. Not too shabby.
Now let's talk competition. In most markets Vodafone is the No.1 or No.2 wireless company, making it the focus of competitors. It has a number of different competitors in each market and only a very few that can be considered direct global competitors beyond one or two specific markets. There are four that come to mind. The first two are Deutsche Telekom (
OTCQX:DTEGY
) and France Telekom (FTE). DT is mainly active in Germany, Europe and the US and has a very strong brand in T-Mobile. It has been successful in acquiring assets on the cheap in Eastern and Southern Europe while other telcos were looking elsewhere. France Telekom is another big player through its Orange brand. FT still gets a significant amount of revenue from its home market and across Europe, but has been aggressively expanding in emerging markets with increasing focus on Africa, not without success.
The third is of course Telefonica (NYSE:
TEF
), a worldwide telecom operator, often
not given due recognition by investors because of its country of origin. Of course the results of Telefonica
Spanish operations have been nothing to write home about these last few years, but Telefonica's O2 brand is a strong player in the UK and the rest of Europe as it also encompasses Telefonica's Český Telecom and Eurotel as well as the Telefónica Deutschland business in Germany.
TEF's crown jewel is its rapidly expanding Movistar brand in Latin America with currently more than 190 million customers on that continent alone and the leading operator in Brazil, Argentina, Chile and Peru and substantial operations in the rest of Latin America. It's very difficult for other competitors, like Vodafone, to take on TEF in Latin America at this point. Telefonica currently also owns a 9.7% stake in China Unicom (NYSE:
CHU
), while the Chinese company owns 13.7% of TEF. That's interesting in itself, as Vodafone recently decided to sell its 3.2% stake in China Mobile. VOD did subsequently sign a "
Strategic Co-operation Framework Agreement" with
China Mobile, the
world's largest measured by subscribers, to push forward with 4G in order to stay ahead of the competition.
The last competitor I will name is AT&T (NYSE:T), although I believe the Chinese telecoms will likely form a bigger worldwide threat over the next few decades. At this point in time AT&T
is still the No.2 wireless carrier in the United States and its recently announced $39 billion merger deal with T-Mobile USA will mean Verizon Wireless loses its No.1 Status. It's further evidence of industry consolidation and showing parents VZ and VOD that Verizon Wireless needs to stay proactive in light of stronger competition, which is potentially complicated by the
shared ownership arrangement.
"If we could buy the other 45%, we would do it in a nanosecond," Verizon CEO Ivan Seidenberg recently said at an investor conference. "I mean a nanosecond. And there isn't a day that goes by that I see (Vodafone CEO) Vittorio Colao and I don't ask him that question."
Vodafone really has no major incentive at present to sell its stake in Verizon Wireless to Verizon Communications. As well as marking an exit from a large market that still has growth potential it could evidently also mean a huge tax charge for VOD. Given its current
tax dispute appeal in the Indian Supreme court,
fighting a potential $2.5 billion tax bill related to its 2007 purchase of Hutchison Whampoa's Indian mobile business, and the fact that the VZW dividend issue is now resolved, selling is really no longer an option for Vodafone, even if VZ could cough up the money given the current value of Verizon Wireless.
The option of a merger between Vodafone and Verizon can never be completely disregarded, but CEO Vittorio Colao indicated late last year that while he would keep an open mind, such a merger would probably prove to be too complex. Not only
because Vodafone
believes any future merger should be at least 60%
in Vodafone's favor, but also
in light of extensive US and EU regulatory scrutiny involved with a merger of such a scale. Therefore it seems that for the foreseeable future Vodafone is content to maintain the current status-quo with Verizon, to remain focused on executing its growth strategy and to simultaneously reward shareholders through continued share buybacks and
3 year dividend growth
target of at least 7% year over y
ear.