Earnings season is over, and we are continuing to update price targets and buy/sell ratings for companies that we currently cover in our EquityAnalytics department. Today, we have updated several more companies with these ratings. They include Baidu (NASDAQ:BIDU), Canadian Solar (NASDAQ:CSIQ), Shanda Games (NASDAQ:GAME), Netease.com (NASDAQ:NTES), Sina (NASDAQ:SINA), Suntech Power (NYSE:STP), Trina Solar (NYSE:TSL) and Yingli Green (NYSE:YGE).

The chart below shows new ratings, price targets and buy/sell ranges versus old ones: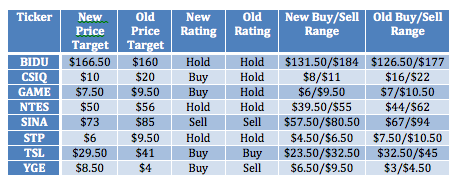 BIDU – Maintain at Hold, Increase PT from $160 to $166.50

Baidu is one of our favorite long-term holdings in the Chinese Internet industry as the company continues to be the largest Chinese internet company and search engine in a growing market. The company has over $1.5B in cash, low debt levels, and it continues to operate with top-notch margins that are getting better. The operating margin is now at 50%. The company is the dominant player, and no other player seems to have cut into its market share as of late. The company was dropped recently on some news of advertisements that were less than ideal, but when a company has hundreds of thousands of ads that will happen. The move is not based on fundamentals, and it is a buying opportunity.

CSIQ – Upgrade from Hold to Buy, Drop PT from $9.50 to $7.50

Canadian Solar saw its price target slashed in an industry wide drop in price targets for solar companies as prices have declined rapidly, and solar companies are seeing margins decline rapidly without much sign of them coming back to previous levels anytime soon. CSIQ is still heavily undervalued at its current price of $6. The company has seen lower costs, but the company also is seeing lower demand and lower pricing. Still, this is a company with a P/E ratio at 4.5, and P/S ratio at 0.14. Overall, CSIQ is a company that has a lot of potential on any recovery, and we believe it should maintain these margin levels.
GAME – Upgrade from Hold to Buy, Drop PT from $9.50 to $7.50

Shanda Games is looking quite solid right now after a successful Q2. The company saw its margins drop on higher input costs and salaries, but the company has some great revenue growth in some of its MMOGs in the quarter and launched several new games successfully. We cut down our expectations for the company from $250M in operating income to $220M on the higher costs, but the company has dropped significantly in price on very little fundamental reasons. The company's future P/E of 6 is weak, and it should be rallying well off the news today.

NTES – Maintain at Hold, Drop PT from $56 to $50

Netease.com had a fairly solid quarter with its current line-up of games, but we did bring down our expectations somewhat as its operating margins drop significantly. The company has come in this year at 37.5% compared to 46% in 2010. Those margin declines have tempered our expectations, but we still see good growth coming in for this company as well as the entire sector. The gaming market continues to grow in China, and the company is continuing to find ways to make money off of the gaming industry. We believe NTES is a still a Hold and will not be a value play on more decline.

SINA – Maintain at Sell, Drop PT from $85 to $73

Sina continues to be one of our favorite sell candidates as we see this company as heavily overvalued. The company underperformed our expectations in the latest quarter, and we slashed our estimates to only $55M in operating income this year. SINA is still a huge speculative play given whether the Weibo service will pan out, and the company has made a major investment in it that it will. It is growing, but much like other social media sites, can it make major profits? The company operates at a hefty price tag with other 50 future P/E, and we do not see SINA making much headway until it can show Weibo can be profitable.

STP – Maintain at Hold, Drop PT from $9.50 to $6

Price drops are killing solar, and we cut our yearly estimates in half for STP. We believe the company should recover by 2013.

TSL – Maintain at Buy, Drop PT from $41 to $29.50

Trina Solar has been the gem of solar for us since we started covering these companies due to its highly efficient yet cheap panels coupled with a stellar balance sheet, low debt, and great free cash flow. This year, though, has dismantled the TSL business as the company was too heavily invested in Europe. Our yearly expectations were for $500M in operating income this year. We slashed these estimates to $320M for this year and believe $390M is more likely for next year. Still, we view this company as the best of the bunch when it comes to health and management. Rising debt coupled with estimate cuts was the main factors in the price target cut. TSL, though, is very, very cheap at $14. With a 3.5 P/E ratio, the company is screaming value, and while it may be a bumpy and volatile ride, this stock should increase significantly over the next12 months.

YGE - Increase from Sell to Buy, Increase PT from $4 to $8.50

Yingli Green is actually a solar company that is doing better than we expected it would this year, and we had to increase our overall estimates for the year for the company from our previous levels. The company seems to have bucked the trend with solar and has maintained good growth as was expected and has solid outlook for the rest of the year. We see them as undervalued at these levels, and while we still believe $1.1B of debt is too much, the company now has $1.1B in cash to battle that debt with.
Disclosure: I am long BIDU.