The for-profit higher education industry has seen a boom in recent years. With the economic downturn acting as a catalyst, a number of people previously employed have headed back to school for further education. The industry as a whole is majorly reliant on government funding available to admitted students. In recent years, lax admission standards have enabled these institutions to enroll an increasing number of students. As part of this process, the major players in the industry have benefited immensely both from increased revenues and profitability.
However, regulatory issues still plague this industry. With the government proposal to enhance stricter credit limits and proposals such as "Gainful Employment" being implemented, this industry could see revenues and profitability deteriorate in the future. A number of players in this industry are also being investigated by government authorities for dubious practices. Overall, the industry has seen its peak and is now on the decline. Players that adhere to strict government regulations and are still able to generate sufficient profits will be able to survive, whereas others might be acquired by rivals or cease to exist all-together.
The biggest names in the industry include Apollo Group, Inc. (NASDAQ:APOL), DeVry Inc. (NYSE:DV), Career Education Corp (NASDAQ:CECO), and Education Management Corp (NASDAQ:EDMC) and ITT Educational Services (NYSE:ESI).
For-profit post secondary education institutes are heavily dependent on Title IV Federal loan programs.
In order to be eligible for Title IV Loans, an education institute has to meet three broad standards:
Gainful employment: Loan payment must not exceed 8% of total income earned after graduation.
90/10 rule: An institution must not receive more than 90% of its revenues from federal financial aid sources.
Cohort Default Rate (CDR): Loan default rate in a single year should not exceed 40% and three-year default rate should not exceed 25%. (CDR is defined as% students beginning loan repayment at beginning of year, default by the end of first year.)
ESI had 59% of its revenue and 75% of cash earnings coming from such programs.
The Facts Of The Case
Until now, ESI has been in compliance with all the three requirements. However the numbers are lurking close to the edge.
(1) Federal loan as percentage of revenue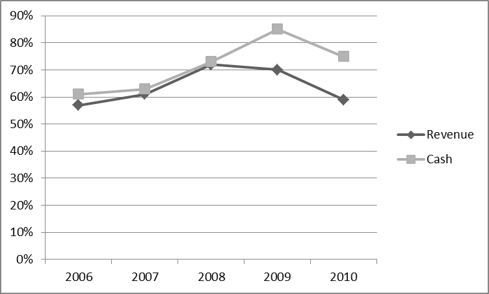 Where Cash = Cash received from federal sources as% total cash.
(1) Cohort default rates: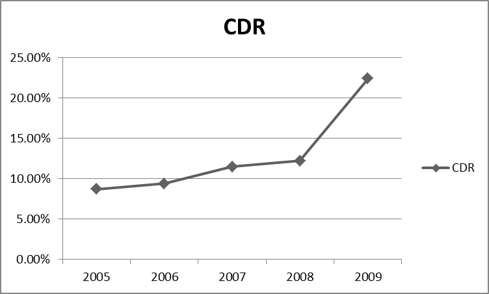 Source: ESI 10K
The Department of Education has come out with a new set of regulations for these for-profit institutions; the rules will be effect July 2012. Although not as tough as originally anticipated, the general idea is there that soon the "good-old-days" are going to be over. New rules regarding "gainful employment" are as follows"
At least 35% of former students are repaying their loans
The estimated annual loan repayment does not exceed 30% of a student's discretionary income
Annual loan repayment does not exceed 12% of annual income
Double Edged Sword For ESI
ESI has the had the highest growth in student enrollment, which also means it needs to ensure that it has the highest number of students to place in order to meet the 35% rule.
Implementing stricter recruiting standards leads to lowering of revenue
The for-profit industry experienced high growth during 2008-09 since a lot of people out of work decided to go back to school on federal aid. With the economy recovering, admissions are expected to decrease overall.
Overall, this is an industry wide problem, and ESI appears to be most sensitive since it has had the highest growth rate.
Disclosure: I am short ESI.