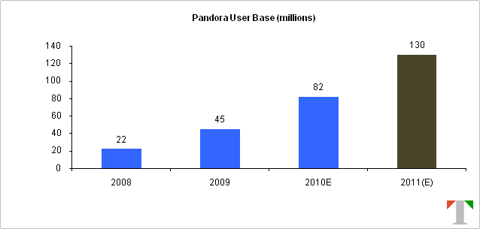 (Click chart to expand)
Pandora's (NYSE:P) plans to report earnings on Thursday. This will be the first earnings report from the Internet radio company after going public earlier this year. Investors will eagerly look for information on Pandora's growth outlook and cost trends as it faces increasing competition from SiriusXM (NYSE:SIRI) in the automobile market and Spotify, which recently launched its music service in the U.S. via Facebook. Below we take a quick look at some of the key factors to watch.
Our price estimate for Pandora is near $10, which is around 20% below the market price.
Pandora's User Base Growth
This is the single biggest driver to Pandora's stock. The company currently only operates in the U.S. and registered around 80 million users in 2010. In July, the company crossed 100 million users and the looming challenge is whether or not Pandora can maintain this strong growth as its penetration levels in the U.S. rise. Content licensing deals are expensive though they help bring in new users while expanding internationally is no piece of cake. Both of these factors will weigh on the company's growth rate.
We currently forecast strong user growth and will wait for earnings to get a better view on Pandora's expansion plans to adjust our forecast.
(Chart created using Trefis' app)
Questions On The Business Model
There have been questions around Pandora's business model and to what extent it can gain operating leverage from its growth. Pandora needs to improve its profitability by better monetizing its content.
This could translate to pricing changes or increases in the number advertisements, which could impact the user experience. It will be helpful to watch for any indications regarding its profitability, its expectations concerning content acquisition costs and international expansion.
Disclaimer: No positions